Live from Galle (via Colombo, Isleworth and Manchester) – Sky Sports goes remote for England cricket commentary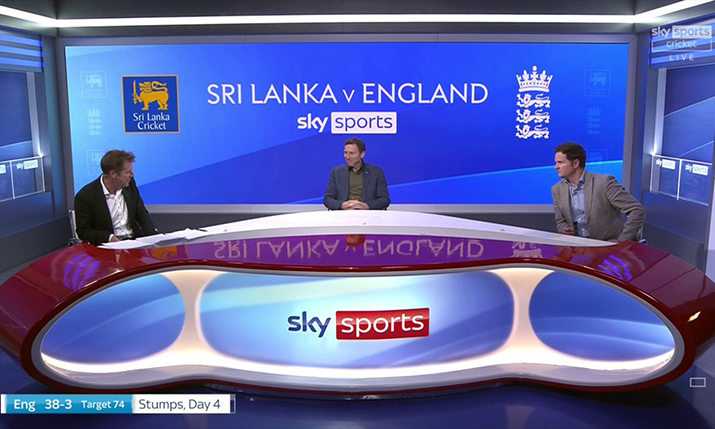 Faced with the threat of COVID-19, and the subsequent travel restrictions for talent and production crew, Sky Sports has adopted a remote commentary workflow for its live coverage of England's two-match Test cricket series in Sri Lanka: a set-up that links Galle to Isleworth via Colombo and Manchester.
Between the first and second tests, SVG Europe caught up with Sky Sports director of cricket Bryan Henderson and Sky technical specialist Alex Judd to find out how they are doing it.
What was your original plan for the Test series in Sri Lanka?
Bryan Henderson (BH): What we wanted to do was send a small team out to Sri Lanka. It's always nice to be on site for pretty obvious reasons. The plan would have been to work with the host broadcaster, the IPG Group. They asked us to help contribute to the World Feed commentary panel so we were going to send Ian Ward, Nasser Hussain, Mike Atherton and Rob Key.
So they would have been out there in Sri Lanka. The big question for us then would have been: where would we present from? Historically, that would have been from a studio in London but for the three T20 games that took place in South Africa [in 2020] we presented from the boundary edge. We were going to copy that, but do it via a remote production gallery back at Sky.
"It was [successful] thanks to a variety of brilliant people, including sound engineers both on-site and at Sky. In my view, the audio mix is what's critical here. And it was really good."
This would have meant that the bulk of people working on the production would have been back at Sky but with the commentators, a production manager, technical person, a producer and fixer in Galle. We would also have sent our own ENG camera person who would have worked on the presentation, socially distanced.
For delivery, there would have been a satellite uplink and we would have sent reverse vision back to Ian Ward, as the presenter, probably via the internet. That was the plan and it worked pretty well in South Africa.
But then, the COVID situation changed…
BH: It was difficult anyway as there was a lot of negotiating going on. Cricket Sri Lanka have been incredibly helpful but we were negotiating all the time with regards to quarantine and when the guys were going to go out to Sri Lanka and, crucially, what the situation would be if any of them had tested positive or fallen ill. When the new variant of COVID came to fruition, the negatives started to outweigh the benefits. Given the risks, and the need to quarantine on the way there and on the way back, and with it being a short series with only two Test matches, the balance just tipped, hence we decided to keep everybody at home. The safety of our people was the absolute priority and always is.
Did you consider just broadcasting the World Feed?
BH: Cricket rights don't come cheap and our customers expect England test matches to be a premium product. They expect a premium experience. I think our customers would have been disappointed to not hear the usual voices. But it was good to know that should the technology not work for whatever reason that we had the World Feed as a back-up plan. That gives you some comfort, not that we needed it.
So, what is the commentary set-up for the series?
BH: We have done remote commentary before. It's not ideal. You can't communicate with the director. You don't know what's coming. Usually, the guys don't get a feel for conditions. You're not really hearing snippets of what's going on. So, for commentary 'off tube', we arranged for what we call a fruit machine feed. It's a data feed of cricket stats [that helps the commentators].
We knew that Ward, Hussain, Key and Atherton were going to be at Sky's studios in Isleworth [doing presentation, analysis and commentary]. So, after that, it was just a simple copy of what Sky Sports Golf did with Butch Harmon on the Masters pretty successfully.
We decided to have David 'Bumble' Lloyd commentating from his home near Manchester. And then we thought, well if we can do that, and the internet is strong enough, why don't we use our relationships and employ [former Sri Lanka players] Kumar Sangakkara (pictured, below) and Mahela Jayawardene?
Staggeringly, we ended up with a Test match happening in Galle with no crowd. Live pictures and audio effects mixed in with fake background noise coming from the world feed provider IPG. We then mixed that with our own commentary in a couple of audio booths at Sky and managed to bring in Bumble working from his bedroom near Manchester and then Mahela and Kumar from their houses in Sri Lanka. Madness!
It was all thanks to a variety of brilliant people, including sound engineers both on-site and at Sky. In my view, the audio mix is what's critical here. And it was really good.
How did you make all that work?
Alex Judd (AJ): We had already done some groundwork for remote commentary systems in the UK utilising the Tieline ViA commentary systems to connect back into Sky. The Sri Lanka series gave us the opportunity to trial some new technology so we started working on solutions over Christmas.
Bryan and the production team put their faith in us to deliver something the remote commentators could easily work with, without having to deploy full broadcast commentary systems to Sri Lanka where there would be a limited level of technical and operational support.
This forced us to come up with some less traditional ways of working in order to keep latency to a minimum and get the maximum audio quality, while deploying consumer off-the-shelf technology that users would feel familiar with. We also wanted to provide an in-vision feed for any two-ways into Sky, again, mirroring our expectation of quality.
"Biggest challenge? Internet connections and quality of service and then diagnosing internet issues with remote teams. That was tough."
So, for Mahela and Kumar, they each have two iPads, a USB-C sound interface and a headset. One of the iPads has an app called MWplay from Techex to receive encrypted SRT streams for reverse vision, while the other has a LiveU LU-Smart bonded transmission unit for doing the in-vision two-ways, plus an audio-over-IP app called LUCI which is normally used for radio.
We chose that app because it has various codecs which we could run and various different kinds of settings for jitter and buffer which allows us to manipulate the ability of the feed.
Did you have much time for testing?
AJ: The kits were put together one week prior to the first Test match. [Sky Sports head of production technology] Gordon Roxburgh and I tested them, bringing together all of the trials we had run and the kit we had purchased. The two iPad kits were then hurriedly shipped off to Sri Lanka along with the kit for David Lloyd. We managed to get some good technical rehearsals in with all three prior to the Test match which was an important part of this being successful.
Are you happy with how it has worked out?
AJ: The audio quality was pretty impressive on the iPads. This was due to the use of broadcast-quality microphones and suitable codec choice. The round trip latency for commentary referencing the live feed was less than 1.5 seconds, which minimised pickup times from the commentary teams.
We also realised, after speaking to the production team, that cricket commentators need to see one another so video calls were set-up on their devices running on 4G so that we didn't disrupt the broadcast audio and video feeds that were using the home internet connection.
A lot of what made this so successful was the way in which the stage was set in how the technology was used. We had to make conscious decisions about the way in which commentary would function as part of the production, taking into account the latency. This meant that commentary had to be led from Isleworth because the guys there are seeing pictures fractionally ahead of the remote commentators.
Because of the longer latency for the commentators out in Sri Lanka, the decision was made to bring Mahela and Kumar into the mix in the same way that you would when talking to a guest, rather than leaving their mics on the whole time like you would with localised commentary. This worked really well from a viewer perspective, in my opinion.
The production teams' ability to adapt to new workflows and to take on board the new ways of working allowed it to be so successful. And all of the commentary teams were really great, working through all of this with us, being directed remotely to change and improve settings. So it was a real team effort.
What was the biggest challenge?
AJ: Internet connections and quality of service and then diagnosing internet issues with remote teams. That was tough. We were moving kit on and off hotspots and various home internet connections in order to get stability. Fortunately, everyone was very patient in working through the setup quirks.
Is there anything you've learnt from this project that you can take forward?
BH: The ability to bring people into your programmes from their bedroom or living rooms is absolutely great. It works well. People are always innovating, coming up with ideas and trying to find positives in difficult situations. Bumble is in the vulnerable age category. I wouldn't have asked him to come down to London and to Sky's studios, so viewers wouldn't have enjoyed his commentary if it wasn't for the technical wizards.
Overall, how do you think the coverage is going?
BH: I am delighted with the output. This is why working for Sky is great. You can have an idea, you can have an editorial theme, and then people will go away and deliver something better than what was in your head. And that's testament to the amazing people that we have across the business.
The second Test between England and Sri Lanka is live on Sky Sports from Friday 22 January 2021.
---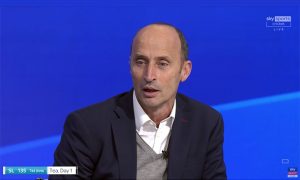 "It's like fielding at short leg. You don't want to do it too well because you'll be in there for the rest of your career!"
Sky Sports commentator and former England captain Nasser Hussain talks to SVG Europe about the ups and downs of doing remote commentary. Read more.
---