Live from IBC 2022: Friday's latest from Amsterdam
The SVG Europe and SVG Americas teams are onsite in Amsterdam for the triumphant return of the IBC Show. As the production and broadcast industry gathers at IBC 2022 to launch new products and reconnect, the SVG team is out in force in the exhibition halls of the RAI to gather and share the latest news with the SVG community. You'll find all the key announcements and news here with daily updates through Monday.
Today's issue features Aeta Audio Systems, Amagi, Amazon Web Services, Arri, Cartoni Camera Supports, Cyanview, Domo Broadcast Systems, Eluvio, Evertz, Fastly, G&D, Grass Valley, Haivision, Leader Electronics, Media Links, Mo-Sys Engineering, NEP Group, Phabrix, Ross Video, TAG Video Systems, Take 1, Tedial, Telemetrics, Telestream, TSL, TVU Networks, Vislink, VITAC, WorldCast Systems, Zixi.
Aeta Audio Systems (Stand 8.F83) is exhibiting the new Scoop6 double IP mono codec. Following in the footsteps of the Scoop5s rack-mount audio codec, the new unit is more compact and allows users to combine many codecs into one 19-in. rack unit. "Just like we've upgraded Scoopy+S into Scoopy Flex, we have modernised Scoop5s with Scoop6. Our job is to offer top-quality technology that lets users benefit from the most advanced features and versatility on the market, may it be in remote connections or in the studio," said Aeta Audio Systems GM Yann Vonarburg.
Amagi (Stand 5.C76) is showcasing the latest version of its flagship ad-insertion product. Highlights of the third generation Amagi THUNDERSTORM include increased render rates, availability on customer's cloud, increased revenue opportunities with non-linear ads, improved CPMs with contextual targeting, and higher reliability.
Amazon Web Services (Stand 5.C80) is hosting an all-day takeover of the Showcase Theatre in Hall 12 on Saturday, with presentations by AWS customers and partners on the transformative power of the cloud. At 2 p.m. on Saturday, Dave Duvall, CIO, Warner Bros. Discovery; Scott Young, SVP, Content and Production at Warner Bros. Discovery Sports, Europe; Marc Aldrich, GM, Media and Entertainment; and Julie Souza, Head of Sports, Professional Services, AWS, will discuss how Discovery Sports is transforming its broadcast and production workflow to tell more data-driven stories and boost audience engagement. In addition to the Showcase Theatre, AWS will demonstrate camera-to-consumer workflows powered by AWS and its partners at 5.C80.
Arri (Stand 12.F18) is offering attendees a chance to check out the latest developments in its ALEXA camera and lens lineup. New this week is the Orbiter Projection Optics 25° and 35° and RIA‑1 Radio Interface Adapter. The RIA-1 is a versatile hub for different shooting setups and is the smallest camera-mounted controller Arri has offered. Supporting ARRI's swappable radio modules, it facilitates powerful wireless camera and lens control in any situation. Orbiter Projection Optics provides a state-of-the-art LED profiler suited to broadcast studios or live productions. According to Arri, it provides precision in every detail, allowing even projection of a light spot without color aberration. With the latest update of Orbiter's Lighting Operating System, LiOS2, the focus can be controlled locally via Orbiter's control panel or remotely by DMX/RDM or IP-based (ArtNet or sACN).
Cartoni Camera Supports (Stand 12.F31) is showcasing professional fluid heads — the Maxima, Master and Magnum — that make it the first camera-support company to introduce a full line of encoded and encode-ready professional fluid heads. With the ability to track position, they provide precise camera information for VFX, virtual production, and more. The e-Maxima, e-Master and e-Magnum encoded heads offer all the features of Cartoni's premium heads for digital cinematography. In addition, the E-series features extremely high-resolution direct-sensing encoders in both the pan and tilt axis. The encoders render absolute positioning without recalibrating at startup. "We were pioneers when we made our first encoded-ready heads and are now pioneers in creating the new position-encoded E-series," said Elisabetta Cartoni, president and CEO, Cartoni Camera Supports.
Cyanview (Stand 10.D31b) is demonstrating its new Rio Live solution, a camera-mounted addition that facilitates shading and tally across a diverse range of D-Cinema cameras, camcorders, and mirrorless cameras in multi-camera live productions. The unit can be coordinated with an extensive range of cameras to facilitate remote control. The range of cameras supported and the flexible connection options available enable producers and creatives in both broadcast and pro-AV markets to deploy complex camera setups; this is fundamental when using large-sensor D-Cinema cameras with PL zoom lenses and 3D LUTs and ensures that a specific, consistent look — usually achieved in postproduction – can be secured across the cameras, even in live productions and while streaming.
Domo Broadcast Systems (Stand 10.D40) has announced the release of DBS IP-Mesh Backbone, the sought-after solution that lets broadcasters centralise control of their wireless devices on a single RF channel. "With DBS IP-Mesh Backbone, the production team can monitor the performance and connectivity of their wireless assets from one central location — from any node in the network via any common web browser," said Stuart Brown, commercial director, Domo Broadcast Systems. "Because less kit needs to be attached to cameras, it improves on rigging time, reduces the weight of camera units, and decreases the amount of kit that needs to be transported to broadcast-event locations."
Eluvio (Stand 8.M54) showcasing the Eluvio Content Blockchain, a complete and open decentralized utility network for Web3 media. Examples of companies and creators whose content blockchain initiatives have been powered by Eluvio include Fox, MGM Studios, Microsoft, Sony Pictures, WWE, The Masked Singer, Dolly Parton, Black Eyed Peas, Rita Ora, and independent filmmakers. Just ahead of IBC, Eluvio was selected as the platform behind the Web3 film experience for the upcoming film The Real Cannonball Run, which will tell the true story of the legendary coast-to-coast automotive protest race across America. On 10 September at 1 p.m. at Stand 8.MS4, representatives from The Real Cannonball Run will join leaders from across the industry at a global Eluvio Community Event.
Evertz (Stand 1.F76) is highlighting its Software-as-a-Service solution Evertz.io for live sport rights holders to launch new channels and monetise content via OTT and D2C platforms, connected TVs, and traditional broadcast distribution and streaming applications. The platform, which offers hourly, daily, and monthly pricing models, provides features found in enterprise class broadcast playout systems, including live inputs, video and audio mixing, multi-language captioning and subtitling, and full graphics and branding capabilities, Evertz said. "Alternative and hyper-targeted channels that would previously have been too costly or too niche to launch can now be explored and monetised, enabling broadcasters and content creators to maximise their assets and increase revenues," said Martin Whittaker, technical product director, MAM and automation, Evertz.
Edge cloud platforms are of great interest at IBC 2022, and the Fastly (Stand 5.D28) suite of edge compute, delivery, and security offerings has arrived at the show with a unique partner on board: the Mercedes-AMG PETRONAS Formula One Team. "Our fight for milliseconds on the track relies on the strength of our digital infrastructure and the speed of our network," says Mercedes-AMG PETRONAS Formula One Team IT Director, Michael Taylor. "Joining forces with Fastly, who share our obsession for innovation and uncompromising performance, will help drive us forward on the track and power our fan experience in the virtual world." Adds Fastly CMO Margaret Arakawa, "The Fastly and Mercedes F1 partnership showcases two brands that are synonymous with performance and speed at global scale. Fastly is excited to push the limits of speed and security alongside a team that is not only one of the most legendary names in global motorsport."
G&D (Stand 8.B89) will headline its presence in Amsterdam with the new high-performance KVM-over-IP extender VisionXS. The product allows switch functionality to manage multiple target IP addresses from up to 20 computer sources on one device. The PersonalWorkplace-Controller will also be display at the RAI. The tool enables users to display up to 26 video sources on a single monitor.
Grass Valley is occupying all of Hall 9 this year. Although announcing several new pieces of physical hardware, its IBC 2022 press conference on Thursday focused squarely on AMPP (Agile Media Processing Platform) and the company's continued push toward the cloud. In terms of physical equipment, introductions at IBC 2022 include the new LDX 135 camera, a significant upgrade to the Kula switcher, new Kaleido-IP multiviewer, and Sirius router models. AMPP has 24 new applications and more than 80 platform enhancements as the company looks to help customers transition into the next generation of live production — whether that's on-premises, remote, or fully in the cloud. Stay tuned to SVG Europe for plenty more news from GV's Hall 9 throughout the show.
Having completed acquisition of Aviwest, Haivision (Stand 2.B36) is demonstrating the latest 4K/UHD bonded-cellular technology for live event broadcasts from anywhere. Included is a to-be-announced addition to its solutions portfolio. With HEVC image quality and powered by both SRT and SST protocols, Haivision mobile contribution solutions (including the PRO460 video transmitter and StreamHub transceiver) offer the solid workflow flexibility and the low end-to-end latency over 5G networks. Other key Haivision themes at the show are decentralized remote production using its Makito X4 series of low-latency video encoders/decoders and new cloud technology for intuitive central management of live streams, transcodes, and routing workflows.
Leader Electronics (Stand 10.C01) is demonstrating the latest additions to its wide range of broadcast measurement and monitoring equipment. "A key theme of the exhibit will be easing the SDI and IP transition from both a technical analysis and operational perspective," said Kevin Salvidge, sales engineering manager, Leader Europe. "Since the IBC show in 2019, Leader has added an IP-specific product to its range of test and measurement products: the LVB440 IP analyser. We now offer a complete IP solution, ranging from the LT4610 and LT4611 PTP generators through the Zen Series LV5600 and LV7600 True Hybrid IP and SDI test and measurement instruments to the LVB440."
Media Links (Stand 1.C45) is launching its 4K, JPEG-XS version of the MDP3020 MAX IP Media Gateway. The SMPTE standards-based MDP3020 MAX is aimed at live, remote-production broadcast applications where network edge bandwidths are constrained and time-sensitive, immediate interaction between the studio and venue(s) is a necessity. It has been enhanced with support for two 4K-UHD/12G SDI video channels; it processes incoming 4K, 12G SDI video and audio streams by applying JPEG-XS compression and then encapsulating content into packets for transport over an IP network.
Mo-Sys Engineering (Stand 8.A49) is focused on virtual production. Its message coincides with the release of MoRail, a motorized and cost-effective creative pan-tilt-zoom (PTZ) camera rail system for ENG movement within newsroom environments. Within this setup, customers will receive a device to customize the height of the rail and camera position as well as focus and iris control. In addition, Mo-Sys is working toward becoming a viable conduit for real-time broadcasts in the virtual space through a live demonstration at its stand at the RAI. In partnership with European manufacturer Alfalite, a multi-camera setup — orientated and positioned by Mo-Sys StarTracker Max — will be siphoned through Mo-Sys VP Pro XR software, which builds on the power of Epic Games' Unreal Engine rendering to create a seamless augmentation of real and virtual elements.
NEP Group (Stand 5.H72) is launching TFC Flow at IBC 2022, demonstrating Mediabank, and offering a demo of BSI's Mini-Tx, the world's smallest UHD wireless video transmitter and the PICO camera, which provides a wide degree of versatility and 500 fps capability. TFC Flow provides complete control of data, intercom, and video- and audio-signal flow within a unified live-event ST 2110 network; it is powered by NEP's proprietary, web-based, multipurpose control platform, TFC (Total Facility Control). "All of us at NEP are looking forward to returning to the IBC Show to connect with our partners and colleagues from around the world," says Mike Werteen, global president, NEP Broadcast Services. "We're eager to debut TFC Flow at IBC, an IP control game-changer for the live events and broadcast industry. With our other product demos, lineup of speaking appearances, and NEP recruiting opportunities, the 2022 IBC Show is shaping up to be one of our most anticipated shows in years."
Phabrix (Stand 10.C01) is exhibiting multiple new hardware and software releases in its range of T&M tools. Headlining the rollcall of innovations is a portable addition to the Qx Series rasterisers in the form of the 3RU QxP, and NoVNC browser-based remote access and improved audio functionality are among the features of the latest software release (V4.7) for Qx and QxL Series rasterisers. Providing a portable and remote-application–friendly addition to the Qx Series, the QxP inherits the flexible architecture and extensive workflow support of the QxL.
Ross Video (Stand 11.B10) has announced that it has agreed to acquire Spidercam, a global supplier of broadcast cable-camera solutions. Spidercam made its television debut in 2005 and is now the market leader in cutting-edge cable-camera solutions used to create unique outdoor shots for sports events, concerts, esports, and TV shows around the globe. "Spidercam's technology creates visuals that are simply spectacular, and we're thrilled to integrate them into our production universe," said Ross Video CEO David Ross. "We're committed to continuing Spidercam's excellent customer experience as a part of Ross while offering more capabilities to even more customers. On a personal level, I just love cable cameras; they're such an awe-inspiring and dramatic technology."
After initial launch at NAB 2022 in April, TAG Video Systems (Stand 1.C30) will introduce its Media Control System (MCS) to the European marketplace. Working in tandem with the company's Multi-Channel Monitoring systems, MCS is tasked with promptly aggregating, managing, and orchestrating newly collected data. To further refine the workflow, the product is relying on the new Bridge Technology, which removes the complexity of routing the same stream to diverse locations with an ultra-efficient architecture, enables an operator to receive a source once and display it directly on any TAG system, and automatically optimizes the sizing, format, and delivery protocol to fit the configuration of multiple recipients. Alongside MCS, TAG Video Systems will showcase enhancements and new resources for the Multi-Channel Monitoring solution. The improvements include under-monitor display (UMD) with expanded UMD and tally functions, internal timers, and tight integration with the popular Plura series of MTD production timing devices.
Tedial (Stand 10.D30) is introducing its smartWork next-generation, cloud-native, no-code media-integration platform to the EMEA media and entertainment market. Following the platform's launch in April, Tedial is demonstrating new features for IBC that will improve business processes for media companies. Attendees will see how Tedial's smartWork platform decouples the customary orchestration capabilities embedded in the systems that broadcasters have traditionally been using, such as MAM, DAM, PAM, and CMS. It offers a framework where all the systems are integrated in the same way, based on three key pillars: common interface, common data model, and common workspace, in which applications go to the media and not the media to the applications.
Telemetrics (Stand 12.G34) is demonstrating several new features, including new capabilities for the RCCP-2A robotic camera control panel (improved AI-assisted talent tracking, for example) and award-winning OmniGlide Robotic Roving Platform. The former RCCP-2A control panel will demonstrate features like Prep Execute, which enables users to instruct the robotics to prepare to move to a starting position and then execute the move with a single button press. And OmniGlide will feature "Path Planning," allows the user to navigate complex nonlinear paths in a studio or event space while avoiding collisions with set pieces and studio personnel. Special AI-assisted software enables the rover to instinctively learn the space it is operating in and find the safest and least-obstructed path from Point A to Point B.
After acquiring Encoding.com in May, Telestream (Stand 7.C16) is showcasing the combined service of Encoding.com platform and the Telestream Media Framework (the underlying technology stack for nearly all Telestream products, including Vantage). With the Telestream Media Framework, Encoding.com can better support a larger variety of broadcast and postproduction workflows in the cloud with new capabilities for processing advanced codecs, transcriptions, more caption/subtitle formats, and a more robust automated QC service.
Responding to broadcaster requirements for cost-effective, networked audio monitoring, TSL (Stand 10.B41) is highlighting its complete portfolio of audio solutions, including MPA1, SAM-Q, and PAM offerings. SAM-Q-NET audio monitor is the company's latest audio-product release and introduces SAM-Q advanced audio-monitoring capabilities to an IP-networked world, with native support for ST 2110-30 and ST 2022-7 and multiple control options, including NMOS. One of the benefits of SAM-Q-NET is that the onboard redundant 1G Ethernet connectivity vastly reduces the cost of deployment for audio-specific installations. "TSL can provide an audio-monitoring solution to fit within any environment and to suit anyone, from operator to engineer," said Berny Carpenter, audio product manager, TSL.
TVU Networks (Stand 5.C73) is prioritizing a handful of initiatives at IBC 2022. Notably, the company is pushing its TVU Cloud ecosystem, which ensures greater bandwidth and resiliency, ultra-low latency, and connectivity with speeds up to 100 times as fast as 4G. Within this ecosystem, several solutions work together to seamlessly provide a reliable solution: TVU One mobile transmitter, mobile devices leveraging the TVU Anywhere app, the TVU RPS remote-production system for encoding and decoding, TVU Producer to enable live streaming, TVU Partyline for real-time collaboration, TVU Remote Commentator for offsite analysis, and TVU Channel for remote playout. In addition, the company is highlighting an upgrade to TVU Channel: TVU Channel Plus. This free-to-use service enables customers to schedule live and VOD programming through a simplified web-based platform.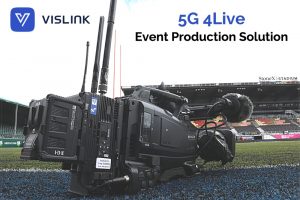 Vislink (Stand 1.A63) has launched the Vislink 5G 4Live end-to-end remote-production solution designed to provide a premium-quality, uncontended 5G private network solution. It follows Vislink's participation in 5G trials with the BBC and BT Media and Broadcast at the Birmingham Commonwealth Games and at Premiership Rugby. The 5G 4Live solution, which will be demonstrated at Vislink's stand in Hall 1, has been designed for use at major events where live-production organisations have traditionally deployed COFDM systems. It enables live production with full support for wireless cameras, providing freedom for operators to roam and gather footage.
Two companies underneath the Verbit umbrella — VITAC (Stand 5.G36) and Take 1 — are exhibiting the latest updates on accessibility trends. Taking the "Content. Everywhere" stage on Monday, Sept. 12, VITAC and Take 1 access service manager Scott Henderson will participate in a panel discussion about making visual content more accessible to all audiences. Both companies are also available to discuss the various offerings of live and offline captioning, transcription, subtitling, and audio-description services.
WorldCast Systems (Stand 8.C58) is launching the Ecreso FM 1kW transmitter from the AiO Series In the compact form of a 2RU FM transmitter. It is said to deliver the highest efficiency on the market. In its standard operations, broadcasters benefit from up to 76% efficiency (AC to RF), and, when the patented SmartFM technology is activated, they can further reduce energy consumption by up to 40%, according to WorldCast. "Our mission is to provide our customers with the most advanced solutions that reduce their operating costs while supporting them in delivering the best FM service to their listeners. With the new AiO Series, we have breached a major milestone for achieving the lowest total cost of ownership in FM transmission," said David Houze, product manager, Ecreso, WorldCast Systems.
Zixi (Stand 1.D81) is exhibiting an integrated Marshall CV630-IP camera at the RAI, following a partnership between the two firms. The tie-up means that Marshall cameras now include native support for Zixi-enabled delivery with compatibility extending to all Marshall Broadcast and pro AV-over-IP solutions. All standard IP camera versions can be loaded with the Zixi-enabled firmware allowing existing Marshall operators to add Zixi support to their cameras. Zixi SVP, Alliances, John Wastcoat said, "Marshall has an excellent reputation in the broadcast community with their feature-rich cameras, and we look forward to a fruitful partnership."