Live from IBC 2023: Sunday's latest from Amsterdam
The SVG Europe and SVG Americas teams are onsite in Amsterdam for IBC 2023. As the production and broadcast industry gathers to launch new products and to network, the SVG team is out in force in the exhibition halls of the RAI to gather and share the latest news with the SVG community. You'll find all the key announcements and news here with daily updates through Monday.
Today's issue features Aeta Audio, Audinate, Backlight, BCE, Brightcove, Colbalt, Cyanview, Evergent, FriendMTS, Editshare, Globecast, Guntermann & Drunck, Hitomi Broadcast, Imagine Communications, Intelsat, Lama, LTN, LucidLink, Magnifi, Mavis Broadcast, MediaKind, Net Insight, Q5X, Riedel, RT Software, Shure, SSIMWAVE, Synamedia, TAG Video Systems, Telstra Broadcast Services, Vislink, and Xytech.
Aeta Audio (Stand 8.F65) is showcasing Scoopyflex, which has a new docking station to increase the system's flexibility. Said general manager Yann Vonarburg, "The new docking station is available, and we're on the edge of having our new recording, playback, and editing features for Scoopyflex available as well. This all combined makes our small portable reporting unit, Scoopyflex, into a full commentary unit so users can have a few Scoopyflexes, a few docking stations, and use them interchangeably to be covered for every type of event."
Audinate's (Stand 5.C90) Dante Connect is now shipping. Multiple customers are using the audio-transport solution for cloud-based workflows in production, with more currently executing proof-of-concept tests prior to deploying to production. According to Audinate Principal Product Manager Will Waters, Dante enables mixing editors and A1s to support remote-audio-production workflows. The complete remote production of audio is enabled by Dante Connect, from transmission of audio from any Dante-enabled device on location through cloud services and back down for broadcast. Audinate also announced that Advanced Systems Group (ASG) and Diversified have signed on as distributors, joining HHB Communications.
The Backlight stand (1.D09) offers a chance to find out how Wildmoka, one of the companies in its portfolio, dovetails with Zyper Playout, another entity within the Backlight family. Wildmoka provides cloud-based video production, and Zype Playout adds drag-and-drop programming of live or on-demand videos into linear streams for distribution across broadcast and digital platforms. Wildmoka now includes Live Studio, a browser-based digital-first live-production platform that makes it easy to tailor an existing live stream or create a new one from multiple live sources, clips, graphics, and images, while preserving brand consistency with preconfigured production rooms and templated destinations. AI-assisted inventory creation within Zype Playout is another new feature, providing the ability to detect ad opportunities using machine learning, combined with low-latency ad routing, device targeting, and a custom approach to ad macros.
BCE (Stand 8.B57) is introducing its Media-as-a-Service offer. The concept marks an important evolution for BCE, providing customers with a one-stop shop for all their media solutions, products, and services. Media-as-a-Service allows customers to build their own customised set of solutions that precisely match their project requirements. The goal of the new approach is to provide unparalleled flexibility and efficiency to its customers. BCE is showcasing its remote-production and gamification modules, featuring two cutting edge solutions: Holovox and fan engagement. Holovox is a remote voice-over solution that enables users to add one- or multiple-language voice-over streams to live productions from any location with an internet connection. Its cloud-based platform allows users to manage teams, control live audio and video streams, and seamlessly incorporate live translations and sign-language insertions.
The big news from Brightcove (Stand 5.B90) is a deal with the National Hockey League (NHL), under which the streaming company will provide its technology and platform for delivery of digital video content on the websites of the league and its 32 clubs and on the NHL app. Brightcove's streaming solutions —ingest, players, management, data and insights, monetisation — will transform how the NHL delivers its video to hockey fans across the globe, including by offering high-quality video, fast load times and fewer disruptions, according to Brightcove. Its stand also highlights monetising live and on-demand streaming content and maximising audience value across a broader range of revenue models as sharing content to larger audiences and new audiences.
Colbalt (Stand 10.F42) is showcasing its new Wave Routers, which are available in 64 x 64 and 32 x 32 options. Said Suzana Brady, senior vice president, worldwide sales and marketing, Cobalt Digital, "These are extremely high density, very flexible, and very easy to integrate. They are compatible with Colbalt's new Wave Control Panels. The panels also have customisable APIs so they can be used with any product, which is a great differentiator."
Cyanview (Stand 10.D31G) is exhibiting its new menu for the RCP-J. Said Cyanview marketing and comms manager Renaud Tilman, "We've got a totally new menu to add functionality as found on high-end cameras. such as Sony. If operators use Cyanview for high-end cameras, it will be easy for them to work with."
Having just last week merged with Shift Media, Editshare (Stand 7.A35) is showcasing the cloud-native-video-solutions provider's products: MediaSilo, Wiredrive, and Screeners.com. Editshare chief technology officer Stephen Tallamy spoke about MediaSilo, a SaaS video-collaboration tool used by various sports leagues and federations, including Elite Wrestling and a major sports league in the U.S. Teams can share work-in-progress or finished content rapidly wherever team members are located, with just the relevant metadata, he noted: "They don't always need markets, sub-clips, and so on. It allows teams to review and approve and tag content really easily." Following the merger, the two firms will operate under the Editshare brand. Said Tallamy, "We can see a lot of fragmentation in the market, with customers needing to pull solutions together. We have been partnering with other companies to offer solutions, but our plan is to continue to grow and help with the lens to living-room workflow. With the Shift Media deal, we're a huge way there now. We're seeing a lot of customers looking for change, and Editshare has always been about choice — whether that's cloud, on prem, or hybrid — via recurring revenue or capex. Our plan is to continue to meet customers where they want and with what they need."
Evergent (Stand 5.G80) is promoting integration of advanced artificial-intelligence (AI) tools into its Captivate Product Suite for payment recovery and proactive churn management. The new AI-backed tools allow enterprises with subscription models to analyze and enact intelligent payment retries, leading to reduced payment failure and an improved customer experience. On the sports front, the company has unveiled its Sports Accelerator package to optimize monetization of live-event programming for sports OTT providers. Customers involved in the project are the National Basketball Association (NBA), YES Network, Bally Sports, MSG Network, and Marquee Sports.
FriendMTS (Meeting Room 1.BS13) is sharing how a private-equity investment last year and a new CEO this year are paying dividends via an expanded R&D team, new offices, and more, ensuring that its content-security and anti-piracy services get stronger and better. FriendMTS marketing director Nik Forman noted, that more than 230 enhancements and features have been added since last year: "We now have support for SCTE-35, which allows our customers to no longer have to give us a clean feed as their reference feed for our digital-fingerprint [insertion]. That is a significant help to customers as it makes things faster and more scalable."
With less than 12 months until the Paris 2024 Olympics, Globecast (Stand 4.C16) is looking to ramp up its distribution, delivery, and production-services offering for the Summer Games, for both rights holders and non-rights holders. With the event taking place in its own backyard and with parent company Orange as a premium partner, the opportunity is there for Globecast to do "a lot more than we would normally do," said Tim Jackson, SVP, sales and marketing, Americas. The resources and services will cover fibre, satellite, and IP — and hybrids of all three — for both main signals and redundancy. At IBC 2023, Globecast is also touting its tie-up with Simplestream, supplier of live- and VOD-streaming services. Under the agreement, Globecast will provide fully managed services for production, ingest, and encoding workflows, as well as eyes-on support, which encompasses a 24/7 service desk with instant Slack and telephone support during events. The alliance extends to live channel acquisition from satellite, using a global network of facilities.
Guntermann & Drunck (Stand 8.B91) has expanded its Vision XS Compact KVM matrix-compatible extender lineup with a new module that allows computers to be integrated via USB-C connectors. Said Guntermann & Drunck marketing director Jessica Lange, "You have to plug in only one cable to your laptop, and you are connected to the KVM system. It makes it simple for the operators as well as the installation team." Another highlight, she added, is a personal-workspace controller that allows different display sources to be shown on one monitor: "It's flexible and very easy to operate."
Hitomi Broadcast (Stand 10.A42) is demonstrating MatchBox Cloud, which brings Hitomi's widely adopted lip-sync analysis products to cloud-infrastructure workflows. This gives sports broadcasters the ability to work in any kind of distributed production with a product they already know and trust, the company stated. Said James Robinson, director at Hitomi, "Software workflows bring their own unique challenges and timing issues, especially in the world of live sports production. More-complex software systems spanning the world make the need for measurement ever more important with longer processing delays. MatchBox Cloud solves these challenges in processing and latency, making sure sport arrives on screens on time and perfectly synced."
One of Imagine Communications' (Stand 2.A15) key areas of focus at IBC 2023 is helping content creators produce UHD and HDR content. With the company providing tools and services for processing, routing, and interconnection, said Imagine Communications CTO of infrastructure John Mailhot, "We have been rolling out more and more sports-venue products that incorporate and are capable of doing UHD and HDR. Consumer delivery remains a challenge, but this will come, because the OTT platforms are already doing it." He added that, while demand for UHD/HDR first took off in Europe, it is now "robust" in North America. "People are equipping facilities to be HDR-capable even if they're not necessarily using it right now. There is a lot of interest in 1080p HDR as a production format because it offers the right combination of quality and cost-effectiveness; it's more straightforward to reach an audience with 1080p HDR, and the incremental value of HDR to the viewer is great."
Intelsat (Stand 1.C71) has unveiled the IntelsatOne IP content distribution system, which uses the internet to transport video content around the globe. According to Intelsat VP, media, Pascale Fromont, the interconnected, software-based platform uses Intelsat's hybrid terrestrial and satellite infrastructure to allow broadcasters to access the full Intelsat Global Media Network, offering connectivity that traditional IP providers are unable to provide. Other key features are full-network visibility; controlled, multi-destination routing management; and enhanced end-to-end video management and streaming protection. IntelsatOne IP is available today for customers to begin testing use cases and will be commercially available as an operational service later.
Lama (Stand 8.A80) is talking about Lama Connect, which enables users to embed up to 256 channels of audio into an NDI stream. The timing of NDI streams in Connect is stable and does not drift over time, according to the company. Said Lama CCO and co-founder Ewan Cameron: "Big broadcasters are actively looking at using NDI as an alternative to other streaming products. Whereas you used to be able to do 16 channels per stream [with the NDI protocol], we've changed that to 256 channels. This means broadcasters can now do complex mixes both in the cloud and on-premises using the NDI protocol for added flexibility, scalability, efficiency, and some cost savings. Lama is taking part in a seminar titled "Audio with NDI" at the Rai on Sunday 17 September at 3 p.m., Room G106.
LTN (Stand 5.A76) is evangelising the move to a fully managed IP-powered network, where content versioning happens inside the cloud. According to the company, working this way enables sports broadcasters to reach more market segments and address specific needs through intelligent routing and workflows. This is done through LTN Arc. Providing automated workflows and supported by the highly redundant video transport backbone of the LTN Network, Arc delivers the versioning, customisation, and decoration capabilities that rights holders need to tailor and deliver content for worldwide audiences while enabling downstream monetisation. The company recently opened an office in Cologne targeting broadcast-level customers in Central Europe.
LucidLink (Stand 3.B67) is showcasing the new LucidLink panel for Adobe Premier Pro video-editing software. The integration of LucidLink Filespaces into Premier Pro, LucidLink's first integration within a creative tool, allows creative editors to preemptively cache just the media needed in their edit, directly within the Premiere Pro application. According to Alex Ferris, director, pre-sales engineering, global lead, LucidLink, creative editors can now either pin just the clips needed within their sequence or, if more precision is needed, cache the clip ranges found within their edit, giving editors a faster and more performant experience. The panel, which is available now in Premier Pro, brings intelligent, sequence-aware caching directly into the editing tool for the first time.
The key attractions on the Magnifi stand (5.C96) are an early-access demo of an AI-infused application for speeding up craft editing and a showcase of the tie-up between the company and Grabyo. The former, codenamed Pluto, automates creation of short clips from long-form content, using advanced recognition of faces, speech, places, objects, actions, and audio cues. It expands Magnifi into the scripted content market. At the same, the partnership with Grabyo is intended to create a "human-centric" automated video workflow that it hopes will reshape how sports content creators and broadcasters engage with audiences worldwide. The partnership combines Grabyo's live clipping, editing, and publishing platform with Magnifi's automated highlights-production solution, which uses machine learning and computer vision technologies, to give sports organisations the ability to capture, edit, and publish highlight clips from live sports broadcasts quickly and at scale.
Mavis Broadcast is on the Atomos stand (11.D.25) showcasing the latest rendition of its live-cloud-production platform. Mavis 2.0 accommodates up to eight camera inputs, double VT playback, multiple output formats, and a bevy of new additions.
MediaKind (Stand 1.D25) is showcasing its cloud-based services and tools. New this year is MK/IO, which uses Microsoft Azure to stream video assets both live and on demand (and with DRM support and a native video player). MediaKind president and chief revenue officer Steve Payne said that discussions around how cloud-based services create new advertising and monetization opportunities are top of mind this year. "We all know that turning the dials to maintain efficiency and quality, as well as total cost of ownership, is important, but that goes hand-in-hand with business needs. A huge part of what we're focusing on is innovation to provide a good foundation of reliability, scale, and uptime as well as business value, whether the customer is an MVPD, broadcaster, or programmer."
Net Insight's (Stand 1.B41) Trust Boundary appliance is making a splash at IBC 2023. It gathers all needed IP media-address translation, monitoring, traffic control, and security functions into one product and allows clients to ensure that IP media can move across network boundaries without outages and security risks. The system works by terminating a media flow at the network boundary and re-establishes it at the destination network without disrupting other active IP media flows. According to NetInsight head of sales, Americas, Per Johansson, it digs into the stream to ensure that it has the right bits, audio, and everything else. "It's about content protection but also meeting the desired needs. If you're expecting an HD feed and getting a 4K feed, that could impact the transmission for a whole company." Net Insight also has a new product that oversees signal-clock timing across 5G networks, providing synchronization all the way to the edge without having a complete PTP network.
Q5X (Stand 8.C92) is the place to go to check out microphones and transmitters that can be worn by athletes, but be sure to check out a new IFB system suitable for on-field interviews via consumer-grade earpieces taken to a new and more professional level. According to Q5X chairman and CEO Paul Johnson, there is both an in-ear and a behind-the-ear version with receiver and transmitter. "And we are working with Wavenet's NESO 2.4 [in-the-canal hearing terminal], which is louder than other systems and virtually disappears once you put it on."
Riedel (Stand 10.A38) is showcasing its Horizon high-density converter rack unit, which bridges the worlds of SDI and IP. Riedel marketing manager, Americas, Sara Seidel described it: "It's really high density, which means, with less weight, less energy, and less space, you can have one rack unit instead of 32. It converts IP to SDI and vice versa. So, no matter where you're working, you can always connect and bridge SDI and IP."
Making its debut at IBC 2023 is RT Software's (Stand 7.B18) Tactic v7.0 sports-analysis telestrator. The new Player Drag and Infill feature, an AI-enabled upgrade of a previously manual process, lets users drag a player across the pitch to illustrate the pros and cons of alternative positions. It builds on the success of AI Automatic Pitch Calibration and AI Player Tracking. The company is also offering a live AR demonstration on its stand, with Canon's latest CR-N500 PTZ camera delivering live feeds into the graphics engine. Visitors will also be able to trial an advanced preview of the new web frontend being developed for Swift CG. It builds on the success of the live-production tool, Swift Live, typically used in studio environments to trigger live graphics to air. Swift Live will be running to show visitors how its flexible interface can make controlling live show graphics easier for gallery operators. The company is also underlining its commitment to interoperability by participating in demonstrations on other vendor's stands: Matrox and Grass Valley.
Shure (Stand 8.C68) is discussing the MVX2U digital audio interface, a single-channel XLR-to-USB solution designed to eliminate barriers to achieving professional-level audio. Compact and discrete, the MVX2U's integrated software provides access to the ShurePlus Motiv desktop app for any XLR microphone, with little to no setup, and delivers up to +60 dB of clean gain. "The MVX2U is the most convenient and powerful solution for users looking to convert their XLR microphones to USB at this price," noted Sean Sullivan, associate director, global product management, Shure. "The integrated software is designed to be approachable to anyone — experienced professionals and those just starting their audio journey." Also on exhibit is the Q5X Player Mic, which is used by the NFL, NBA, NHL, and many other sports to bring the sound of the players to fans at home.
SSIMWAVE, an IMAX (Stand 3.C67) company, is on hand with its Stream Smart technology, which applies neuroscience to signal-quality analysis via test and measurement equipment, creating an algorithm that allows operators to determine the difference between an error or artifact that viewers will notice and one that may be measurable but won't impact the viewing experience. "The strength is knowing how low you can go before something gets degraded to the point where the viewer is distracted," said Saj Jamal, VP, marketing, SSIMWAVE. "The key spot for it is pre- or post-encoder, because that is where most things can go wrong. And you can dig deep because it ties in with other systems to see if something is a loudness issue or a picture-quality issue."
Synamedia (Stand 1.BS22) is focusing on its advertising and anti-piracy efforts. On the advertising front, the company has unveiled major updates to its Synamedia Iris advertising platform, expanding campaign formats and increasing monetization options. With the addition of programmatic support to the platform's direct sold capability, customers will benefit from a single, unified ad platform that reaches consumers on any screen. Furthermore, a partnership with supply-side platform Index Exchange, one of the largest independent ad marketplaces, now connects Synamedia Iris customers with global advertisers. On the anti-piracy side, the company's ContentArmor forensic watermarking solution is quicker and easier to deploy to minimize integration and reduce cost of ownership. ContentArmor's watermarking technology detects and disrupts leakage of broadcast and streaming content to both consumers and businesses. Like most at this year's IBC Show, one of the company's main concerns is helping their client's migration to cloud-based work. "With our video networks services, we're helping our clients' transition into the cloud," said Simon Brydon, head of sport, video network, Synamedia. "This decision comes with many benefits, including being more agile, being on top of all of the latest developments, easier [tech] integration, a lot less time and work for staff, and being much more environmentally sustainable." As for shifting operations after efforts in Amsterdam, according to senior director, product marketing, Simon James, artificial intelligence will not only be considered in solutions but could play a major role: "We're looking at AI within all of our portfolios, and it obviously has gained a lot of interest. For example, if you want to build a system on the day of any live sporting event, AI is helping our customers do that by sending queries in and suggesting what kinds of content would work best for that particular game."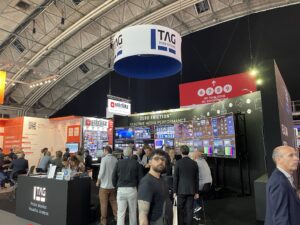 TAG Video Systems (Stand 1.C15) is showcasing its Content Matching technology, which ensures that content is delivered in real time to its intended destination without errors or discrepancies. Created to identify potential issues and confirm signal integrity for increased broadcaster confidence and a high-quality viewer experience, the technology creates a unique fingerprint for video stream to match them across the entire media distribution path. In addition, TAG Video Systems is partnering with Techex to deliver a cloud video-control, -monitoring, and -visualization solution to major broadcasting and media companies. This combination of two companies' solutions can be integrated into existing environments and is capable of transporting video and monitoring streams at every point in the delivery chain.
Internet delivery is accelerating "in a major way" for sports, according to Andreas Eriksson, head of Telstra Broadcast Services (Stand 5.B80). The internet is relevant for both distribution and contribution of sports content, and many large sports events, leagues, and tours are going that way, he says. Hybrid solutions — taking in a combination of fibre, satellite and internet — are also popular, he added, especially for redundancy and backup but also for main feeds, with some federations mixing and matching depending on where the signal is being sent. Managed services are also popular at Telstra, especially media-production value-adds. The company has a tie-up with Grass Valley for AMPP for remote production, playout, localization, and media conversion.
Vislink (Stand 1.C51) chief executive Mickey Miller highlighted three new Vislink products for the sports-production industry, starting with Live Link, a bonded-cellular transmitter that made its debut this week. Describing it as Vislink's most compact and advanced transmitter, he said it will be particularly useful for "the story within the story. If you want to get a shot of players getting off the team bus or a shot of the locker room but you don't have a wireless COFDM network, this gives you the flexibility to do that on the public networks. The other area that we find customers are challenged with is how to cover lower-monetisation events more cost-effectively? Leveraging public networks lets you do that, and this Live Link product lets you do a couple of things: it's double the battery power we had before, and multiple inputs can carry up to six SIM cards, so it's very cost*effective for Tier 2 events." Miller also highlighted Cliq, an ultracompact mobile transmitter used by MotoGP for helmet and shoulder cams and noted AI-automated live-sports and in-studio systems, including IQ vPilot and IQ SportsProducer, that leverage AI technology to analyse live sports events in real time.
Xytech (Stand 1.C50) has unveiled a prototype of a mobile native version of its media-operations platform with a focus on remote-production workflows. Xytech CEO Keith Buckley explained that, as workflows have become more dispersed, the company was keen to enable production teams to have access to scheduling via mobile devices. "The first phase is focusing on people, because the biggest demand we have is from production companies or sports producers that have hundreds to thousands of freelancers and their own personnel that need access to where they are supposed to be on a given day. We want to satisfy that requirement first, and then we will add the rest of the functionality we offer. The second phase will be facilities booking." The progressive web application is in beta testing with some organisations, with a fourth-quarter release expected.