Live from the Biathlon World Championships 2020: Eurovision Services shoots clean in Antholz-Anterselva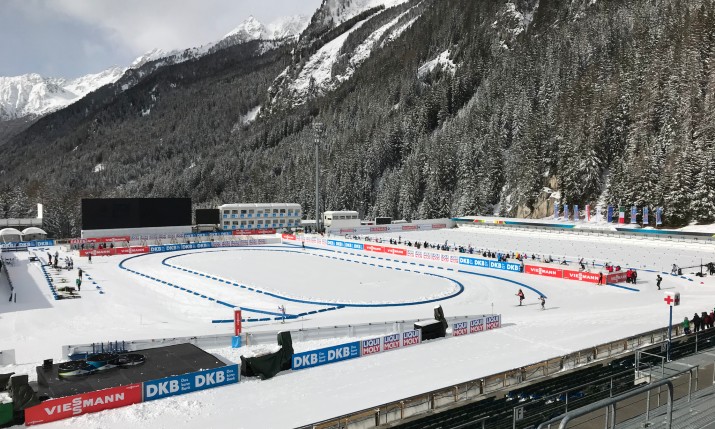 Situated at the end of the Antholz valley in northern Italy, on the borders of Switzerland and Austria, and at an altitude of 1600m, the Biathlon Arena, or "Südtirol Arena", is an ideal venue for the Biathlon World Championships 2020.
Set in a beautiful landscape among the mountains, forests and a lake, the arena can accommodate over 15,000 fans in a huge grandstand area that was extended for the occasion. A further 6,000 fans can follow the competition from the famous area Huber Alm, just opposite the stadium.
It is a fittingly dramatic venue for the flagship International Biathlon Union (IBU) event which is currently mid-way through its ten-day run, and has already featured the highest-level cross-country skiing and rifle shooting action.
Eurovision Services, part of the European Broadcasting Union (EBU), is the host broadcaster for the tournament and is the IBU's service provider for worldwide distribution of all of its events.
The live broadcast feeds from Antholz-Anterselva are being sent to more than 18 European members plus other broadcasters worldwide, including channels in America and China.
Rights licensees include ORF (Austria), BTRC (Belarus), CT (Czech Republic), TV2 (Denmark), ERR (Estonia), YLE (Finland), ARD and ZDF (Germany), RUV (Iceland), RAI (Italy), LT (Latvia), NRK (Norway), C1R (Russia), RTVS (Slovakia), RTVS (Slovenia), SVT (Sweden), SSR (Switzerland) and PBC (Ukraine).
Capturing the action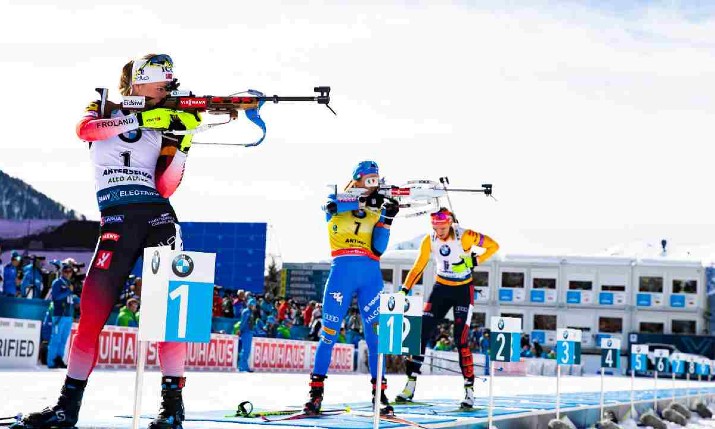 Eurovision Services is not only responsible for capturing and distributing all the necessary audio, video and data signals for linear TV but also the various bits of different content for specialist services and media.
While visiting the site and following the broadcast operations along the shooting range, the start zone, the oval penalty loop and the mixed zone near the finish, SVG Europe caught up with Mathieu Miraucourt, project manager at Eurovision Services.
"The complexity of this World Championship has called upon our expertise in many different areas," he explains.
"The TV compound had to host large number of vehicles and equipment for rights holders in a relatively small space, including office containers for the crews, the master control room, TOC and management offices."
A huge range of different tools are being used to capture the action at the Biathlon World Championships. There are 43 camera positions in total including a four-pole Movicom RobyCam above the stadium, a rail cam at the shooting range, a skidoo camera over a motor sledge and a drone.
It doesn't end there, as Miraucourt reveals.
"We have also prepared several other zones: a giant LED wall facing the seats, several external TV studio booths under transparent tents, a dedicated roof studio for ZDF, a mixed zone by the finish line for some 20 broadcasters, plus reserve spaces, 23 fully or partially equipped commentary positions, a bigger studio for NRK in an elevated position near the shooting range, as well as some bulletproof cabins for cameras."
Fact and figures
The event officially started on 12 February at 20.00 with the opening ceremony and takes place until the 23 February with final medals ceremony. The Eurovision Services feed continues for some 30 minutes after the event with a news package.
For the whole event, Eurovision Services has deployed a crew of 100 technicians and engineers.
A double 10 Gbps fibre connection links the venue to the Eurovision Global Network.
The venue is equipped with double redundant power supply everywhere, guaranteed by two power generators, one serving all tech operations and the other dedicated to lighting.
The experienced biathlon director Ola Fagerheim, from NRK, is part of the production team which also includes some technical crew from the Norwegian broadcaster.
NEP has supplied all the technical equipment, rigging, cameras, eight people for the RobyCam and the host broadcasting OB unit.
Commentary
Managing the commentary and the commentary positions (pictured, left) requires a lot of attention to detail, as broadcast engineer Etienne des Roseaux explains.
"My job is mainly to assist all Eurovision Services customers who booked a fully or partially equipped commentary position. Each journalist finds a warm and completely ready to use commentary booth facing the arena. We provide mic, headphone, commentary unit, monitor, tablet, video feed, internet connection, power supply, return line, communications and IP codecs."
All the signals are delivered to a commentary control room where a Lawo system, a computer and AEQ audio interfaces control and manage everything from mic levels and mixing to audio-over-IP transmission and delivery.
"We have implemented two different transmission modes," continues des Roseaux.
"For example, some customers use a private optical fibre connection to Paris, while for others the transmission is relayed on the internet to avoid any possible network congestion.
"The main idea is to avoid any possible issues since everybody here is using the internet, so we are supplying different symmetric 1.5 Mbps connections for each codec. This allows us to exit from Italy to Geneva on a protected path while leaving public internet free for all.
"This hub allows us to easily handle high-quality audio over IP connections for all, from signal generation to final delivery."
Connectivity
As with most events, getting data and signals in and out of, and around the venue, is key at the Biathlon World Championships. But being at the end of the Antholz valley means that the available connectivity is limited.
"We managed to find a solution for the last stretch from the nearest POP in Brunico, in the main valley," says Patrick Johanny, supervisor events engineering.
"Our multiplexer here guarantees the generation of the three TV feeds, which include pre- and post-competition coverage: the World Feed Programme as a main feed, the Shooting Range plus graphics and a third enhanced feed plus graphics.
An SNG truck is being used either as a back-up or as a main unit depending on the technical parameters of the transmission. This is judged daily, says Johanny.
The biathlon set-up is quite complex, he continues, making note of the changing weather, but Eurovision Services has been producing and distributing winter sports events for many years and has lots of experience in such matters. Planning started early for this event.
"We started studying everything around one year ago and for some specific installations here like the TV compound, it took around eight months to be ready," he says.
"The main TV compound is next to the arena, but some other OB vans are set up at the Anterselva di Mezzo Medal Plaza, mainly for RAI, with a studio, the South Tirol House, and a show stage. These are linked to our main TV compound by fibre and from here we connect Anterselva to our main POPs on the Eurovision Global Network by double 10 Gbps links.
"In total, we are covering more than 330 hours of live television on linear TV, with most broadcasters also offering supplementary coverage on their digital platforms."
The IBU Biathlon World Championships 2020 continues in Antholz-Anterselva, Italy, until 23 February.