Live from the Rugby World Cup: HBS CTO Christian Gobbel on the challenges and opportunities of IP
In many respects, the 2019 Rugby World Cup production efforts by International Games Broadcast Services, the joint venture launched by HBS and IMG Media, is a microcosm of the great transition the industry is undergoing.
The IBC is a mixture of IP and SDI connectivity and some of the biggest rights holders don't even have a presence in country as connectivity allows them to operate from afar. And venue operations are split with NEP UK supplying four IP-based flypacks and NEP Broadcast Solutions out of Singapore providing four SDI-based flypacks.
For David Shield, Rugby World Cup project director and IMG Media, SVP Global Director of Engineering and Technology and Christian Gobbel, IGBS and HBS, CTO, the effort is providing plenty of learning opportunities about the role IP will play in host broadcast operations and how it will impact the type of services they offer. Having four IP and four SDI venue packs makes it easy to compare how they impact the way the production team goes about its business.
"What's noticeable is how neat an IP installation is as there is a lot less cable," says Shield. "Also, here at Tokyo Stadium, for example, the host compound is not in the same place as the rights holder compound. But with IP it's been brilliant as we can run fibre over to the rights holder compound and it's done."
Gobbel concurs, adding that in IP the cabling mess is confined within the rack as a single fibre optic cable can carry many signals that previously required a separate cable for each.
"You can also preconfigure things much more than when you have a central router that has to have everything going to it," he says.
"The move to IP is a slow process as there is a need to make sure everyone understands that without SDN (software-defined networking) type of control over the multicast streams, like a whitelist and blacklist of available streams, someone at the remote end can subscribe to all of the streams."
While the core infrastructure of the Rugby World Cup compound is IP based there are still plenty of SDI signals being sent around.
"It's not really an IP kit as everything is SDI and then brought into the router which is IP," says Gobbel. "It's really an SDI kit with an IP fabric switch in between."
One of the big questions facing host broadcasters is whether or not to allow rights holders to connect via IP or hand off signals via an SDI cable. IGBS decided that handing off signals in SDI is still the safest bet as it is a one-way connection. Relying on IP to distribute signals to rights holders opens up a return path whereby a rights holder could over-subscribe to multiple IP streams. That ability to oversubscribe could, potentially, take an IP-based facility to its knees.
"The move to IP is a slow process as there is a need to make sure everyone understands that without SDN (software-defined networking) type of control over the multicast streams, like a whitelist and blacklist of available streams, someone at the remote end can subscribe to all of the streams," explains Gobbel. "With a whitelist and blacklist, we can make sure rights holders only subscribe to certain unicast streams."
Handling commentary demands
For a host broadcaster, one of the biggest challenges is handling commentary demands from rights holders. The Rugby World Cup does not have the dozens of rights holders that HBS has to juggle for a FIFA World Cup and that has allowed the IGBS team to be more flexible and meet some more specific needs from rights holders.
"If you don't centralise commentary operations when working with multiple stadiums you will have a problem because a rights holder will always run into a problem so you want to bring everything to a central point and then deliver a service via ISDN or IP," says Gobbel.
"And if you look at Fox Australia, they are not here at all, but they have a sideline commentator and three commentators [upstairs in the media tribune] who can talk to each other. We bring the four split mics here to the IBC and then embed them in the unilateral feed which is going to Australia via IMG Media in Stockley Park, UK and Telstra."
Telstra connectivity is also being used to connect IMG Media in Stockley Park to the IBC at Tokyo Stadium, creating an IBC that is spread across thousands of miles. As a result, the IGBS team has been able to split up the management of right holder needs between the two facilities.
"The IBC compound is the demarcation point as all of the signals come here and then IMG Media picks them up and distributes to rights holders like NBC," says Shield.
The result of all of the efforts is cost savings for all. IGBS can leverage staffers in London which means a smaller IBC and also less personnel in country. And rights holders like Fox Australia, ESPN Argentine, and NBC don't need to have staff and equipment in Japan.
"ESPN Argentina has a similar type of set up to Fox Australia," says Gobbel. "It's a unique service which saves them a lot of money as they only need the commentator team on site."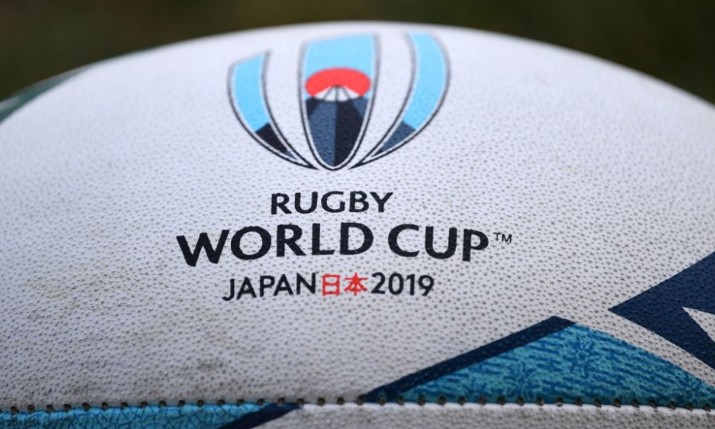 One of the other issues with the move to IP has been PTP (Precision Time Protocol) and the synchronisation of signals over a LAN. Gobbel and the IGBS team has worked extensively on solving the issue and it is using Arista switches as boundary clocks at both the venues and the IBC. A future solution, says Gobbel, could be to have a GPS-locked PTP source at a venue so that jitter or packet delay variation on the telco circuit does not become a critical issue.
A Riedel Artist system that has been part of the HBS arsenal since 2006 is at the center of intercom needs but Gobbel has an eye on intelligent trunking.
"It's becoming more of a necessity as you have multiple team training grounds and infotainment teams that want to talk to others," he says. "We are seeing bigger demand for trunking and also for wireless communications."
Virtualised potential
The potential for cloud-based and virtualised operations is also a hot topic in the industry but the Rugby World Cup relies on an EVS server in the compound to be the hub for rights holders looking for clips and live streams.
"There is always the thought of putting it into the cloud, but it doesn't make sense to put a Web server and a data center in a temporary IBC as you can always lose connectivity," says Gobbel. "For news-style needs content can sit in the cloud because you don't need it near live. But things like highlights need quick access to content."
A perfect example of that workflow in action is the match preview show which is edited and produced in Stockley Park.
"Browsing is done in London and then they select their clips and the clips are transferred in high-res to London and then the show comes back here," says Shield.
The Rugby World Cup Final is not until 2 November so there is still plenty of time to study the evolution of new workflows. It's all part of a steady and constant wave of learning and advancements that will move the industry forward to new levels of efficiency that will reshape the way host broadcast operations, big and small, will operate in the future.