Mediaburst chooses Carbonite to support Wimbledon tennis coverage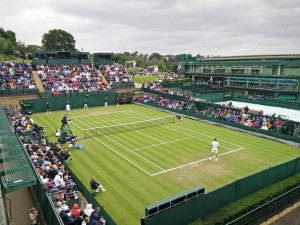 Grass court tennis in the SW19 district of London is an integral part of the British summer and the Wimbledon Championship brings together the world's best players to compete on arguably the calendar's most challenging surface. Challenging, too, are the logistics of capturing the action from 19 courts and supplying the global network of broadcasters who want to report on the tournament.
This year, Portuguese company Mediaburst (part of Spain's Mediapro Group) provided unilateral feeds to beIN Sports in France and the Middle East using Ross Video's Carbonite Black midsize production switcher. Commenting on the Wimbledon set-up, Fernando Costa, Mediaburst's Production Manager, highlighted the importance of flexibility in a live production environment like Wimbledon.
"I travel all over the world covering different kinds of sports for channels like beIN Sports and for the host broadcasters. Regardless of the sport or venue, time and space are usually always tight and we need proven, road-tested solutions that we know will deliver. The Carbonite switcher has been extremely easy to use and live with and that's exactly what we want in an environment like this – no fuss, no drama and plenty of production power!"
For the tennis coverage, Mediaburst chose a 2ME Carbonite Black (3X panel) to ensure they had enough headroom to manage the complexities of the tournament. "Our team members with experience of switchers from other manufacturers have been very impressed at the performance of the Carbonite given it's compact size,– we can see why so many content creators favour it in an outside broadcast environment."