Mobile Viewpoint enables transfer deadline day success at Sky Sports News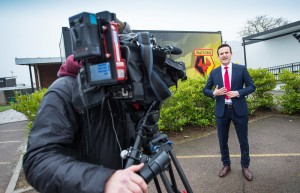 IP contribution specialist Mobile Viewpoint has played a pivotal role in global sports broadcaster Sky Sports News' coverage of the January 2017 Football Transfer Deadline Day.
Mobile Viewpoint enabled Sky Sports News to deliver cutting-edge reporting and analysis first by having reporters on the ground, ready to break stories as soon as they happened. A selection of Mobile Viewpoint's products, including the Agile LiveLink and the Playout 2KX, was used by Sky Sports News on the day, which allowed reporters to broadcast live from each of the 20 Premier League clubs across the country.
With the Sky Sports News channels in Italy and Germany also using Mobile Viewpoint technology, the three channels were able to share content between countries seamlessly and simultaneously.
The success of January's Transfer Deadline Day broadcast signals another year of a successful working relationship between Mobile Viewpoint and Sky Sports News. The two companies started working together in the summer of 2013, after Sky Sports News sought an electronic news gathering (ENG) solution that was agile and didn't require the use of satellite news gathering (SNG) trucks. Since then the companies have worked closely on the successful delivery of several transfer deadline days.
Ian Brash, technical manager for Sky Sports News, says: "Mobile Viewpoint's products have given us the flexibility we need to stay ahead of the competition, especially during an event that's as fast-paced as Transfer Deadline Day. All we need to do is send a reporter and a cameraman to the required location with nothing more than a camera and a Mobile Viewpoint unit — there's no additional equipment or engineer required. This allows us to be much more proactive and impulsive in the way we report, and it especially gives us the upper hand when it comes to overseas reporting. But most importantly, it means we can continue to deliver better sports news coverage to our viewers.
"We've also seen significant cost savings through using Mobile Viewpoint's products mainly because we no longer have to rely on SNG trucks, which can be expensive to run, staff and maintain. Instead of having only six trucks, we're now using 20 Mobile Viewpoint units as well, all for the cost of less than 1 truck."
Since being chosen as one of its preferred suppliers, Mobile Viewpoint has continued to provide Sky Sports News with expertise to get the most out of its products during certain projects or events.
Michel Bais, Managing Director of Mobile Viewpoint, says: "Our live contribution solutions enable broadcasters to deliver news and other content quickly and cost-effectively, and we're delighted to see that Sky Sports News is already reaping the benefits – not just during Transfer Deadline Days, but also during its day-to-day ENG efforts. We're looking forward to continuing our work together and offering new solutions that will benefit the entire broadcast industry."