NBC Sports adds PylonCams and MarkerCams for NFC Divisional Playoff
When it comes to live sports productions, it simply doesn't get much bigger than NBC Sports' weekly Sunday Night Football. However, NBC once again upped the technological ante even further for the NFL Playoffs, adding four PylonCam systems and a pair of line-to-gain MarkerCams to its camera complement.
In addition, NBC rolled out three onsite sets at Levi's Stadium for its pregame coverage of the Vikings-49ers NFC Divisional Playoff matchup on Saturday, NBC's final game of the season.
"We're excited to cap off the season with a big game like this," said Tim Dekime, VP, NFL operations, NBC Sports Group. "And we all have a great feeling of accomplishment knowing that we pulled off these tremendous productions each week with very few issues."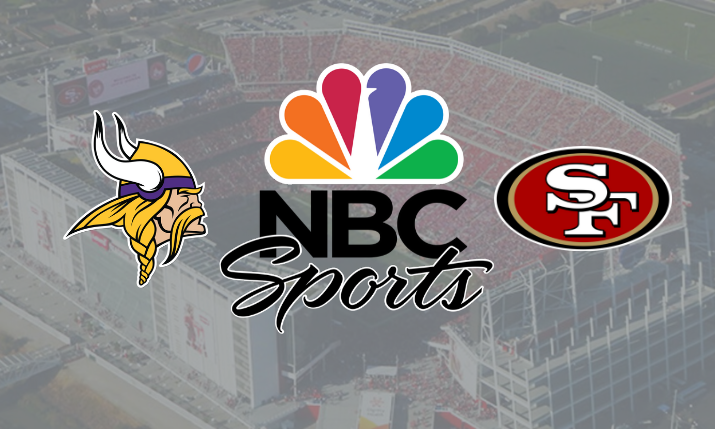 The PylonCams and MarkerCams (both provided by Admiral Video) debuted for NBC at its Week 17 SNF 49ers-Seahawks matchup and were also used for the Seahawks-Eagles NFC Wild Card Game. NBC first used PylonCam for Super Bowl LII in 2018. To record the PylonCams for replay, NBC enabled ChannelMAX mode on an EVS XT3 replay to expand channel capacity.
Although NBC's opportunities to use these systems on close scoring and first-down plays have been few and far between, the NBC production team was hopeful that Saturday's game would offer more replay opportunities for the PylonCam and MarkerCam to shine.
Said Dekime, "We hope that the opportunity arises to use [PylonCam and MarkerCam] more often this weekend."
NBC Sports deployed a total of 53 cameras at Levi's Stadium, including two PylonCam systems (featuring three miniature cameras each) on the side of each goal line and MarkerCams on the near-side and far-side first-down markers. In addition, there were four Sony HDC-4800 4K 4X slo-mos (including one with a Canon 122X lens), 15 Sony HDC-4300's (one running in 4K, nine running in 6X slo-mo, and two in 4X slo-mo), two Sony HDC-P1R RF Steadicams (provided by BSI), and a Skycam cable-suspended aerial system.
A trio of onsite sets for Football Night in America
NBC's coverage began on Saturday with a special 90-minute edition of Football Night in America live from Levi's Stadium. The original plan was to deploy two sets for the pregame show, beginning with one at the main entrance gates and then shifting to an interior set inside the stadium as kickoff approached.
However, with the early kickoff time (1:35 p.m. PT), FNiA director Mike Sheehan was concerned that the crowd around the sent would be sparse. As a result, the operations team added a set in the parking lot, where FNiA would be able to kick off its pregame show at noon in hopes of highlighting early-arriving tailgaters.
The pregame show then shifted to a second set (the main remote studio used throughout the SNF season) inside on the concourse before finishing up at an on-field set in the final minutes prior to kickoff.
In addition to the challenge of moving on-air talent from set to set throughout the afternoon, NBC's ops team had to significantly alter its lighting scheme to deal with the early kickoff.
"One of the big challenges we have for this game is the early kickoff because, obviously, we normally have a primetime game [with SNF]," said Keith Kice, technical manager, SNF, NBC Sports. "Our kickoff is going to be at 1:35 in the afternoon, so it's a whole new obstacle to deal with as far as lighting talent on the field and lighting [announce] booths."
In addition to its flagship SNF-production unit – NEP ND1 (A, B, C, and D units) – NBC rolled out NEP's ND5 A unit and ST-28 B unit to produce the FNiA show.
"Our footprint is larger than it normally is, but we're in a great stadium in Santa Clara," said John Roché, senior technical manager, NEP. "It's a new facility, and we can fit everything into the compound without any issues. Compound-wise, we're in very good shape."
Saturday's extended edition of FNiA closed out a season in which NBC moved its pregame set outside the stadium on a weekly basis in an effort to engage more with fans onsite and better incorporate branding for FNiA sponsor Applebee's.
"Putting together a new exterior set was a challenge each week, but it has been flawless," said Dekime. "We got some great crowds, and I know that the sponsorship group and Applebee's were extremely pleased with it. I think we delivered on everything our pregame producer and director wanted; it was a real success."