NEP UK: World's biggest fully-IP sports broadcast production at Wimbledon was "fantastic"
OB and broadcast facilities provider NEP UK has announced its work at Wimbledon, where it delivered technical host broadcast services for The AELTC Championships, went "remarkably smoothly".
NEP UK deployed Axon's Cerebrum platform to control and monitor its complex IP workflow for the tennis. This year's tournament, which was believed to be the world's biggest fully-IP sports production, saw NEP's two new state-of-the-art IP OB vehicles in action paired with a modular custom-designed fly-pack to provide the core IP infrastructure and technical facilities. Together the systems become a single integrated solution, allowing greater integration of multiple concurrent feeds and sharing of sources to broadcast the event to an audience that was in excess of one billion in over 200 territories.
Commented Rob Newton, CTO at NEP UK: "Wimbledon was fantastic; it went a lot better than I thought it would! It all went remarkably smoothly; as with any new technology there is a certain amount of nerves around teething problems, but there were remarkably few. This was the biggest broadcast IP system ever put together on the planet, as far as we're aware."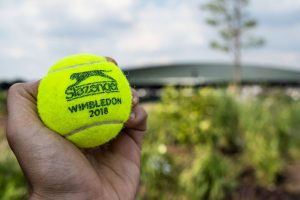 He added that the biggest change was for the engineers: "It was a learning curve for our engineering staff. Before they would have been worrying about the quality of the signal, but at Wimbledon, it was all about maintaining the network instead [for IP]."
The complex IP infrastructure, which simultaneously offers dual level UHD, HD-SDI, SDR UHD and HDR UHD, required a reliable and comprehensive control system to seamlessly integrate and manage the latest technologies from GVG, Arista, EVS, Phabrix, Calrec and Evertz in a unified IP workflow.  Following extensive trials last year, NEP selected Axon's Cerebrum as its chosen platform.
Three main Cerebrum systems were deployed within the two trucks and fly-pack, featuring a total of 150 hardware control panels. The fly-pack is now being split into four configurable systems.
On Cerebrum, Newton said: "We didn't have any training on it, it's all quite intuitive. Our operators found it easy to use. We're only just scratching the surface of using Cerebrum; the more we use it, the more we'll learn about it. We can do virtually anything with it; on another job we're doing, we're talking about using it to control door locks! We're very much at the beginning of our adventure with Cerebrum."
The two 24-camera multi-cast trucks – Venus and Ceres – have already been successfully deployed at major events including The Royal Wedding and will be in action at various prestigious sporting events this summer.
As to how the new IP OBs and fly-pack performed, Newton commented that Ceres' first job was at the Royal Wedding, where it ran 35 cameras, while Venus had already done a job at that point. He added: "They were great; we had full HDR 4K and HD on parallel mixers on Centre Court, and on Court 1 in HD. The OBs trunked to the central MCR area with two switches using 100GB links so we can access all sources in the two OBs in our central core, and distribute to the other broadcasters on site."
The redundancy of the new system meant that if one switch was to fail during Wimbledon, the other would easily be able to handle the entire operation. Newton concluded: "We have these massive IP switches which are the heart of the whole thing. They're identical, so you can switch one off and it all still works; it's like having two engines in your car. It's a fully redundant system."