New Gran Canaria Arena debuts with Daktronics, ACB basketball game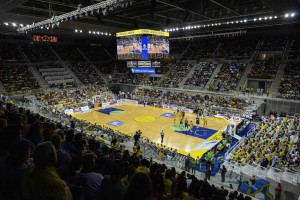 The new Gran Canaria Arena in Spain was opened to the public with the first official ACB Basketball Spanish National League game between Herbalife Gran Canaria and FC Barcelona on May 1. The match was attended by 10,000 people who attended a special show event prior to the game in which a key attraction was the recently installed Daktronics centrehung video display system. This show, along with the game, was broadcast by TVE.
The Gran Canaria Arena will serve as one of the six venues for this year's Spain 2014 FIBA Basketball World Cup. The arena will also be used for cultural and convention events, including Cirque du Soleil's Dralion show this summer.
As the insular sports counsellor, Lucas Bravo de Laguna, points out: "When we were planning the beginning of the Gran Canaria Arena construction, the responsible technicians travelled to visit other sports pavilions with similar characteristics and purposes with the intention to confirm the aspects that, in each model, were worth considering and those that could be improved. From these visits, the ideas were taken to create this great building complex with exceptional characteristics."
At the end of the last general arena testing day, Bravo de Laguna commented: "Today is an important day for the Gran Canaria Arena because… we have been able to check the high quality of the signal shown on the different displays that integrate the video scoreboard. That will be important for the celebration of events with daylight, because maintaining the skylight roof open does not reduce the quality of video images shown on the scoreboard displays."
Daktronics designed, manufactured and installed a complete LED video and scoring solution in a centrehung configuration, including  FIBA Tier 1 certified lateral scoreboards and an IPTV system with video screens in the main access and distribution corridors, VIP lounges and media rooms.
The centrehung display configuration consists of 15 individual video displays, all featuring 10 millimetre line spacing. All of the display systems are controlled with Daktronics Show Control.
"With a total surface of 150 square metres of display, it offers very impressive video quality, making it a unique installation in Spain," said Daktronics Spain regional sales manager Ivan del Rio. "The Cabildo de Gran Canaria original intention was to have an NBA-type basketball arena and now they have it. It has been a great experience on a very sophisticated and complex project that presented very demanding challenges, but with a high level of technology and great support from Daktronics' whole team, it has been a complete success. This project is now one of the most important centrehung display references in Europe."
Daktronics completed the installation ahead of schedule, and saw the company working with a local partner, Audiovisuales Canarias, which is also a Daktronics mobile and modular display user.
"Daktronics is proud to partner with Gran Canaria Arena on this project," said Daktronics VP and director of EMEA Pete Egart. "This installation will provide the best in LED display technology for the 2014 World Basketball Championships. This will also be a great showcase of what Daktronics displays can provide for large-scale live events and the impact it can have on people attending these types of events."