Nordic Summit 2020: Call for speakers as event date is confirmed for 12 March
SVG Europe is delighted to announce its third dedicated Nordic Summit will take place on Thursday 12 March in Media City Bergen, again in collaboration with NCE Media. Together with our partners we are calling for speakers and innovation topics to add to the draft programme, which is currently being prepared.
If you or your organisation is involved in an innovative sports or live broadcast project that you think would be of interest to the Nordic Summit audience, please contact Media City Bergen communications manager Morten Dahle as soon as possible: morten@mediacitybergen.no
There will be a pre-conference Early Bird networking reception in the Media Lab on the evening of Wednesday 11 March 2020, followed by a day of Nordic Summit discussion on 12 March.
Last year, SVT Sweden head of operations Eva Poysti led off Nordic Summit proceedings by discussing how the broadcaster developed new workflows to ensure they could capture the action from the FIS Alpine World Ski Championships, the Vasaloppet and the Biathlon World Championships all within the space of a few weeks last spring.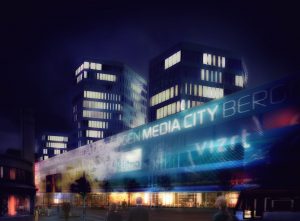 TV2 Norway editor Christine Espeland and Host Broadcast Services (HBS) chief technology officer Christian Gobbel also participated at the Nordic Summit 2019. Espeland, who works in strategy and business development at TV2, took part in the session, 'The Power Play: What does the Nordic sports fan really want?'
Gobbel discussed new workflows deployed for coverage of the FIS Nordic World Ski Championships which took place in Seefeld, Austria last February. Based on his work with Infront, and the Austrian broadcaster ORF, Gobbel outlined the host broadcast set-up for the coverage and provided insight into the technical infrastructure that underpinned the efficient production of this and other sporting events.
In a special showcase session, NRK Beta's strategic advisor and the Media Cluster's chief nerd Eirik Solheim highlighted some of the experimental broadcast technology being developed by NRK, from man-carried studios to airborne cameras.
In 'Graphics Focus: Using AR to improve handball coverage', Adi Strichman, TV2 Denmark, graphics producer outlined how augmented reality is being used for analysis and to add some on-screen 'wow factor.' Other sessions in the 2019 Nordic Summit included a keynote interview with BBC Sport head of operations Charlie Cope and also a conversation with Fox Sports Netherlands head of production Henk van Meerkerk.
Nordic Summit 2020 will take place at Media City, Bergen on 12 March 2020