NVP opts for Grass Valley kit for Cologno Innovation Hub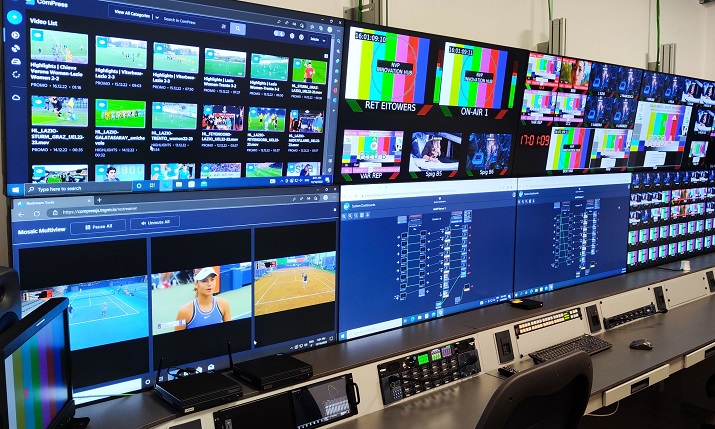 Broadcast production services company NVP has based its Innovation Hub in Cologno, Milan on SMPTE ST 2110 and opted for a raft of Grass Valley kit to enable its remote production operations.
NVP, one of Italy's largest broadcast service suppliers, selected GV Orbit orchestration, Grass Valley's AMPP SaaS platform, redundant GV Fabric IP switching, a Kahuna 9600 production switcher with a 3 M/E Maverik control panel, a Kaleido-IP multiviewer, and Audio Live for up to 2048×2048 audio routing of AES67 IP streams.
Grass Valley distributor and systems integrator Video Progetti was responsible for the integration of all Grass Valley equipment.
"The NVP Innovation Hub satisfies all our customers' production needs from minor sporting events up to tier 1 sports productions and much more," said Ivan Pintabona, CTO for NVP.
"Based on ST 2110, we can cover all conventional and event-based production requirements, especially with redundant IP links to all major national and international venues."
NVP is planning to replicate its Cologno model in its Rome, Naples, and Messina centers as well. Currently, at least one match per day is being managed remotely, with the goal of managing between three and five matches per day by the end of the Serie B 2022-23 championship. NVP plans on increasing even further for the 2023-24 season.
The NVP Innovation Hub consists of two production studios, six dubbing rooms, and an OB VAN gateway. The gateway area allows for quick integration of any OB Van from the NVP fleet into the Hub's production studios. Productions can be delivered in formats ranging from SD SDR to UHD HDR WCG.
Read more NVP chooses Riedel's Simplylive production suite for remote production of Italy's Serie B football matches
NVP has been a Grass Valley customer for more than 10 years and has over 100 LDX cameras and six Kahuna production switchers. Grass Valley said NVP was "intrigued by the amazing potential of AMPP and its seamless ability to be used with software- and hardware-based products to produce tier 1 and tier 2 events for their customers".
"NVP, as with other AMPP platform users, has discovered the flexibility and scalability that our unique SaaS and on-prem live production solution provides," added Tim Banks, CRO for Grass Valley. "NVP can now easily handle existing and new clients' production requests, with just a few clicks of a mouse."
The Hub also includes HiWay Media, part of the NVP group of companies, which owns and operates a specialised OTT platform for sports. HiWay Media allows NVP to help their customers to produce and immediately publish the content to increase monetisation.
"AMPP lets us fully remote our sports production coverage, while maintaining a core 2110 IP-based infrastructure in the Hub," said Pintabona.
"It's this combination of high-quality production and cost saving through remote production of sports events on an open standards IP platform that our customers truly appreciate."
AMPP's scalability provides for NVP to increase its scope for coverage of sports and other events with the ability to "spin up" AMPP resources on-demand.