Personalisation will define the next era of sports streaming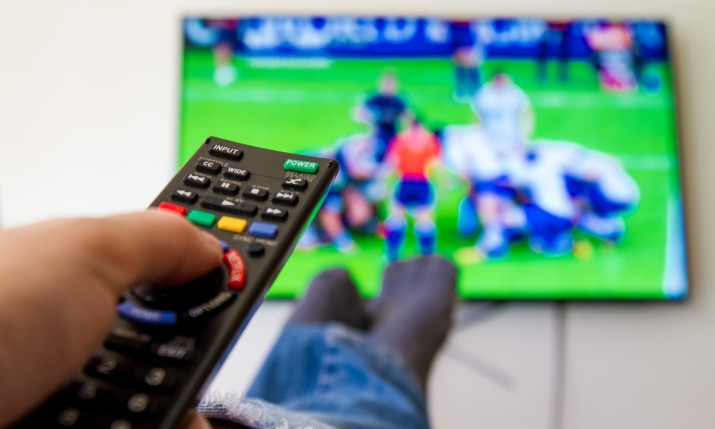 By Ariff Sidi, general manager and chief product officer, media platform, Verizon Media
The video streaming landscape is fiercely competitive, with new services constantly being launched with the intention of becoming household names. Therefore, it's little surprise that the global video streaming market is forecast to be worth over $800 billion by 2027 [Fortune Business Insights]. However, the video streaming market is becoming increasingly crowded, and any service that wants to attract and retain subscribers must redouble its efforts on personalising the user experience.
In recent years, the success of a streaming service has hinged on the quality of its content library. However, supplying viewers with great content is no longer enough to keep them subscribed to a service. To stay competitive in a crowded marketplace, service providers must also deliver top-notch viewing experiences that complement the content.
Offering hyper-personalised viewing experiences is especially important for sports streaming services because a sports match's environment, whether in-stadium or virtual, plays a significant role in the fans' overall enjoyment of the experience. Service providers should now place equivalent emphasis on evolving the viewer experience and provide hyper-personalised experiences tailored to individuals that become naturally differentiating. As a result, personalisation  can help broadcasters maximise viewer engagement and minimise churn.
Every sports fan wants it
Personalisation is no longer a preference; it's an expectation. Social media has been pivotal in priming consumers for curated content and tailored recommendations whenever they want and from the device of their choice. Personalisation will be a hallmark of the next stage of sports streaming. Content owners evolve experiences to meet this consumer expectation with personalised sports packages and creative new ways of viewing.
One of the main ways content providers can meet this demand is by offering tailored content packages that better reflect their interests and preferences. For example, research Verizon Media conducted in partnership with Leaders in Sport found that almost two-thirds of sports fans would pay – or pay more if they already do so – for a live sports streaming service if it offered coverage of a sports league or team that interests them. Offering sports fans deeper coverage of sports or teams that interest them in a personalised manner will drive engagement, which drives subscriber retention, consequently driving business health.
Unlocking the next level 
However, to meet viewers' expectations of more personalised viewing experiences, providers need to be equipped with the right tools. One of the main advantages of over the top (OTT) is that it is uniquely positioned to provide a seamless, personalised viewing experience through innovation and technological advancements. Therefore, viewers can now enjoy fully personalised streams or virtual linear channels of all the sports leagues and teams they follow when they sign into a service.
Data is the backbone of new personalised experiences. Service providers can take advantage of the wealth of data available and generate a manifest for every user that presses play. Everything from content, advertising, and delivery can be customized around the consumer's unique viewing habits and preferences based on specific user insights. This information provides an end-to-end view of each consumer's behaviour and is the gateway to delivering truly differentiated user experiences. Similarly, this data also equips service providers with the knowledge they need to revolutionise the viewing experience.
To unlock this level of personalisation, a service provider must use a platform that can support the viewing experience from end to end because it provides complete transparency over the entire video lifecycle. Therefore, service providers can easily leverage the actionable information necessary to deliver high quality, seamless, personalised video experiences to every sports fan, anywhere and at any time.
The right viewer at the right time
Content owners constantly manage the data necessary to create personalised OTT experiences and provide unique insights into audience behaviour and content value. This data is crucial for informing content acquisition and creation decisions because it helps broadcasters understand what their audiences desire and how likely they are to engage with it. Reaching viewers with the right kind of content at the appropriate time will result in increased engagement and subscription renewals while lowering churn.
Personalisation is not just restricted to content. It can also deliver huge benefits for advertising. The insight into an individual viewer's habits and preferences can be leveraged to create highly targeted ads. This is particularly important for ad-based or hybrid business models where advertising revenue makes up a significant proportion of revenue.
Traditionally, personalisation in advertising has focused on delivering a relevant ad to a consumer. However, advancements in technology have made personalisation more sophisticated, and now service providers must also take the placement of the ad and its length into account. For example, during a high profile sporting match, a series of adverts that last longer than 30 seconds will detract from the viewing experience and the viewer's overall enjoyment of the game.
In contrast, a couple of adverts that last only a few seconds may be more well-received, which will improve overall engagement and enjoyment of adverts. This approach empowers service providers to deliver next generation viewing experiences that are much more engaging than anything we've seen before. What's great is that the technology to do this is available now, and it can be done at scale for millions of viewers simultaneously.
The era of personalisation has arrived.
High quality content remains a business imperative for live sports streaming services, but its potential now needs to be maximised with new technologies that can personalise it for each user. These solutions will help them differentiate their service by curating content and offering a bespoke experience that will help them become the go-to service for consumers.