PGA TOUR Entertainment tees up remote production of Charity Skins event
With six cameras on site and 28 TV production professionals, the goal was to keep the number of people on site to a minimum
Last Sunday four of the world's best professional golfers faced off in a charity skins event at Seminole Golf Club near West Palm Beach, FL. It may have only featured four golfers, six handheld cameras and zero caddies but it went a long way towards satiating the thirst for live professional sports and also showed that remote workflows for golf are possible as it was produced out of PGA TOUR Entertainment's facility 250 miles up route I-95.
"We're thrilled and it's been a true partnership with NBC Sports, and Golf Channel," said Greg Hopfe, PGA TOUR Entertainment, vice president and executive producer before the event. "It allows us to ease back into competition with a show that will be like the PGA TOUR LIVE featured groups coverage."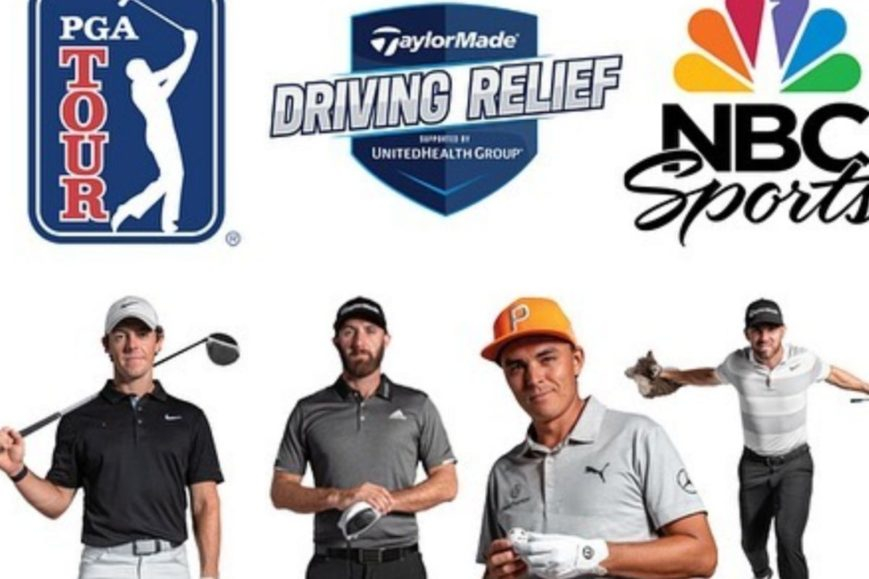 The production was done remi-style with six handheld cameras, a drone camera and a camera in a plane flying over the course following Rory McIlroy and Dustin Johnson around the course as they faced off against Rickie Fowler and Matthew Wolff. Each camera, provided by Bexel, had an AVIWEST bonded-cellular transmitter provided by VidOvation to get signals from the course to PGA TOUR Entertainment.
"For the most part we will have two cameras on the tee boxes, two catch cameras along the fairway, and then two cameras on the green," said Hopfe. "Two of the cameras will also be able to trace shots."
One of the production goals was to limit the number of people on the course (the total number will be less than 50, including golfers and everyone else, 28 of which are television production) and the camera people were able to drive carts to get to their next shot. During a golf tournament that is often a tricky proposition given the crowds, but a wide-open golf course gave them plenty of time to get in position ahead of the golfers who were walking and carrying their bags.
Covid 19 testing was be a major theme heading into the event.
"NBC Sports, Golf Channel and the PGA TOUR from day one has made testing important. In addition to on site screening, lab technicians administered swab tests at everyone's home in advance. And once you are tested as negative you then self-quarantine."
Everyone in the crew also stayed at a hotel and then showed up on match day with their protective equipment.
"No one is going to touch an airplane," added Hopfe. "Everyone is driving down."
Dave Dukes, PGA TOUR Entertainment, senior director, technical operations, said the players were miced and announcers Steve Sands and Jerry Foltz were on site while the studio portion of the show was produced at the PGA Tour Entertainment production center in St. Augustine, FL.  A couple of shotgun parabolic microphones picked up natural sounds.
"Along with the six action cameras we will have some smaller POV cameras for beauty shots," said Dukes. The bonded-cell signals will be sent to St. Augustine.
Camera shading was done with the use of the CyanView Remote Camera Control.
"We used it for a Korn Ferry Tour tournament in the Bahamas last year and it's a pretty good product when trying to reduce on-site footprint which is at the top of our list in a situation like this," added Dukes.
That smaller footprint is also why bonded cellular won out over the more traditional RF systems that are part and parcel of every golf tournament around the world.
"RF brings in more people and more footprint and with bonded cellular we can still have a quality show and experience," said Dukes. "We use it a lot for PGA TOUR LIVE, so we have a good handle on it."
NBC Sports on-air personality Mike Tirico hosted the event via a LiveU connection from his home in Michigan and additional guests were able to join the show via NewTek TalkShow. NBC Golf Producer Tommy Roy was with studio hosts Paul Azinger, Gary Koch and Rich Lerner as well as EVS and graphics operations in St. Augustine.
"Personnel will be spread out across multiple rooms for social distancing and we have taken additional precautions like plexiglass dividers between positions in our control rooms," said Dukes.
Some of the challenges included that bonded cellular doesn't allow for complete active shading control but working any other way wasn't an option in this scenario.
"When remi production started it was typically used for smaller shows and it was said that above a certain level of show it wouldn't be doable," said Dukes. "But in the current situation everyone is being pushed to try new things so in the end I think this will be a great opportunity to continue to explore how were thinking about production models."