Positives from PyeongChang: Discovery's first Olympic games coverage breaks records
Research reveals that 58% of the population watched the Winter Olympics on free-to-air and pay-TV in Discovery's top ten markets, on its own channels, and those of its partner broadcasters, with a record-breaking over 90% TV audience share in Sweden and Norway.

In all, Discovery and Eurosport's digital and social platforms reached a record 76 million, more than doubling the average number of users and reaching new and younger audiences.

Simon Farnsworth, executive vice president, European and sports technology, Discovery was obviously delighted with those statistics, but what was the highlight for him as he reflects on the time up to and including the Games? "We are pleased to have delivered on our promise to the International Olympic Committee (IOC) to bring the Games to more people, on more screens, than ever before. Delivering every single piece of content that we produce to every screen available for the consumer. From a technical point of view, we prepared thoroughly and successfully to achieve this."

Integrated approach

Farnsworth reports that PyeongChang 2018 marked the first time the team had integrated the technical delivery across Discovery's assets – free-to-air, pay-tv and digital – at such scale and across multiple countries, and that the combination had been seamless.

"We believed it was extremely important to fully integrate all our partners, including NEP, Globecast and Deltatre, into our team. They certainly became part of our 'one team' and beyond an external partner. This was particularly satisfying given it was something we recognised as important and worked hard to achieve in the build up to the Olympic Games."

Now, with time to look back on what was achieved, what lessons does Farnsworth believe have been learned to make coverage of the next Games even better? "We are carefully assessing the areas that went well and those we aim to improve for our future live sport production. The scale and complexity of the project is a great achievement and a basis for much learning about how to do things even better in the future. Overall, we will look to prepare even better. We have proved that remote production at scale can work and this creates exciting opportunities for the future. However, we know future remote production where fibre optic cables over such long distances are required will be a challenge that demands robust planning. We will need to continue to be extra diligent in the architecture of that network."

He goes on to report that Olympic Broadcast Service (OBS) has been a great partner for Discovery. "The coverage of the sport OBS provided to broadcasters was flawless, with a very high production standard and no issues."

Success cubed

One of the innovations that Discovery introduced in PyeongChang was the iconic 'Cube' studio. This was equipped with one pedestal and one jib mounted camera, a Grass Valley switcher and Calrec audio console. LED screens provided augmented reality driven by Stype and Vizrt's technology and allowed presenters to recount events and incidents in a completely new way.

"Discovery promised to be innovative and offer something different, so it was pleasing to get such a positive reaction from viewers, athletes and everyone who visited the Eurosport cube," states Farnsworth. "We embraced the technology in the cube to allow our experts and the latest medal-winning heroes to present deeper and more meaningful analysis. It meant we could take analysis from the flat screen and enable our experts to explain with their hands and their bodies, telling immersive stories that explain technical aspects that make the difference between winning gold and missing a medal. Our aim was to make the complicated simple."

He adds: "The integration of the technology within the cube, including augmented reality, was highly complex but worked really well from a technical point of view."

This use of augmented reality, both in the Eurosport cube and the dedicated studio for Discovery's Swedish production, was something new for the Olympic Games. "We prepared robustly to ensure the lowest latency encoding standards possible. This ensured that when we had the two-way interactions between our experts in different locations, there was no delay and just like if they'd been there together in the one studio."

Rehearsal time

In an earlier exclusive interview with SVG Europe, Farnsworth had mentioned that coverage of the Australian Open was a rehearsal for the Winter Olympics. So, what lessons from Australia helped in South Korea?

"The Australian Open and the tennis Grand Slams that Eurosport show across Europe are the events most similar to the Olympic Games, when you consider the scale and volume of content from a technical standpoint. Coverage of up to twenty courts during the first week is an indicator of the volume of content we delivered. The Australian Open really allowed us to stress test all our systems prior to the Games, meaning that when we went into the Olympics we were confident our systems would work and had been fully tested in a live environment.," he says.

Before the Winter Olympics, Discovery has said its wide area network (WAN) were the way forward for the Eurosport business. On whether the Games help confirm that prediction, he notes: "The WAN we installed to link all our production sites performed brilliantly and delivered exactly what we wanted it to do. The IP multicast technology was critical to the whole operation. It allowed us to encode content once in PyeongChang and we were able to then distribute the same feed to many sites simultaneously. We think this is the first time this has ever been achieved at this scale."

He adds that "the experience with the WAN at PyeongChang 2018 provides Discovery and Eurosport with an excellent foundation for delivering remote production moving forward and will certainly expand on this in the future."

Radical solution

Another innovation was Discovery's 'Radical Van'. This is a mobile studio for digital output which was used at many remote locations and housed in various places such as the PyeongChang 2018 Medal Plaza and Snowpark. "Our teams used mobile phones to produce content with athletes, our experts and fans over a WiFi network. We have now proved this approach can deliver a viable and engaging product to mobile devices. This opens so many doors for us moving forward and interesting potential for our digital production in the future."

Final analysis

So, does Farnsworth have any final thoughts about what was a complex, demanding and innovative broadcasting achievement?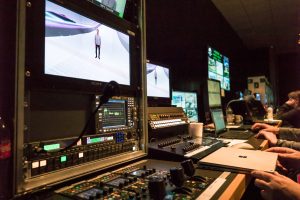 "We delivered across 48 markets, in more than 20 languages, from 17 studio locations and multiple outside positions. We are pleased with our achievements, which also provided learnings for ourselves and the industry about how such broadcasts will be carried out moving forward. Looking to the future, the resiliency and reliability of the networks that we utilised is something that needs to be addressed as an industry. Broadcasters need to deepen their relationships with telecommunications providers to address the accountability and responsiveness of telcos when big events are being delivered. We will certainly be working hard on this area as part of our collaboration with our partners to ensure they are in the right space we need to deliver together for major events."
He concludes: "As an industry, we need to do more to encourage and train young engineers. We know the profile of engineers across the industry in aging and we must all proactively do more to prepare and empower the next generation of engineers. I would be very keen to work with SVG on an academy-style project to engage young engineers, offer support and provide a platform to share experience which can help set them up for success in the future."