Premier League re-start: UK pay-TV broadcasters to offer artificial atmosphere and 'watch alongs'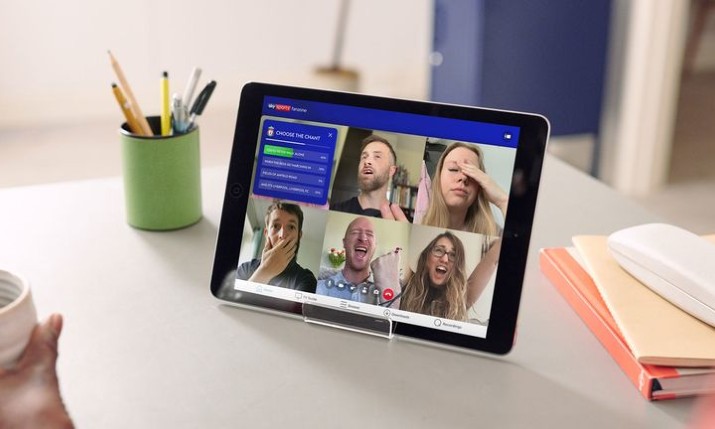 Both Sky Sports and BT Sport will give TV viewers the chance to hear fake crowd noise during matches and to watch games with friends in a virtual environment when the Premier League returns to UK screens later this month.
With all matches being played behind closed doors because of the coronavirus pandemic, the two major rights holders have opted to add a range of innovations that will help to replicate the atmosphere and emotion usually generated by supporters inside the stadiums.
Sky Sports' coverage will include the option to hear artificially-generated crowd noise that has been created in partnership with EA SPORTS FIFA. A range of bespoke and team-specific crowd sounds and chants will be available to "bring the vibrant atmosphere of the Premier League to the restart."
Viewers can select the Sky channel to watch with the added sound or with stadium noise.
BT Sport viewers will have the option to watch with or without a pre-recorded dynamic crowd noise feature too, using the red button.
"We want viewers to still feel it all and have the best possible viewing experience – even if they can't be in the stadiums or watch with their family and friends."
Both broadcasters will also offer 'watch along' options.
BT Sport will launch 'Watch Together', a social innovation that allows viewers using the BT Sport app to watch, see and chat with friends in a split-screen, while the match is being played. BT Sport has previously trialled the feature using technology from Sceenic.
Sky is offering Sky Sports Fanzone. Available on the Sky Sports website and app, it will allow subscribers to watch selected matches with friends in a video room and interact "while the action unfolds, giving them the chance to chat about the match and influence the crowd noise they hear on screen."
Users of the service will be able to post predictions, join in-match polls and access Sky Sports stats.
Discussing the innovations, Sky Sports managing director Robert Webster said: "With live sport on hold for over two months, we've spent a lot of time thinking about how we broadcast in new ways to bring fans together, even if they can't meet up to watch the match.
"Sky has always been a leader in innovative sports broadcasting, and we're excited by this opportunity to share something really special with the whole nation. We want Sky Sports viewers to still feel it all and have the best possible viewing experience – even if they can't be in the stadiums or watch with their family and friends."
Simon Green, head of BT Sport, said: "We are looking forward to broadcasting live domestic football again and bringing some new innovations to our customers to give them the best viewing experience possible."
In addition to the audio and watch along options, Sky Sports will have a Recap feature, providing matchlights in a "short burst, putting an end to that fear of missing out throughout a packed weekend of football."
According to the pay-TV operator, "each game will have a live timeline enabling viewers to quickly catch up on the highlights at any point during the match – even if they have not watched it from the beginning."
Free-to-watch highlights of every remaining Premier League game this season will also be available from shortly after the full-time whistle on the Sky Sports website, Sky Sports App and Sky Sports Football YouTube channel.
BT Sport will continue to place a lot of emphasis on quality pictures and sound offering 4k HDR with Dolby Atmos and in 360-degrees on the BT Sport app for mobile and tablet.
Both broadcasters will make use of remote production for their coverage with BT Sport acknowledging that it will do so in order to "minimise the number of people that will be at a ground or the studio, with presenters at the BT Sport Studio, and some guests and the majority of crew working remotely or from home."
Who is showing what?
Sky Sports will show 64 live Premier League games when the season resumes. In addition to the 39 matches it already had before the coronavirus lockdown, 25 further matches will be available on both Sky Sports Premier League and Sky's free-to-air Pick channel.
BT Sport has 20 exclusive games in the re-started season including the first-ever televised Premier League 3pm kick off in the UK.
In addition to the TV output, all BT Sport matches will be broadcast on the BT Sport app for mobile and tablet, as well as on Xbox, PlayStation, Samsung TV and Apple TV and BTSport.com.
BBC Sport and Amazon Prime Video have the remaining eight matches, showing four games each, all of which will be free-to-air in the UK.
The Premier League re-starts on Wednesday 17 June 2020 with Manchester City vs Arsenal and Aston Villa vs Sheffield United, both live on Sky Sports. 
---

To learn more about the Premier League re-start, and the return of Germany's Bundesliga, Poland's Ekstraklasa and Italy's Serie A, register for SVG Europe's Football Summit 2020. The live-streamed conference will feature Sky Sports, BT Sport, Sky Germany, Sportcast and Ekstraklasa Live Park. To find out more visit: Football Summit 2020
---