RaceTech trials remote live broadcast setup with AWS and SimplyLive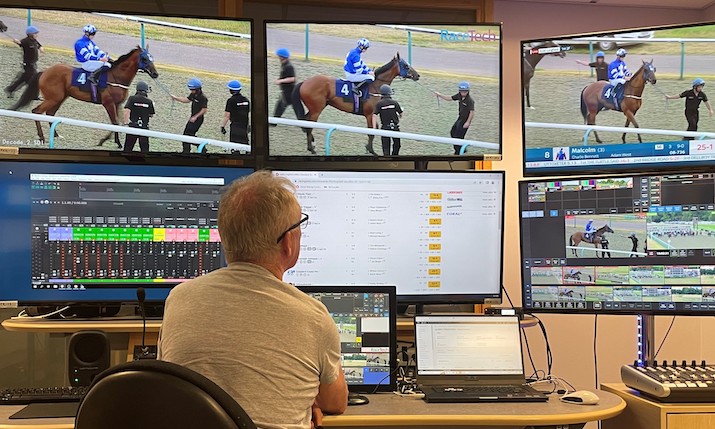 Remote production has already proved a useful addition to the many broadcast services offered by RaceTech and now, with the assistance of Amazon Web Services (AWS) and remote production expert SimplyLive, RaceTech has been able to go a step further with recent live broadcast trials proving successful.
The aim of the trials was to assess the feasibility, operating costs and benefits of using cloud hosted software as a service (SaaS) technology to remotely produce UK horse racing events. In particular, RaceTech was keen to assess the viability of remotely running multiple events from different courses at a central location to determine whether this approach could reduce the need for staff to travel to multiple sites and therefore the viability of using this method to manage occasional burst capacity requirements.
Working with Arena Racing Company racecourses at Windsor on 11 July and Lingfield Park on 13 July, all race camera pictures were streamed into AWS. RaceTech was then able to build the technical production capability using the SimplyLive Vibox Suite software and replicate its on-course hardware technology. This included the vision mixer, router, and record/replay systems, as software in the cloud. The race coverage from the two meetings was also produced in the cloud.
The trials worked in parallel with RaceTech's existing broadcast operation with the actual broadcast feed coming as normal from the RaceTech OB unit based at each racecourse. Using control surfaces at its South London hub in Raynes Park, the director was able to cut the race and run the usual replays, camera ISO and race broadcast feeds from that location. The company was then able to compare the remote output with the actual race footage from the outside broadcast unit based at the course.
While RaceTech's South London hub was used for the trial, there is no reason why the races could not have been directed from any location with suitable control surfaces and a suitable connection to the AWS cloud. Furthermore, this approach could also facilitate running multiple concurrent events from a central hub, meaning fewer, smaller OB units, thereby promoting a more sustainable business and a better work life balance for RaceTech's staff. More trials are set to be planned soon to explore further how SaaS can be utilised effectively across British horse racing and to run more technical analysis such as latency measurements and to experiment with encoding technologies and bit rates.
John Bozza, chief executive officer at RaceTech, commented: "We are very pleased with on-going trials and wish to thank Arena Racing Company for allowing us to conduct the trials from their courses. We are also grateful to SimplyLive and AWS for their support in setting up the first trial of its kind for British horse racing."