Scottish Premiership embraces remote production with custom-built workflow and distribution services from QTV
Multi-year contract signed by SPFL to raise matchday production standards
Glasgow-based broadcast facilities and production company, QTV, has signed a multi-year agreement with the Scottish Professional Football League (SPFL) to provide outside broadcast, production, and distribution services from season 2020/21 onwards.
The deal includes coverage of 142 Scottish Premiership matches per season, match highlights of all 228 Premiership matches, production and distribution of the SPFL's world feeds across Premiership, Championship, and Betfred Cup, as well as managing contribution and distribution of the SPFL's streaming to its data and international betting partners.
Consistent production
For the first time, match footage from across the Premiership is being captured, ingested, and distributed in a consistent way, providing all SPFL partners with a better quality product. This is being powered by the growth and development of QTV's production facility in Glasgow, which is now transformed during Premiership fixture rounds into a matchday production centre for SPFL content, as well as QTV's successful introduction of remote production for the SPFL, which is enabling higher quality and more uniform productions.
QTV's centralised remote production model has opened up technological and commercial opportunities for the SPFL and its clubs alike. It has worked with Hibernian, Celtic, Ross County, St Mirren, and Hamilton clubs on providing facilities and matchday production for their own club content.
The first Premiership match to benefit from this new workflow was Ross County versus St Mirren on 21 April, which was produced with only five crew at the stadium. Since then, two matches per fixture round have been produced remotely. This will increase to three per fixture round from the start of the 2021/22 season with an overall ambition to remotely produce over 100 Scottish Premiership matches per season.
Outside of the Premiership, QTV has also been innovating with a lower-spec live streaming model of remote production for match coverage at Heart of Midlothian, Partick Thistle, and Queen's Park FC, all three of which won their respective divisions.
Neil Doncaster, chief executive of the Scottish Professional Football League, says: "The start of our new broadcast agreement cycle from the beginning of Season 2020/21 gave us the opportunity to review our Scottish Premiership match production and distribution processes. Working with QTV has allowed us to modernise our approach with the addition of the match day production centre, which has not only made delivery to partners and Clubs more efficient, but also presented further commercial opportunities.
"The introduction of remote production at Premiership matches," adds Doncaster, "is an exciting development that will also make the undertaking of our weekly production more sustainable. Our aim is to capture Scottish football in an exciting and powerful way for our Clubs, supporters and partners to enjoy, and QTV will be a key contributor to help us achieve that."
Innovative approach
QTV has established itself as the biggest live production provider in Scotland, off the back of its work with the Scottish Football Association, Scottish Rugby, and Scottish Hockey. The proposal to centralise the SPFL's matchday production was made in April 2019 and was refined to include remote production in August of the same year. The innovative approach was approved by the SPFL board in December 2019 before the COVID-19 pandemic interrupted QTV's planning.
Jack McGill, QTV CEO, explains: "In Season 2017-18 we began looking at the SPFL's production model, which was fragmented with five different OB providers and match footage arriving at BBC Scotland at STV in different formats and at different times, some of it mixed, some of it ISOs on XDCAM! We recognised that there was an opportunity to take at least the worst of these delivery methods and make it better. We had merged with a smaller production company, IDTV, which owned a small OB truck. We put it to use providing one match OB per fixture round for the SPFL from Season 2018/19.
"We took the temperature of the SPFL and realised that with the broadcast rights cycle due for renewal in 2020, there was a one-time opportunity to disrupt the status quo."
"At the same time, we had signed a three year deal with World Archery to provide OB and world feeds [World Archery was the first to use the new infrastructure during 2020 as well as this year], we had moved to bigger premises, and were utilising Mobile Viewpoint and LiveU technology to take in contributions for remote commentary and graphics operations. We piloted this successfully with international netball and then with the UIAA's Ice Climbing World Cup. These were our first experiences with remote production and they had an instant impact on the profitability of those projects."
QTV invested in 24/7 vision paths to and from BT Tower to open up a market for producing world feeds and it used this as its relationship with the SPFL became stronger to win the contract for producing the SPFL world feed when it came up for renewal in 2018.
Continues McGill: "We engaged with ES Broadcast to design and build our first full-fledged OB truck, but our ambitions were still limited to maybe poaching one more OB – perhaps from BBC Scotland – per fixture round. It was my fellow director David McNeil who first proposed the idea of a more holistic approach to SPFL production."
Explains David McNeil, QTVs head of production: "I had seen first hand over the years the frustrations of editors and directors dealing with wildly varying footage and it seemed obvious to me that scratching at the surface wouldn't change that. Either we backed ourselves to change the whole system or we packed up and went home."
McGill continues: "We began discussing in earnest the value in building a production centre capable of handling all of the SPFL's contribution and distribution requirements. We brought ES Broadcast into that conversation at an early stage."
QTV then approached Sky Sports, as the key SPFL broadcast partner but as a neutral party in production conversations, to gain the big broadcaster's insight as an end user into the matchday production process. Adds McGill: "And we took the temperature of the SPFL and realised that with the broadcast rights cycle due for renewal in 2020, there was a one-time opportunity to disrupt the status quo."
Journey beginnings
The first proposal from QTV to the SPFL in April 2019 included provision for four outside broadcasts per fixture round and the centralising of post production, broadcast match feeds, and streaming in one place. "This on its own was immediately attractive to the SPFL," says McGill.
He continues: "In the meantime, we continued to increase the number of remote productions we were undertaking with Mobile Viewpoint for live streaming, and an idea started to germinate that we should look at this in a broadcast capacity. I attended the SVG Europe Nordic Summit in March 2019. Much of the discussion focused on SVT's remote production of skiing – and much of it went over my head – but I gleaned enough to have a sensible conversation following it with Charlie Cope from the BBC – who had been one of the speakers in Bergen – and he helped switch on the lightbulb (although I may have been circumspect about my ambitions for it!).
"We undertook a fact-finding trip to Stockholm, hosted by Kristian Mets at Net Insight to meet with SVT, to understand more of what had inspired me in Bergen, and to see full remote production in action. [ES Broadcast's] Jonathan Lyth, David McNeil, and myself made the trip."
After that trip, the team returned to the SPFL in summer 2019 with a revised proposal that included remote production on the basis that this would lower OB costs, provider greater flexibility in the scheduling of matches, reduce carbon footprint, and move the SPFL a step further down the line in preparing for in-game technology such as VAR at whatever point that became a consideration.
"At this stage we were considering a Net Insight solution – with which we were comfortable – and had spoken to different connectivity partners about a managed network," notes McGill. "This part was proving a challenge to make a business case over such a small geographic area. We were convinced though that the wider benefits would be worth it if we could get to the right connectivity solution."
Big guns
This is where BT Media & Broadcast came into the picture via ES Broadcast. However, McGill states that, "we had initially dismissed BT as we felt that they were probably too cumbersome and expensive to be competitive, but Robert Rolfe, Laura Tressler and their technology team were adaptable to our requirements and – I think – admiring of the ambition of the project."
BT had the infrastructure in its unmanned cabinets at each of the Scottish Premiership grounds and a commitment to keep those active for the new teams that are promoted each season. That existing infrastructure allowed them to be more competitive than we were QTV was expecting.
"One of the key elements of the SPFL contract requirement was to minimise the environmental impact of the league coverage. Between ES Broadcast and QTV, we assessed different approaches to tackle this requirement, from vehicle choices, including looking at the feasibility of electric vehicles, to reducing the number of crew needed at the venue. In that context, remote production was an obvious choice, allowing QTV to reduce the traffic generated on each OB by 80%"
BT proposed a model based on four camera ISOs from each Premiership ground with a layer two data connection supporting almost zero latency tally and talkback. This was the model selected and that now underpins QTV's SPFL remote production model.
From October, the technical lead on the project was QTV's new CTO, Gareth Gordon. He says: "BT Media & Broadcast's cabinets utilise IVNP and ADVA technology which sit on their multi protocol layer switching [MPLS] network. Our two remote production control rooms at QTV utilise a 10Gb BT line bringing in four x 150mbps J2K camera signals per match. TSL Tally and RTS intercom data pass over a dedicated layer 2 data path. Each PCR sits on a tagged VLAN partition enabling data filtering when it arrives in the building."
Contribution of broadcast match feeds from each of the Premiership grounds arrives at QTV where it services the requirements of the SPFL's broadcast partners, including Sky Sports and BBC Scotland, as well as data providers, betting partners, and the clubs. QTV's central production facility enables operational functions including directing, vision mixing, replays, graphics, and commentary.
"Operationally the production vision mixer and replay device are installed at our base in Glasgow while the camera control units are in the truck (although these can also be at base)," continues Gordon.
"With the Grass Valley Kula switcher and Simply Live replay unit installed in the PCRs, it left us with the challenge of creating a return feed for cameras on site. We overcame this by using incoming TSL tally data to trigger logic events in the DNF GPIO controller. These events are used to switch a destination in the Ross Ultrix matrix and creates a workable camera return feed for operators," Gordon concludes.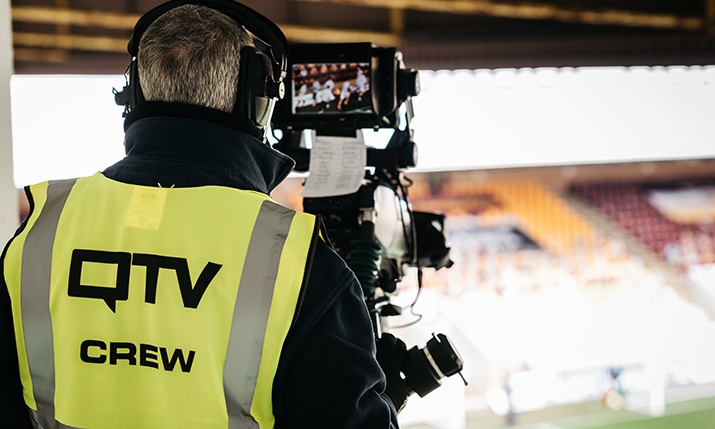 Teamwork makes the dream work
QTV has a long standing relationship with ES Broadcast, which began in 2016. Comments Jonathan Lyth, ES Broadcast CTO: "When it came time for QTV to look for a technical partner to build its remote production proposal to the SPFL, ES Broadcast had by then formally established its systems integration division and, building on the smaller projects we'd helped with, we were in a good position to help QTV design the various aspects of a solution."
The long term remit from QTV to ES Broadcast has been to help build a staged technology strategy to allow QTV to grow into a range of contracts, starting with a five year contract for the SPFL Premiership productions that started this season.
Comments Lyth: "The main build revolves around a remote production solution that can deliver productions for the SPFL, along with reworking QTV's existing facilities to better serve their various international federations, clubs and broadcast clients.
"One of the key elements of the SPFL contract requirement was to minimise the environmental impact of the league coverage. Between ES Broadcast and QTV, we assessed different approaches to tackle this requirement, from vehicle choices, including looking at the feasibility of electric vehicles, to reducing the number of crew needed at the venue. In that context, remote production was an obvious choice, allowing QTV to reduce the traffic generated on each OB by 80%; instead of five vehicles needing to go to each ground, one engineering OB can handle all of the contribution, with signals fed back to QTV's production facility."
Adds Aidan Rook, ES Broadcast project engineer: "The engineering OBs needed to be able to produce up to six camera isolated feeds (ISOs) that could be sent down BT HD vision links back to QTV's MCR. They also needed the flexibility to be capable of working as a standalone, slimmed-down full production OB for events at locations where the BT infrastructure hadn't been installed. The rear storage compartment of the van also needed to be large enough to store all the camera equipment safely, to save the need to bring a tender vehicle to the events. Again, these vehicle requirements were driven by QTV's and the SPFL's environmental ambitions."
Technology being used in this production includes: Grass Valley Kula AV vision mixer plus LDX86N Worldcam with XCU on the vehicles and remote OCP control from the PCR; Ross Ultrimix MXR; ES Broadcast custom platform to generate Fill & Key GFX from Singularlive web URLs that can be run from the engineering PC at the PCR positions; for comms, RTS Odins in the vehicles and at base are connected using RVON over the BT circuits and managed using Trunkmaster; TSL Tallyman; Simplylive for replay; and Cerberus Tech's Livelink platform to distribute match feeds to the SPFL's broadcast partners.
Facing challenges
Lyth comments on the challenges of this project: "The challenges were quite varied, as you'd expect from a complex project. Our focus during the technology assessment stages in early 2020 centred on two main areas: firstly, connectivity, specifically availability and bandwidth; and secondly whether we should look to build around a full remote production workflow with discrete camera ISO feeds to be switched at the main QTV facility, or simply to remote control a complete on-venue solution from the central location.
"We worked with QTV to assess a range of connectivity partners and technologies," continues Lyth. "That involved looking to find the correct balance of function, reliability and deployment time and of course commercial sustainability for such a long contract. In the end multiple J2K contribution feeds from BT M&B proved to be the most appropriate solution.
"The decision on whether to opt for simple remote control or to return all the cameras to the remote production facility really came from the growth of QTV during the time we were assessing solutions. It became apparent that they could end up in a situation where they needed to be able to swing production control room (PCR) desks at the facility from production to production over the course of a day," Lyth notes.
Lyth states: "The main challenge of course came with COVID-19 and the decimation of all plans for the start of the new season. An understandable delay from the SPFL on award of the contract put everything on hold, then a decision to allow fixtures to resume without fans but to pretty much stick to the original start dates meant we had to create a temporary facility in under four weeks to start the league using on-venue switched feeds and central ingest and edit. This then had to be replaced in stages over the course of the season."
Futureproof football
On the future plan for the new system, Lyth states: "QTV is now operating a system capable of managing the four remote productions for the SPFL contract, plus feeds from additional simultaneous productions from the main OBs, remote commentary and graphics. It has a central MCR for management of all QTV contribution and distribution paths, two world feed production spaces, four edits and a central ingest system, and the ability to produce 10 add-on or bespoke feeds.
"This is a solution that gives QTV maximum flexibility in its live production workflows, while addressing one of the major considerations for the broadcast industry, namely environmental sustainability," continues Lyth. "The project was never just about servicing the SPFL contract, which runs for another four years. For QTV it was as much about embracing innovation and pioneering some of the most up-to-date remote production workflows available in the sphere of Scottish sports and events production. The company is going from strength to strength on several other productions as well, so our hope is that this is just the start of a long relationship as QTV's stature grows in line with its admirable ambition."
Concludes McGill: "From a business perspective, the most challenging part of the project has been implementing it during the pandemic. From the point at which the 2019/20 season was curtailed, the lending market has been uncertain; our sales evaporated for almost five months, we were unable to move premises, and even after the resumption of football and other revenue streams, we were trying to implement an ambitious technology project at the same time as delivering over 150 OBs in a season. To say that I need to lie down in a dark room after this season ends would be an understatement."