Sky News takes up residence in Green Park ready for the Queen's Platinum Jubilee festivities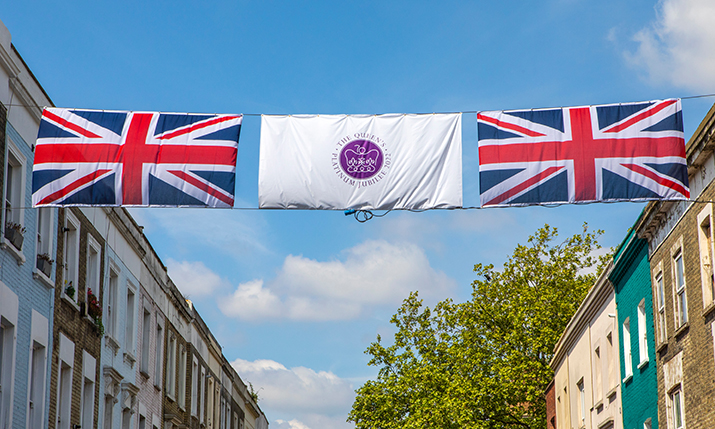 Sky News is ready for action as the UK readies itself for an extended weekend in honour of the Queen's Platinum Jubilee.
Viewers will be able watch live coverage of all the festivities happening this coming weekend on Sky, from Trooping the Colour outside Buckingham Palace on Thursday 2 June from 10am to 1pm, to that evening at 9pm with The Jubilee Beacon Show, which will follow beacons being lit across the UK and Commonwealth. It does not stop there as the Service of Thanksgiving on Friday 3 June will also be broadcast, while Sky will also celebrate The Big Jubilee Lunch from 11am to 2pm on Sunday 5 June, concluding with The Jubilee Pageant from 2pm to 6pm.
Comments Sarah Whitehead, Sky News' deputy head of news gathering: "This is a big event over four days with multiple events. The big challenge I think that we all have as broadcasters, is to make sure that this feels as national an event as possible, because all the major events are focused in London. [Yet] this is a real opportunity for everyone to come together at [what is] quite a tricky time in the UK, and actually have a good time and be out there and light their beacons and get together in communities.
"It's really important that we represent that as well as these big set piece events that are happening in London. That is, I think, our biggest challenge; to give some of the context, to make it feel a big, national moment, and to bring in people from across the country and across the Commonwealth too, which is also celebrating. That's what we're trying to do and that's what we're trying to bring to everybody; to make sure that everybody feels included and that their part is portrayed in it."
Tight production
By the time the Jubilee celebrations begin this Thursday, Sky News will have been on location for around two weeks. Speaking to SVG Europe, Whitehead notes: "The whole sequencing of how [set up] works is very much driven by the BBC and the Palace and the DCMS. The biggest event is the concert on Saturday night. A lot is being driven around that in how it's all being orchestrated."
"We are working with BBC Events, BBC News and ITN to create and pool opportunities which are up and down that area, and covering those events as well, so we all work together in a huge, great group of people to make the coverage work"
Sky News is using its base in Osterley as the main hub for this production, plus one in Green Park in central London where the TV compound for the event is based. The camera operators and sound will be working from Green Park in the media compound, and the event directors will also be on location.
"Down at Canada Gate [in Green Park] we are using literally in one truck, six or seven encoders onboard," says Whitehead. "We're mixing locally on site and then that can all be sent back to Osterley, but we do have this additional production hub [in Green Park] which has got sound and remote camera ops in it."
Crowd management
Logistically, the length of the Jubilee is the main challenge for Sky News, as well as the location. Says Whitehead: "The fact that it's across four days and it's in a crowded but quite a confined space around Buckingham Palace, The Mall and Horse Guard's Parade [is challenging]. [Also] the sheer number of organisations who are all squeezed into [the TV compound area] and trying to work in it, from the people organising the pageant, to the people who are trying to film it, to the organisers who are trying to keep the public safe.
"It's the sheer numbers and everyone having to work together in this [that is difficult]. That's probably one of the biggest things that we are finding that we are having to contend with; how do we fit everything in?"
On how Sky News is fitting everything into the space available for its production, it is using point tilt zoom (PTZ) remote controlled Panasonic cameras to lighten the load. Says Whitehead: "That's led to the biggest innovation that we are doing on this event, which is quite simple; instead of putting big cameras down The Mall on big stands, we are putting in remote controlled cameras, which has not, as far as I know, been done before."
The cameras are connected to the broadcaster's Green Park hub at the TV compound using fibre. Sky is partnered with technical and outside broadcast provider NEP for this event. The PTZ cameras are also being used in the Sky News studio, to create more room in the small space provided.
Sky's compact studio outside of Buckingham Palace has been created by Star Live, with the interior made by Sky Creative and the Sky vehicle tech department. Notes Whitehead: "They've built it and it's also reusable sets that we use because we're Albert accredited and certified and look at sustainable credentials all the time, which is really, really important."
Working with the BBC
The BBC is the host broadcaster for several of the larger events, including the concert on Saturday night which Sky News will be able to cover as a news story. On Trooping the Colour, the BBC is doing the majority of the coverage and Sky News is taking some cameras from the broadcaster, and also tying that footage in with some of its own cameras positioned down The Mall.
Again on The Platinum Jubilee Pageant which takes place on Sunday, the BBC has taken the lead on the camera positions, "particularly around Buckingham Palace", says Whitehead. She adds that this makes sense as the BBC will already be in position following the concert, "but we're all liaising on different bits of it".
Adds Whitehead on the rights for the different Jubilee events, "it's a very mixed bag".
She says: "Obviously that's all based on contract, but actually within that space, we are working with BBC Events, BBC News, and ITN to create and pool opportunities which are up and down that area, and covering those events as well, so we all work together in a huge, great group of people to make the coverage work. We work with our own suppliers as well, so it's a massive group effort."
Whitehead continues: "It is really important that we're ambitious but collaborative and that we all work together to make the most of the resources that we all have and to make the best coverage for all our audience."
What's on Sky
The four-day bank holiday weekend kicks off at 10am on Thursday 2 June with a special Jubilee edition of the usual Trooping the Colour parade in central London. Thousands are expected to turn out for the Queen's Birthday Parade, which will feature the 1st Battalion Irish Guards, more than 1,200 soldiers from the Household Division, 200 horses and 400 musicians. Members of the Royal Family will appear on horseback and in carriages.
The Queen will then appear on the palace balcony for a traditional RAF flypast accompanied by Prince Charles, the Duchess of Cornwall, the Cambridges, Wessexes, Gloucesters, Duke of Kent, Princess Anne and her husband and Princess Alexandra.
On Thursday evening 2,000 towns, villages and cities throughout the UK, Channel Islands, Isle of Man and overseas territories will light beacons together as one is lit at Buckingham Palace at 9.45pm.
On Friday, a service of thanksgiving for the Queen and her reign will be held in the grand surrounds of St Paul's Cathedral.
Then on Saturday 22,000 people will attend the Platinum Party at the Palace for a two and a half hour long concert.
Finally, the bank holiday will culminate on Sunday 5 June with the Platinum Jubilee Pageant, a £15 million carnival finale to the Jubilee celebrations. In the hours beforehand, 85,000 people across the UK will take part in Big Jubilee Lunches, an initiative that began in 2009 to bring communities together.