Sky Sport Summit 2021: Fan Engagement at the core of transformation in broadcasting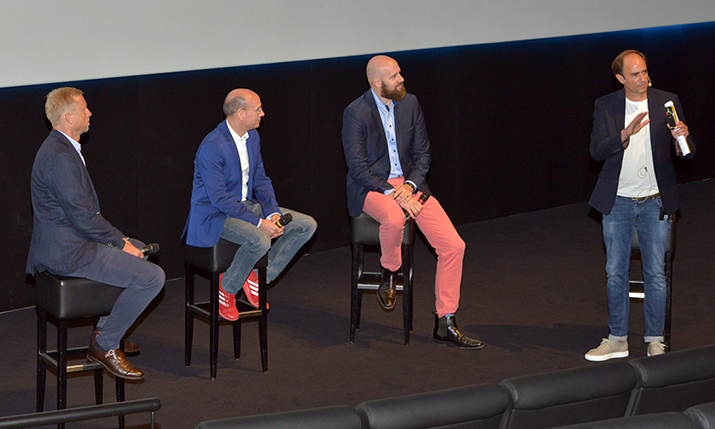 The 'Transformation in Broadcasting' session at the Sky Sport Summit 2021 provided a whirlwind summary of the year's key trends and developments in sports broadcasting. Featuring Andreas Heyden, the CEO of Deutsche Fußball Liga (DFL) digital sports and EVP of digital innovation for the DFL Group, plus Riedel Communications' founder Thomas Riedel, and Christian Massmann, the managing director of Qvest Media, trending topics from the 5G revolution to glass to glass strategies and the trials and tribulations of data-inspired media production were discussed.
Buzz words
The panel began with a somewhat amusing foray in the increasing usage of so-called buzz words within the industry. Commented Riedel: "It can be difficult to navigate the jungle of buzz words which are currently popping up all the time. They all have a purpose, but there is a tendency to get confused by the new terminology; much like the buzz surrounding 5G, which also has the tendency to be very confusing.
"Having met with the big players in the German telecoms industry, I would say that there is a general consensus that 5G is mostly marketing buzz which cannot live up to expectations. If you believed the marketing hype, you'd believe that 5G can also solve the climate crisis. Your typical consumer doesn't necessarily require anything more than 4G, [so] what is the basic principle of 5G?," asked Riedel.
It was not all negative, however. When prompted by the panel chair, Alessandro Reitano, senior vice president of sports production at Sky Germany, and chair of the SVG Europe Advisory Board, as to when technology can create benefit in storytelling, Riedel was keen to elaborate on his pioneering role in broadcasting for the Americas Cup, a particular point of pride for the entrepreneur and CEO.
"From our perspective in the DFL, the ability to slice up different bandwidths gives an interesting opportunity with regards to quantities of data which can be shared during games."
Treating sports events and media as one entity, Riedel and his team were able to provide a ground up approach to the event. The commentators, for example, were not fixed in their typical cabins but were free to comment everywhere and anywhere with their wireless communications devices, such as in helicopters or in boats. This, according to Riedel, provided a totally new experience for the viewers, with a 360-degree aspect on the whole Cup.
While Riedel expressed scepticism about the media buzz surrounding 5G, Heyden was of the view that 5G could provide the broadcast industry with something of a common goal.
"We have to look at 5G from the value we can deduce from it," he noted. "From our perspective in the DFL, the ability to slice up different bandwidths gives an interesting opportunity with regards to quantities of data which can be shared during games.
"What's more, we live increasingly in a software as a service world, which is undeniably useful for content workflows, but remains somehow abstract. With 5G, we have something within which the whole industry can work towards a lightbulb moment, and that is very exciting."
Fan viewing habits
Massmann, on the other hand, was keen to highlight the greater trend concerning technology and broadcasting. For Massmann, it was clear that there are transformations happening in broadcasting that are directly traceable to developments in tech and resulting viewing habits.
To use the example of data-inspired media production, over 50% of users today are consuming media vertically via app, web and social media.
"We thought it was interesting that we were producing content in an exclusively horizontal manner, but all the while viewing habits are changing," commented Massmann, speaking about the fans.
"We are getting more and more requests from the younger generations for providing content as an additional service. This has the potential to provide an additional source of income for platforms looking to capitalise on this demand for additional data."
Engaging fans
After the lunch networking session, the 'Fan Engagement' panel with Robert Niemann, chief revenue officer at Native Waves, Charly Classen, EVP of sports at Sky Deutschland, Tobias Fröhlich, founder of TeraVolt, and FC Cologne's head of corporate development and esports, Philipp Liesenfeld, continued the discussion regarding data-inspired media production, asking the question: how does one inspire fans through engagement?
"I often find it incredibly difficult to define the term fan engagement because of how broad it is," commented Classen. "To truly break down what it is that fan engagement can offer, we have to look, of course, outside the stadium."
Niemann added: "In the stadium, one is totally focused on the game at hand. At home, however, the experience is entirely different. Trying to keep the viewer entertained with additional layers of statistics, whether that's through an app on the smartphone or perhaps additional live analysis, is essential to develop fan engagement."
Exclusive access
One such example is the media platform of FC Köln, which attempts to grant fans exclusive access into the club and by offering classic pull communication and additional bonus features for consumption.
"We wanted to create a completely different platform to transform the digital channel experience," commented Fröhlich. "A new form of engagement offering more information about players, new camera perspectives during and after the game, and a plethora of additional content via the app have allowed us to truly broaden the horizon of how fans can engage with their club."
"Trying to ensure that the fans stay within the ecosystem of the platform is perhaps the biggest challenge of successful fan engagement and integration."
With the demonstration of TeraVolt's app and Native Waves' immersive and personalised approach to content consumption, the audience was able to get a glimpse of the innovations currently being developed to draw fans into the viewing experience.
"I speak from my own experience in that fans are constantly looking for more information, from new perspectives, functionality, and more than anything, variety," commented Niemann.
"We can offer enriched fan engagement through a connected web of apps, smartphones and smart TV content. But trying to ensure that the fans stay within the ecosystem of the platform, is perhaps the biggest challenge of successful fan engagement and integration."
Both Liesenfeld and chair, Reitano, agreed on the necessity to look further afield than just football when it comes to examples of fan integration.
Looking further afield
"We have a tendency to concentrate on football, but ultimately we can learn a lot from basketball programming from the likes of ESPN in the US, who have been providing potential creative cues for how to keep fans entertained outside of the actual game."
In America, the second screen phenomena has always been at the forefront of viewing habits with the likes of ESPN offering several simultaneous viewing perspectives on one match. In Europe, broadcasters have been encouraged to try out similar new approaches during the pandemic, especially with regards to ensuring younger generations are accounted for in their insatiable thirst for secondary content.
Classen also reiterated the benefits that 5G can have with regards to fan engagement, especially with regards to the multitude of camera perspectives which can give people in the stadium an enriched experience, especially, for example, with regards to replays. By the same token, a commuter on the train can also enjoy the same level of content experience thanks to the large quantities of real-time data that can be transmitted and received via 5G.
The Sky Sport Summit 2021, sponsored by Panasonic, took place in Munich on 27 September 2021.