Sky Sports slips in Second Screen for Ashes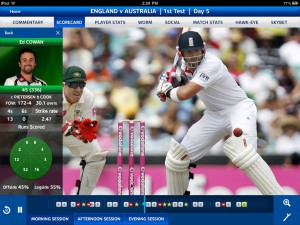 The importance of the Ashes test cricket series between England and Australia to Sky Sports has been underlined by its launch of the Ashes Event Centre, its branded second screen offering previously rolled out to such high-profile tournaments as the Champion's League.
The Ashes was last held in England in 2009 when the second screen was still effectively in its first generation infancy, so this series represents the first time that host broadcaster (and UK rights holder) Sky Sports has been able to really leverage its expertise in the field and apply what it has learned about online platforms to the sport of cricket.
Hence the launch of the new Ashes Event Centre, which joins the high-profile Champions League and Heineken Cup tournaments in the broadcaster's Event Centre cannon. Powered by deletare's new Diva Cricket – the latest flavour of the Italian company's enhanced video player built on its video asset processing system, FastForward – the app-driven or IP-accessed Event Centre allows Sky Sports viewers to watch live coverage or highlights on a session by session timeline, access realtime match statistics, and also features an integrated Twitter feed.
Diva Cricket features illustrated timeline navigation, allowing live and on-demand video to be equipped with editorial timeline markers to signify key moments in play (a clip for 4, an LBW appeal etc) for easy navigation; related in-screen video to allow for all this to be found without interruption to live streams; built-in text commentary' and live scorecard and game stats.
In all this it's very similar to the other Diva players but where it strides out into its own territory is in the wealth of stats available in realtime to the user. Cricket is famously a game obsessed with both statistics and history, which together combine to give a vast amount of data that can be mined throughout. Diva Cricket though has also made sure that the Event Centre features an integrated Hawk-Eye tab, linking viewers to the vast array of analysis tools powered by the Sony-owned ball-tracking technology. This is running in realtime, allowing users to see the trajectory of balls in an over, access the speed pitch map, wagon wheel & beehive, and even see if areas of the pitch are misbehaving with low or high bounce.
It's a fascinating adjunct to live viewing. "Few sports possess the wealth of statistical data that cricket does. Therefore, it was natural to bring Diva's elegant data and video synchronisation capabilities to create an immersive experience for the hundreds of millions of cricket fans worldwide," said Paul Bristow, chief commercial officer at deltatre.
Of course, the other area where the Ashes Event Centre will be moving into new territory is with the sheer length of time it will be on air, each of the five tests taking around 30 hours to play (though the rain of the English summer often eats into this). This may also tax the other main second screen news from the series, the fact that organisational federation the ECB has confirmed a deal to stream the Ashes series live via a geoblocked YouTube channel to 53 countries in mainland Europe and South America. The federation has made initial forays into providing highlights and video packages on its YouTube channel in the past (www.youtube.com/ecbcrick) but this this will be the first time a match has been broadcast live in its entirety.