SmartCart's Gil Cowie reflects on CBS Sports success for PGA Golf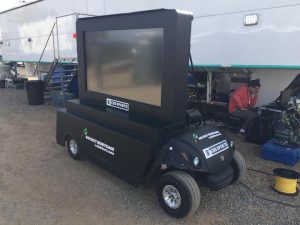 SmartCart founder Gil Cowie has been reflecting on the ongoing success of his SmartCart SVX product – most specifically its continued deployment by CBS Sports at PGA golfing events. Having debuted SmartCart in 2016, CBS Sports plans to deploy the system on some 20 events during 2018.
Reporter Amanda Balionis will use SmartCart to analyse and telestrate data like golf swings and shots, hole difficulty, and scorecards, as well as to show compelling content from the event. SwingVision will also return this year, and a blimp will be flown during selected events to provide an additional aerial view.
Cowie confirms: "CBS PGA first employed SmartCart SVX in 2016 to add this on-course presentation interviews and analysis hub. We are proud that after two whole seasons of outstanding production by CBS Sports that our SmartCart SVX product is continuing to enhance their broadcasts in the 2018 season. It speaks to the class leading on-screen quality, reliability and flexibility of the solution from our USA operation.
"SmartCart SVX's Europe/UK deployment also continues to grow as broadcasters and producers begin to realise the financial and operational benefits this method of delivery and storytelling brings right from the heart of the action."