Sony expands HXC Series with entry level Full HD camera system
Sony is offering an accessible entry into 4K and HDR-ready studio and live production with the combination of the new HXC-FB80 portable camera and HXCU-FB80 camera control unit (CCU). Based on a 3G-SDI platform with 1080/59.94p capabilities, the new system fits a range of commercial applications where professionals need high quality HD with a futureproof path to 4K and HDR production.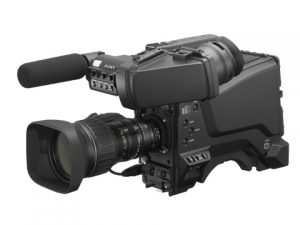 The HXC-FB80 expands Sony's HXC product line up and shares many common features with the current HXC-FB75. The new camera continues to provide signal-to-noise ratio at -60dB with high sensitivity of F13 at 50Hz or F12 at 59.94Hz, ideal for low-light shooting and a variety of camera painting and processing capabilities.
The CCU up-scales HD content to 4K (3840×2160) and provides a 12G-SDI output in addition to a quad-Link 3G-SDI. HD-HDR support for Hybrid Log-Gamma (HLG) will be available in summer 2018 through a free firmware upgrade.
Since its debut, the HXC series has been adopted worldwide for diverse uses. This new camera system is based on customer input and the added support for up-scaled 4K and HD-HDR production expands the system to a wider range of applications.
The HXC-FB80 has the same choice of configurations as the FB75 series: the HXC-FB80HN (camera body only), HXC-FB80KN (with 2/3" HD Lens, Portable viewfinder and Microphone) and HXC-FB80SN (with 2/3" HD Lens, Large viewfinder).
The camera has three 2/3-inch type CMOS Exmor image sensors and provides 59.94Hz progressive operation at 1080×1920 between the camera head and CCU using a 3G platform. The camera also supports 23.98PsF shooting for productions requiring a "cinematic" look, such as live events and other applications including interviews and newsmagazine-type programs, along with 25PsF or 29.97PsF shooting.
The ND filter can be remotely controlled by the newly adopted filter servo motor in the camera head in addition to the electrical CC filter.
The potential distance between the camera head and CCU is extended up to 600m (approx. 1970 feet), while keeping the 10km (33,000 ft.) extension by single mode fibre cable with local power supply. Together with the HXC-P70H, the cable length can be extended up to 1,000m (3280 ft.) with the supplied power from the new CCU.
In addition to a Neutrik connector interface, a LEMO connector interface is an available option for the camera head and CCU.
The HXC-FB80 system can be controlled not only by the CCU front panel operation, but also RCP remote operation including PC-RCP (HZC-RCP5) and Master Setup Unit (MSU) system for multi-camera application, which ensures scalability of its system.
The HXC-FB80 camera and HXCU-FB80 camera control unit are planned to be available in January 2018. Sony will be exhibiting the new system at the NAB Show New York, 18-19 October, booth N401.