Sports Graphics Spotlight: Last chance to register, More speakers added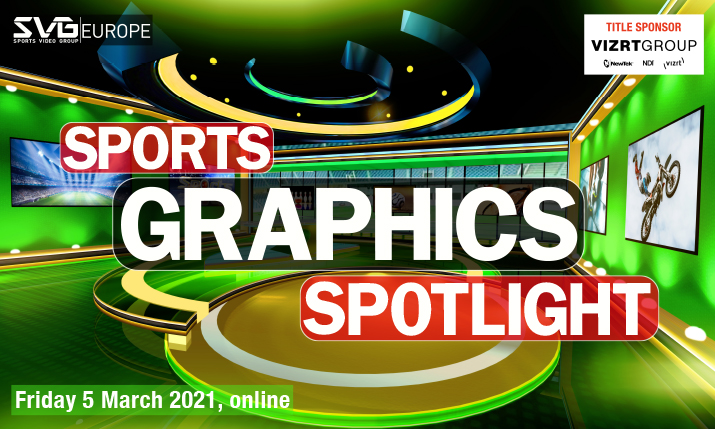 Speakers from DAZN, Sky Germany and TV 2 Norway have been added to the extensive speaker line-up for the Sports Graphics Spotlight, sponsored by Vizrt, which takes place online at 2pm GMT on Friday 5 March.
TV2 Norway's head of graphics Harald Hovdevik, Niki Whittle, Global Graphics Operations Manager at DAZN, and Pedro Sugasti, Sky Sports Germany senior software developer, will take part in a Masterclass session that will look at a range of graphics-related topics.
They join a speaker bill that already includes former England Rugby Union captain Will Carling OBE and experienced cycling commentator Anthony McCrossan, as well as Eurosport head of graphics and innovation Alex Dinnin and Sky Sports director of golf Jason Wessely.
The full list of speakers is:
Mike Allen, Sky Sports, Senior Director
Kuban Altan, Zero Density, Co-Founder & VP Research and Development
Laurie Beamont, MOOV TV, Head of Graphics
Will Carling OBE, AWS Six Nations Ambassador
Alex Dinnin, Eurosport, Head of Graphics and Innovation
Nick Dougherty, Sky Sports, Presenter
Harald Hovdevik, TV2 Norway, Head of Graphics
John Howell, SMT, Director of Creative Strategy
Dominic Hudson, Sky Sports, Graphics & Data Support Team Manager
Anthony McCrossan, Cycling Commentator and Producer/Director
Thomas Nelson, Vizrt, Sales Director, Sports
Matthieu Skrzypniak, Euro Media Group, Chief Digital Officer
Pedro Sugasti, Sky Sports Germany, Senior Software Developer
Phil Ventre, Ncam, VP Sports & Broadcast
Jason Wessely, Sky Sports, Director of Golf
Niki Whittle, DAZN, Global Graphics Operations Manager
Sponsored by Vizrt, Sports Graphics Spotlight will bring together some of the brightest creative and technical minds in the industry, shining a light on the latest developments and showcasing the best in 2D, 3D and augmented reality, across on-screen and studio graphics.
Highlights include: an in-depth look at the enhancements and improvements that have been made to Eurosport's award-winning live mixed-reality presentation studio the Cube; a session on Sky Sports' work on the Masters golf with Sky Sports director of golf Jason Wessely; and an exploration of the evolution of motion, augmented and live graphics in televised cycling.
A Masterclass on how graphical data and statistics can be used effectively and appropriately for analysis and storytelling within televised sport and a Thought Leader Perspectives panel will also feature.
To find out more and to register go to: Sports Graphics Spotlight
---

Sports Graphics Spotlight, sponsored by Vizrt, takes place on Friday 5 March starting at 2pm UK time. It is free-to-attend for sponsors and senior professionals working in the business of European sports broadcasting and production. To find out more and to register go to: Sports Graphics Spotlight
---