SportTech 2018: Inside look at the massive Winter Games effort from Discovery, Eurosport and NEP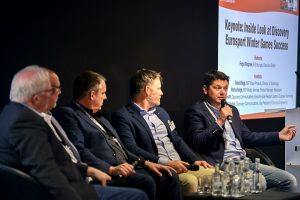 The challenges the teams at Discovery Communications and NEP overcame, as well as the lessons learned, were part of a keynote presentation at SVG Europe's SportTech 2018, held at Stamford Bridge in Chelsea, UK, on 30 May.
The efforts centred not only around building out a 2,800 square metre presence within the IBC in PyeongChang but also meeting the needs of upwards of 40 sublicensees across Europe that were helping more than 4,000 hours of live Eurosport Olympic coverage reach 48 markets in 21 languages.
"There were some huge challenges," said Simon Farnsworth, Discovery Communications, EVP Sports and European Technology. "What was important was we absolutely need to build trust and credibility with all of our partners."
Farnsworth added that the Olympics provided a great way to integrate some of the regional companies it has acquired and to also overcome some of the cultural differences between countries as diverse as Norway, Sweden, Spain, and France. And then a late sublicensee deal with German public broadcasters ARD/ZDF shifted the requirements even further as the German broadcasters were located in a different part of the IBC but still needed integration.
"We also introduced 17 new operational systems as, when we acquired all of these different businesses with different operational hubs all over Europe, the only way to do the Olympics was to overlay systems over the top. And that is something we will work harder on to make better for Tokyo."
The cultural and operational challenges were compounded with having to bring together 17 new operational systems for the production as well as operating 17 studios across 10 sites in Europe and in Pyeongchang.
"One of the key technology choices we made was to make sure we had a robust IP multicast network to service the production sites all over Europe," he added. "We wanted to encode one piece of content and then distribute it to many sites simultaneously. So, adopting cloud-based technologies in our media asset management system was a big thing for us because we had social media and linear editors dotted all over Europe and all over the world as we had people in New York creating content for Snapchat. We had to make sure everyone could access content immediately."
One of the ways to do that was by centralising assets and NEP Mediabank in Oslo helped in those efforts. Marius Borge, NEP Mediabank, product marketing manager, discussed Mediabank's important role with Eurosport operations as the media asset management partner. Eurosport's goal was to have a centralised repository of content so that all of the production personnel, regardless of where they were located, could access the same material without it being replicated dozens if not hundreds of times. Mediabank and its team met those needs as Borge said that NEP Mediabank hired additional master control room operators to watch incoming feeds with loggers in Paris and Oslo logging events, stories, and associating rules with clips.
"This is the future of where it is all going otherwise we would have needed 50 different audio mixers working on the feeds."
The commentary was also a challenge. While Eurosport had 150 on-air talent in Pyeongchang for the games there were 36 different commentary locations around Europe, and that made it critical that commentary was properly timed and also got to the correct channel. SAM Media Biometrics was used to sync up audio to video via timestamps.
"This is the future of where it is all going otherwise we would have needed 50 different audio mixers working on the feeds," said Farnsworth.
The efforts paid off in terms of audience reach with 352 million unique viewers and 4.5 billion video views across Europe. Those views totalled 4.5 billion hours and also proved successful in reaching a younger audience as the opening ceremony was streamed on Facebook Live. The audience between 18-34 made up 83% of the users on Snapchat and the ability for OTT Olympic coverage allowed fans to tune in from work.
NEP was a major part of the Olympic plans for Eurosport as it was responsible for providing the core infrastructure within Pyeongchang as well as the media asset management operations via NEP Mediabank, based in Oslo, Norway.
Donald Begg, NEP Major Projects, director of technology, discussed a massive project that involved pre-construction and fabrication of many facilities in Bracknell, UK. That equipment was then broken down and sent in five sea containers while other equipment, like cameras and lenses, were sent via air. All told, 20 40-foot containers and 44 tons of airfreight made the trip to Pyeongchang.
The core of the facility were three SDI routers with one just dedicated to all of the multiviewers. But IP networking played a part in connecting the IBC to the venues as Arista switches were used.
"With SDI if something goes wrong I can get something back on air with a couple of BNC barrels," added Begg.
Begg said that part of NEP's pitch was to embed into the Discovery team and that paid off as it truly required a team effort. "It was a big team effort, amazing, and something to be proud of," he said.