Stamping down the divots: Sky Sports' Georgina Sadler on her career from polo to Formula 1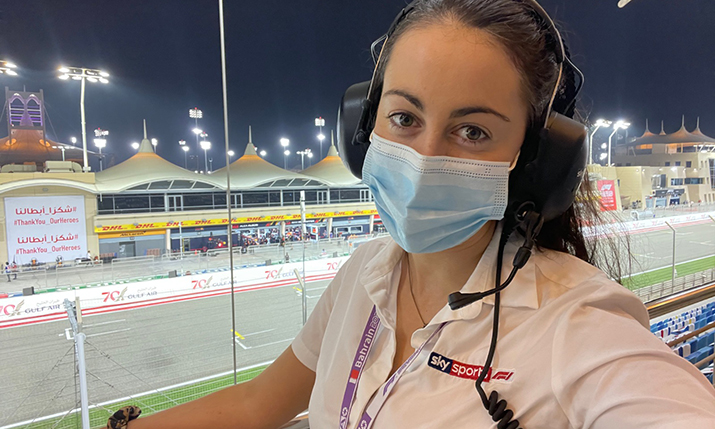 Georgina Sadler, assistant producer at Sky Sports Formula One, has moved from one kind of horsepower to the next, going from her first job working for a polo production company where she concentrated on capturing each chukka and every pony's twists and turns on the field, to the roar of Formula 1's engines.
Commenting on her first job in the sports broadcasting industry, Sadler says: "It was a few weeks after graduating that I found a small production company [Polocam TV] that was looking for a graphic design artist to help publicise their services. I am enthusiastic about anything equestrian and when I learnt they were filming polo matches this was music to my ears.
"Sport can be such a fast-paced, reactive, passionate environment, and capturing that to share to the world, really increased my passion and drive. I instinctively knew that this was the career I wanted."
"I offered to help them as an intern for a month, full time. They were filming this amazing sport all over the UK. Then I was able to train to film matches for them. After two weeks of filming matches, I was sent to India to film for the Indian Army Polo team," she continues.
"In the five years I spent filming polo with that company, I went all over the world including trips to Australia, Thailand, South Africa, US, and all over Europe and the Middle East and in particular, Dubai."
Finding opportunities
"Back in the UK it was by no means glamorous," she goes on. "We had to drive Ford-Transit vans with 'Versalifts' on the back, which were used for filming polo matches from high above (rain or shine)."
Sadler helped the company diversify by coming up with ideas for additional content: "I started putting together match highlights for the players and teams, which then grew another part of the business income. The company evolved and we were live streaming matches all over the world and supplying multi-camera world feeds to ESPN."
She notes that finding opportunities and being ready to do any role helped her greatly in her first job: "What I think was an important lesson was that I found a company I wanted to work for, which gave me the unique opportunity to carve out and create my own role. I found room to grow and help develop the company. There was just three of us, so I played many roles, from camerawoman to vision mixer, production coordinator, director, video editor, and even a few times as a presenter."
Getting a foot in the door
Sadler did a Foundation Diploma in Art and Design, then went to The University for Creative Arts where she gained a BA Hons in Graphic Design, which helped her get her foot in the door in her first job in sports broadcasting by designing a poster for the polo production company. Discovering this company was also Sadler's first introduction to the idea of broadcast.
She explains: "The first time I realised that I might be able to pursue TV broadcasting as a career was when I started filming polo matches. I knew instantly that I wanted to get the footage that I was filming onto TV. Being passionate about horses and having a career where I got to film this sport felt like living the dream (not to mention travelling the world as well with the job).
"In 2015 ESPN approached myself and the company to supply a multi-camera feed for them of the Cartier Queen's Cup Final (one of the biggest tournaments on the polo calendar). I was both directing and vision mixing for that day. Successfully delivering a multi-camera broadcast, gave me the drive to further develop my knowledge and skills in building bigger and better productions for the future."
She continues: "Sport can be such a fast-paced, reactive, passionate environment, and capturing that to share to the world, really increased my passion and drive. I instinctively knew that this was the career I wanted."
As to 'why sport?', Sadler says: "Sport brings people together, whether in the office or on location. Having this feeling of inclusion is really important to me, and a sense of belonging. I am driven to live sport because of its fast-paced environment. Sport is ever-changing, sports is ever-evolving, technology used to produce sport is ever-evolving, and I love being part of it."
But eventually, it was time for Sadler to move on. "It got to a point where I out-grew the company, and felt a strong desire to learn how major broadcasters were producing sports. After five years in polo, I landed a job as an assistant producer at Arsenal FC.  I produced most of their partnership content, which enhanced my confidence to further developing my career as a producer.
"During this time, I attended one of the first SVG Europe Women events, which opened a network of great connections in many other companies and sport."
"This led me to then become producer at Budweiser for their football content. I really enjoyed it as I was more involved in live filming, production planning, and editing. We were producing content for social media, and I loved being part of growing the platform and using fun, reactive content," she notes.
Onto the next chukka
Getting her job at Sky Sports was something of a surprise, having applied for a role at the broadcaster a year beforehand. Sadler explains: "I actually applied for the job while still working at Arsenal, and it was a whole year later when I got a call from Sky Sports HR, asking if I was still interested in the job I had applied for, as assistant producer for Sky F1. I think I might have squealed with excitement over the phone when I took the call.  The interview process was extensive; I was so nervous that the first five minutes of my first interview were a bit of a blur.  But here I am working at Sky, happy and enthusiastic".
"Follow your passion in life. Find the things in your job and career that interest you and see how far you can take it. If the job isn't there for you, it doesn't mean that the door is closed. Don't be afraid to speak up, ask questions, and get your name and voice heard."
As to why she thought the job would be the right fit, she comments that she, "found such amazing similarities between Formula One and the sport that I fell in love with in the beginning, polo".
Sadler continues: "I had already met people who worked at Sky saying how great it was, and I instantly realised that I would fit in.  When I worked in polo, we were constrained by budgets and weren't able to push technological boundaries, which frustrated me. I would go to events like IBC and SVG Europe just to expose myself to new technology and to understand how larger broadcasters produced television. Working for Sky Sports, we are encouraged to push all boundaries of creativity and utilise new technology."
It was not all plain sailing at Sky Sports, however.  She notes that the scale-up from a smaller production company to the global scale that is Sky was a challenge. "Once I got the job, I think the most challenging thing I found was having to learn such an enormous range of systems so quickly, as I had previously not worked on such a large-scale production before. With this job comes a lot of responsibilities; from travelling to races and working closely with talent, to producing shoots and features, writing scripts, and logging races, it is very involved. I think it is really important to just always stay on top and ahead, and the ability to manage several disciplines at the same time is really important."
She adds: "I really enjoy how fast-paced it is, how creative we get to be, and seeing the viewing figures at the end of each race weekend is pretty rewarding too; knowing that I have contributed to that."
People person
Sadler is overjoyed at work being relatively back to normal, after COVID lockdown, giving her the ability to meet people and travel once again. "I struggled with lockdown and working remotely. I am such a people person. I found it frustrating sharing my creative ideas over a Zoom call, not being able to gage my team's individual responses on what I was saying. You hear that people have suffered from anxiety and insecurity and I suppose that has been one of the worst sides of lockdown.
"Being able to slowly get back into the office has really helped. I remember joining an SVG Europe Women's zoom call, where the main subject was around exactly this. I believe a great tool to get over lockdown anxiety, particularly during Zoom calls, is simply to devise a bullet point list for reference; it certainly helps if you hesitate mid-sentence."
In what are the most challenging aspects of working in live sport today, she says: "COVID continues to present limitations. We can't interact with people like we used to, and it's not just sport, but everything and everyone. There are a lot of creative ideas which have to be scaled back because of these limitations. But these limitations have actually increased Sky's plan for a net zero carbon footprint by 2030."
The positive gain from lockdown is that it enabled Sadler to push herself more, growing her role further: "I have taken on more responsibility as I have gained more experience, including now running some of the social media accounts for Sky F1. I really enjoy doing this and I think that my interest in digital content will grow further."
She continues: "I think F1 is logistically probably the biggest 'travelling' sport, and when COVID restrictions started to relax and races resumed once more in 2020, Sky F1 made a significant amount of its production remote, which included our presenters doing track analysis on the Skypad back at Sky Studios. We also now cut a lot of our features back at Sky instead of on site at the races."
On the most exciting thing she has worked on in the course of her career so far, Sadler says: "I think the coolest thing I have got to work on in my career in F1 has to be producing the race opener for Azerbaijan. I love producing short-form, creative content that I then get to see on screen."
Concluding, she gives her advice to other women looking to move into a role in sports broadcasting like her own: "I know it is yet again another cliché but I would say with all honesty, simply follow your heart. Follow your passion in life. Find the things in your job and career that interest you and see how far you can take it. If the job isn't there for you, it doesn't mean that the door is closed. Don't be afraid to speak up, ask questions, and get your name and voice heard."