Sunset+Vine supports Birmingham 2022 legacy careers fair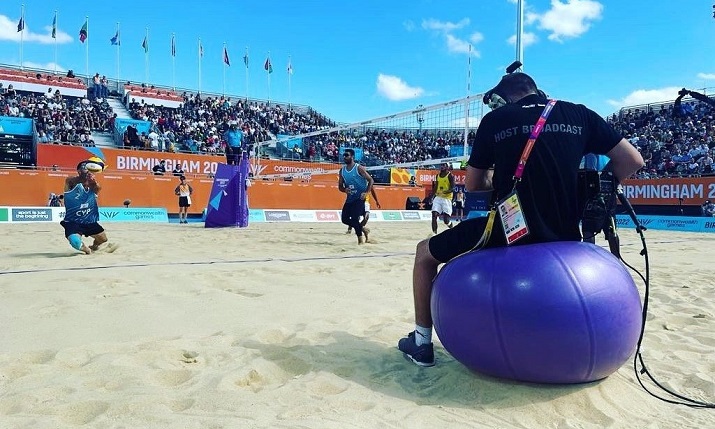 Participants of Sunset+Vine's Birmingham Commonwealth Games Host Broadcast Training Initiative (HBTI) last week took part in a careers day organised by Create Central, a local industry body for the region's creative sectors.
As part of its commitment to provide host broadcast coverage, Sunset+Vine partnered with Birmingham City University, Create Central, WMCA and Solihull College to deliver the HBTI, a scheme focused on diversity and the recruitment of trainees from Birmingham and the surrounding area. The aim of the scheme was to leave a legacy of a skilled, diverse and inspired workforce to fuel the next generation of TV industry professionals in the Midlands.
Sunset+Vine said the initiative tapped into the richly diverse talent pool in the West Midlands and delivered training to over 200 people to prepare them for employment opportunities on the host broadcast production of the Games and that some 61% of those employed at during the Commonwealth Games were from underrepresented groups.
"These people are the future of live broadcasting and we're immensely proud to have played a part in getting their careers started"
The careers day was attended by many of the regions employers and designed to give the trainees a chance to network and learn more about industry opportunities with one-to-one interviews and a series of masterclasses.
Industry attendees included BBC Studios, BBC Sport, Shine, Optomen, North One, Sunset+Vine, Spark Media, Nine Lives Media, Banijay, Yamination, Streamland Media and ISG Productions.
Read more Birmingham 2022: Sunset+Vine hails success of Commonwealth Games training scheme
Sunset+Vine HBTI director Emma Riley said: "It's a measure of the success of the HBTI, combined with the breadth of talent in the region that so many of those attending the Create Central Careers Day have already secured work in the industry.
"We're immensely proud of all of the trainees for their dedication, determination and drive and we'll be following their career progression closely, continuing to mentor and guide them towards opportunities."
Sunset+Vine host broadcast chief operating officer Ruth Hayman added: "Three women in particular made such an impression on our OB Suppliers that they've been offered employment in a sector that is historically male dominated: Deepali Mistry for Timeline, Aniyah Butt for Cloudbass and Mariana Galego for Gravity Media.
"A special mention too for Preetcharan Singh who progressed to operating a live RF camera at Northampton on BT Sport's Rugby output last weekend and Karum Cheema who is now working with Optomen as a camera assistant on the Great British Menu.
"Suffice to say this was the legacy that we'd hoped for, and these people are the future of live broadcasting and we're immensely proud to have played a part in getting their careers started"
Sunse+Vine chairman Jeff Foulser commented: "We couldn't have achieved our ambition for the HBTI without the support of our partners – Create Central, The West Midlands Combined Authority, Birmingham 2022's Legacy team, Solihull College, Birmingham City University and University Centre. We're now looking to develop future partnerships to continue the positive momentum of the HBTI."