Supponor Air virtual advertising technology to be deployed in over 2,500 live sports events during 2022-23 season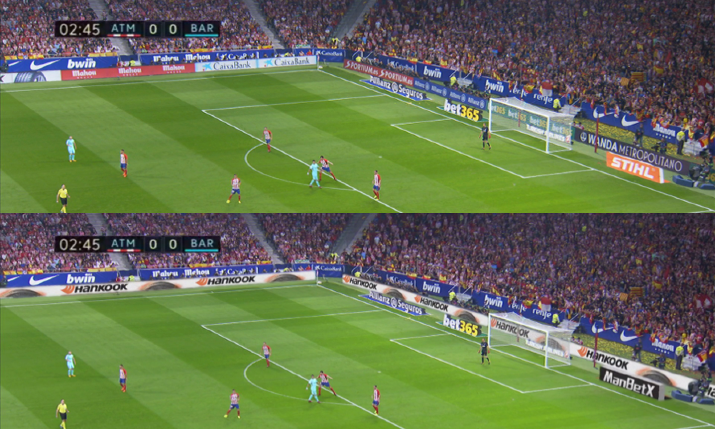 In the upcoming 2022-23 football season, Supponor is set to double the deployment of its fully software-based technology Supponor Air compared to last season. Across Europe, North America and Australia, Supponor Air will be deployed in over 2,500 live sports events, underlining the increasing demand for virtual advertising in the sports industry.
Having started with the German Supercup and the English Community Shield on 30 July, Supponor kicked off the football season with two high-class events in Germany and the UK, followed by several UEFA Champions League qualifier games. Throughout the season, the AI-based technology will be represented in markets globally, including Spain, Germany, Italy, France, the US, Canada and Australia. Across these markets, Supponor Air will be deployed at league matches for several elite leagues across the globe, including Spain's La Liga, the Bundesliga in Germany, Italy's Serie A, Ligue 1 in France, and the A-League in Australia; as well as the UEFA club competitions in Europe.
In the German Bundesliga, Supponor kicked-off the 2022-23 season during the opening match between reigning UEFA Europa League champions Eintracht Frankfurt and German national record-holding champions FC Bayern München on 5 August. This was followed by the match between Borussia Dortmund and Bayer Leverkusen a day later. These two games marked the first two matches where Supponor Air was commercially deployed in a year that is expected to see the total number of live events produced by Supponor in Germany at least double compared to the last Bundesliga season.
"We're looking forward to the start of the 2022-23 season with great excitement. We are proud to support our partner clubs, leagues and sports federations by providing flexible, sustainable and cost-effective virtual advertising solutions through our innovative Supponor Air technology. With Supponor Air we are enhancing the value of marketing rights significantly and offering new commercial opportunities to rights holders in live sports," said James B Gambrell, CEO Supponor.