SVG Europe Women: Relatable role models and real diversity in sports production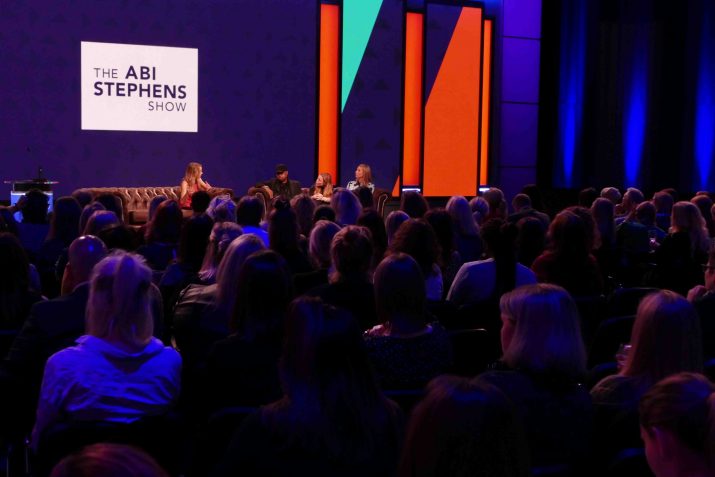 At the SVG Europe Women Winter Networking Event with BT Sport and Timeline TV on 30 January, sports presenter Abi Stephens led a chat-show style session with MAMA Youth Project CEO Bob Clarke, ex-England goalkeeper Rachel Brown-Finnis and newly appointed BT Sport OB manager Charlotte Winter.
They discussed various topics including women and inclusivity, encouraging greater diversity in sports broadcasting and the importance of strong female role models.
Rachel Brown-Finnis has over 80 caps as England goalkeeper and competed in World Cups, FA Cup Finals and represented Team GB at the 2012 London Olympic Games. She played for Liverpool from 1995 to 1998 and Everton from 2003 to 2014. She is now BT Sport women's football expert, covering both women's and men's games.
"I think I was first inspired to want to challenge the perception of women's football when I went out to a goalkeeper camp in the US. It was for six weeks, in Alabama. I was only 15. Long story short I got recruited to a university place and two years later was playing for the University of Alabama on a scholarship.
"I went to the Women's World Cup Final in 1999, which was in the Rose Bowl in California. I was already playing for England [who had not qualified for the tournament]. I watched – and I had had two years playing for the University of Alabama where you felt like a professional, training every day and having your kit washed. Things that never happened back at home.
"I watched that game and thought, 'I've played against some of these girls out on the pitch. These are my peers.' But we felt a million miles away from that in how we were treated by the FA and how it was an amateur sport back at home," said Brown-Finnis.
"And from that moment, recognising how respected those women were on the pitch — compared to how we were viewed as international footballers — it inspired me to think there was a hell of a lot of growth that could be done in this country.
"So as far as changing perceptions as a footballer, I am very happy that things have changed. I have had this attitude since I saw what was happening in the US: I thought, 'I want that for me, and I want that for women's football in this country and I want it for our national team'.
"So any opportunity I have had, I've gone in and said 'why not? Why can't we do this? Why can't we do that?' I had seen how my peers lived in America. They were successful and they were household names, and that was a real driving force for me," she said.
"And now, in relation to my role in broadcasting, I have been fortunate in some ways in that with the timing of my retirement from football there were some females emerging on screen in an ex-playing capacity. We have had female presenters and commentators like Jackie Oakley – so a few firsts had happened, to get that door slightly ajar for people like me to take an opportunity.
"I'm a big believer in challenging things. 'Oh, things have always been done in a certain way'. Well why? I got the chance to do the Women's World Cup [2015] and off the back of that, BT and the BBC got me involved in men's football as well. So now I do probably a 50:50 balance of men's and women's football."
Abi Stephens observed that Brown-Finnis was first a role model on the football pitch and now a role model on screen. She asked her how important role models really are, particularly for young girls.
"Very important. I came into this industry at 35, and I was a complete beginner. I felt a bit uncomfortable about the idea that I'm a role model. Football was the thing I was comfortable with. It was great to have some young footballers looking up to me and wanting to play for England, because you have to have some drive to compete at that level.
"So I almost felt a little bit fraudulent in coming into broadcasting sideways, as an ex-player. Yes I have two degrees, but they're not in broadcasting or production. I don't think [people like me] coming in has been a challenge for broadcasters or production; I think it's possibly more of a challenge for consumers who are watching. They're used to five blokes on the sofa and a male presenter, and that's how they consume their Saturday afternoon football. But I like breaking the mould and ruffling feathers!
"I never had female role models growing up; Peter Schmeichel from Manchester United was my role model. I wanted to be loud, I wanted to be commanding – and I wanted to be blonde like him!
"It's quite nice now to understand that I'm now potentially a role model in my second career in this industry. I want to hear how people in my position can help anyone.
"I don't believe in luck," said Brown-Finnis. "I've been a sportsperson my whole life, and have quantified what luck is. Luck doesn't exist. You work towards what you can achieve. You have to recognise you're good at your job, and that's why you're in this position. I want to discover how I can be the best, proactive role model."
Solving problems: women working in technical broadcast production
Introducing BT Sport outside broadcast manager Charlotte Winter to the stage, Abi Stephens said, "You and I have worked together on a number of projects – and I know you like being behind the scenes. I know that being on stage with a live audience and a camera is out of your comfort zone. So knowing that, what advice would you 'give to yourself' right now?"
"To be honest I'm absolutely petrified being up here! I'm so used to being behind the camera. I'm full of admiration for you and [co-presenter] Sarra Elgan for doing this so regularly. Being up here is just not normal!"
Stephens asked Winter how she feels about now being a role model for young people looking to get into technical broadcast production. "Do you know, it's really only recently I've appreciated how important role models are. I think prior to that I always thought role models were people like Rachel who have played international football.
"It's only since my new role at BT Sport that I've really understood. In my role as outside broadcast manager I oversee technical production, so I'm technical producer for all of our fixtures. Prior to taking this role on in November I was shadowing my predecessor the whole time.
"Technical production is really nerve-wracking. For those of you who don't know, the tech producer is responsible for every element of the show, whether line-up, audio sync or whatever. If there's a problem, people come to us.
"It was so alien to me, when I got on-site, that everyone was male and of a certain generation" – Charlotte Winter
"And it was so alien to me, when I got on-site, that everyone was male and of a certain generation. I want to make it really clear: every one of them was so kind and so helpful. But my goodness was it overwhelming. It really made me think, 'I wish I had a female tech producer I could go and speak to'. It is overwhelming," said Winter.
"Because I was now going to be responsible, I was embarrassed to think I might be letting them down by not doing the job right. So I don't think I'm a role model — but I certainly hope I can be more relatable for females trying to take on that technical producer role in particular.
"Growing up I had two real loves. Sport was one of them, so now working in sport is just fantastic. The other one was puzzles, problem-solving. I always had a puzzle book as a child. My job is like that now.
"My job is to work in sport, and quite often I'm solving a technical puzzle – which to me is just fantastic. I absolutely love it. I work with great people. "Every day is different, with different crews and freelancers coming in. The joy of working in broadcasting is that you never know whom you're going to meet next. I don't think many people in this room would be very good at a normal nine-to-five – which maybe is why you work in broadcasting, whether in the studio, in HR or in OBs. It's really exciting."
Throw a stone in the water and make some ripples
MAMA Youth Project CEO Bob Clarke founded the initiative with a mission to help young people, particularly from under-represented sections of society, to forge a successful career in the media industry. "We started in 2005. I had been working in broadcasting for over 20 years at that time.
"Someone said to me, 'there aren't enough black people in the industry. So I thought I would throw my little stone into the water and make a few ripples, and see if I could do anything. In time I included white working class, as they are under-represented as well. In fact, anyone who has had a challenge in life, we'll help you.
"We can do well and be an asset to a production. It's working. We've over 520 alumni since I started" – Bob Clarke
"If you haven't got a contact in television and you can't make it yourself, then you qualify. Even white middle-class. And when you bring people into the industry who have had a challenge in their lives, you see things in a different way. I know what we bring. I've had a successful career in television, and I want that for people from the same background as me, from any colour. We can do well and be an asset to a production. It's working. We've over 520 alumni since I started," said Clarke.
"MAMA Youth is a charity set up to help young people. I learned on the job. I had no qualifications, and dropped out of school. I wanted to help people like myself who came from a challenging background.
"So I set up a charity, but we're not charity people. We're industry people. The training we do is that people come and work and do a real job. I do a show for Sky One, and have a commercial contract to deliver seven episodes. Ten weeks of production. We get young people in, give them intensive training for four weeks, and then we go into production – and they've got to do the job.
"I don't take prisoners. Just do the job! So I give them a real chance – and they get to understand what this industry is all about."
The SVG Europe Women Winter Networking Event took place on 30 January at BT Sport in London