SVG Sky Sport Summit ready to roll with final agenda for Munich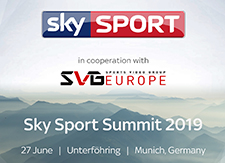 Sky Sport HQ studio in Unterföhring will be the venue on 27 June for the annual Sky Sport Summit in cooperation with SVG Europe, hosted once more by Gert Zimmermann.
A record crowd is expected for the annual Munich summit, where the title sponsor for 2019 is Broadcast Solutions and panel sponsors are AJA Video Systems and EVS.
Opening remarks will be made by Fergal Ringrose, editorial director, SVG Europe; Alessandro Reitano, VP sports production, Sky Deutschland; and Antti Laurila, global sales director, Broadcast Solutions.
A keynote entitled More Speed Less Risk: From the Extreme into the Business World will be presented by Benedikt Böhm, speed mountaineer and Dynafit managing director. This will be followed by a case study, YouTube Channel Kurzgesagt: In a Nutshell. Speakers are Patrizia Mosca, COO & producer and Elisabeth Steib, head of research for Nutsell – Kurzgesagt.
AJA Video Systems will sponsor the Beautiful World of Sports panel, involving Alexander Günther, managing director, Sportcast; Thomas Riedel, managing Director, Riedel Communications; Dr. Remo Ziegler, VP PM sports, VIZRT; and Stefan Kramper, director content & sports, Dolby.
After coffee break conversation turns to Digital Transformation: The Technology and the Business Decision Behind It. Gert Zimmermann's guests for this discussion are Daniel Url, managing director, Qvest Media; Thomas Gunkel, market director broadcast, Skyline Communications; Alex Hollerith, SVP platform, DAZN; and Thies Haase, senior vice president metadata management, ProSiebenSat.1.
Also on the programme is Sunday Night Football with NBC Sports, presented by Ken Goss, SVP of remote operations & production planning, NBC Sports.
This will be followed by a keynote conversation, The Story Behind eSports, which will be chaired by CvD eSports ran Redaktion 7Sports Timm Kraeft and and sponsored by EVS. The conversation will involve Jens Fischer, global eSports specialist, EVS; Bernhard Mogk, SVP global sales & business development, ESL; Alban Dechelotte, head of sponsorships & business development, EU Esports, Riot Games; and Mitch Rosenthal, head of production & operations, Riot eSports.
After the final coffee break there's a presentation entitled At The Digital Campfire: The Evolution Of Media Rituals, presented by Dirk Ziems, managing partner, concept m. The final session, Sports Rights Fragmentation: A Changing TV Landscape, will be discussed by Dr Holger Blask, director audiovisual rights, DFL; Thomas Höher, executive director media sales, TEAM Marketing; and Christian Frodl, director sports rights & commercialisation, Sky Deutschland.
To see the full programme and download an event guide please visit: Sky Sport Summit
For further information on the 2019 Sky Sport Summit in Munich contact [email protected]