SVG Summit draws record crowd and spotlights top technology trends in sports production
The 13th annual SVG Summit drew a packed house of more than 1,400 sports production professionals at the New York Hilton Midtown Hotel December 10-11 for two days of informational panels, in-depth workshops, technology showcases and plenty of networking opportunities.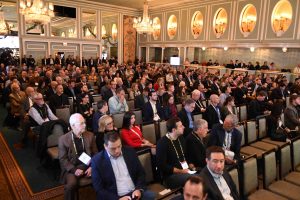 With 50 sessions featuring 155 speakers as well as more than 70 exhibits, the 2018 SVG Summit was the largest yet and offered a little bit of something for everyone — no matter their role in the sports-production business.
Stay tuned to Sportsvideo.org for full video recaps, podcasts, and further coverage of the 2018 SVG Summit in the coming days.
This story first appeared on Sports Video Group US. To read more, go to:
https://www.sportsvideo.org/2018/12/13/svg-summit-draws-record-crowd-spotlights-top-tech-trends-in-sports-production/