SVGE Sport Production Summit: UEFA's Olivier Gaches joins football second screen panel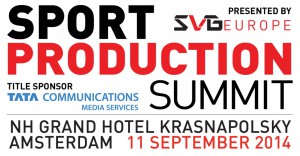 UEFA Events SA digital media solutions manager for TV production/marketing, Olivier Gaches, will join Luc Doneux (EVS, EVP, sports), Carlo De Marchis (deltatre, CPO) and Stefan-Eric Wildemann (FIFA TV, manager, sales and distribution) to discuss FIFA World Cup, UEFA Champions League and the New Second Screen Experience at SVG Europe's Sport Production Summit next month.
This year was an important one for the digital snacking generation as the World Cup content anywhere, anytime, anyplace philosophy delivered for rights' holders and fans alike. And earlier this year UEFA offered up its next-generation Second Screen experience to rights' holders.
These developments raise several fundamental questions, namely: how are FIFA and UEFA approaching live streaming, VOD, multi-angle clip services and stats integration? How was social media integration supported for MLRs? And how did vendors respond, making create-once publish-many workflows transparent for the hard working production teams? This far-reaching session will illuminate the latest developments in this compelling and critically important area.
Moderated by SVG editorial director Ken Kerschbaumer, the second screen session forms part of SVG Europe's Sport Production Summit, taking place at the NH Grand Hotel Krasnapolsky, Amsterdam, on 11 September. For more information, and to register, please visit https://www.svgeurope.org/sport-production-summit-2014/.