SVGE Sport Production Summit: Zubrzycki joining Foulser, Morgan to talk Commonwealth Games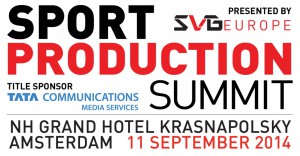 BBC Research & Development coordinator for the recent Commonwealth Games, Dr J.T. Zubrzycki, will join Sunset+Vine Productions chairman Jeff Foulser and BBC Sport chief engineer Richard Morgan to discuss the recent broadcasting challeges of bringing the Glasgow-based sporting extravaganza to the world.
The BBC's coverage of the Olympics in 2012 set a new gold standard for how broadcasters cover global sporting events – and raised audience expectations. So how did host broadcaster Sunset + Vine and the BBC put in place a plan to replicate the main ingredients of success for the Commonwealth Games in Glasgow that concluded last month – and provide innovations across production plus viewer choice?
Foulser, Morgan and Zubrzycki will consider these and other questions in a panel session to be moderated by SVG Europe managing editor David Davies.
Sponsored by Tata Communications, the SVG Europe Sport Production Summit will take place at Hotel Krasnapolsky, Amsterdam, on 11 September. For more information, please visit https://www.svgeurope.org/sport-production-summit-2014/full-program/.