SVGE SportTech: Evolution of Olympics broadcast coverage from Russia to Rio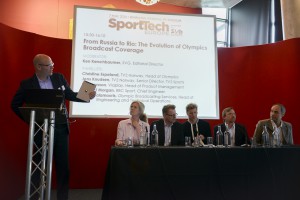 Technologies, workflows and connectivity are changing the way European broadcasters approach Olympic Games coverage and the options they now have when it comes to planning production bases and number of personnel involved. How did broadcasters cover the Sochi 2014 Winter Games and what lessons can be learned in planning for Rio 2016 and PyeongChang 2018?
This session was moderated by Ken Kerschbaumer, Editorial Director at Sports Video Group. He started by asking Sotiris Salamouris, Head of Engineering and Technical Operations at Olympic Broadcasting Services what were the key innovations and takeaways from the Sochi Games. "I think the main difference was this was the first Winter Games for the mature introduction of our web-based Multiplatform Distribution System (MDS). We provided world feeds that were carried pretty much 100% live from the Games — this was a package of seven channels in total, including our Olympic News Channel.
"It enabled rightsholders around the world to pick up our signals in a very efficient manner – which for a Winter Games was extremely important," said Salamouris. "You have Northern countries in a position to do very good coverage themselves with their own editorial, but now we [could reach] a big part of the world audience which in previous Winter Games really did not have the same kind of content availability. This was now possible and it created a tremendous difference, we believe, in the presentation of the Games to a world audience. That was probably the biggest difference compared to Vancouver 2010."
Introducing Richard Morgan, BBC Sport Chief Engineer, Kerschbaumer reminded the audience what a tough act to follow London 2012 was for the British broadcaster. How could Sochi measure up to the size and scale of London Olympics coverage? "Sochi was very different to London for us obviously, for all sorts of reasons, including scale and location," agreed Morgan.
"Our workflow for this Games was very different in that we had major venue presentation working through the mountain broadcast centre then working through the IBC down at Olympic Park, then working back to the UK and then working up to Manchester. So the workflow was very concatenated in terms of the broadcast chain. For London 2012 we were all on-site, with one big combined operation.
"The distributed nature for us was not very different to how we did Vancouver. It was still a split site, but the world of multiple feeds gets ever-increasingly complicated. At London there was a big expectation on us to do four HD streams, various platforms and we managed to get all the content out live onto IPTV — but the financial and distribution pressures were challenging. Sochi was a different model, more complex in some ways and simpler in others."
Olympic challenges for Sweden and Norway
Dag Larsson is Head of Product Management at Viaplay Sweden, a standalone OTT service owned by Scandinavian broadcaster Viasat. Christine Espeland is Head of Olympics for TV2 Norway and her colleague Jens Knudsen is Senior Director Sports at TV2 Norway. What linked the Swede and the Norwegians on this SVG Europe panel was that they were commercial broadcasters taking over Olympics broadcasting rights from public broadcasters – SVG Sweden and NRK Norway.
"With Viasat we had the Olympic rights in Sweden for the first time – it has been owned by the public broadcaster SVG for as long as you could ever remember," said Larsson. "So a quite opposite angle from the BBC, obviously.
"We were excited to have this opportunity. We used OBS and had six world channels plus an additional twelve HD-SDI channels coming in through fibre to our playout in Stockholm. It was a big big challenge to deliver all of this in terms of our streaming, something like 65 channels going out covering 95% of the Games. For small broadcasters like us it's a challenge, not least bringing it to the web and 'productifying' it – how do we take the best elements of TV, and how do we do in terms of rich functionality?
"The beauty of TV is that it's so simple," said Larsson. "If you want to watch TV you turn it on. You have to replicate that feeling — that need — in video, while adding the benefits of time-shifting and rich functionality. I think maybe we went a bit too far in terms of adding rich functionality, a lesson which we will definitely learn regarding the next Olympics."
How do you think you went too far, asked Kerschbaumer? "I guess we had maybe one or two too many features, in all honesty – a good old feature-creep! On the flip side we had flawless delivery.
"At Viaplay we do Champions League, Premier League, Formula One etc. We're mainly a 'broadcaster' online. But this time around we did news, highlights, editorials – so when somebody wanted to watch something that happened in the past they were kind of blasted with information about what actually happened. Those kinds of things are very hard to prepare for when you only have two and half weeks in advance," said Larsson.
Jens Knudsen outlined the challenge faced by TV2 in replacing NRK as Norwegian Winter Olympics broadcaster. "We took over the rights from NRK and top of that we were exposing our audience to advertising commercials during Olympic Games coverage. And on top of that we had new commentators. We opted to use three over the air channels, giving the Norwegian audience better coverage than they've ever had, and we made our OTT free of charge during the Olympics.
"In addition we stepped up the web tremendously, with a new tool from Vimond that allowed us to do on-the-fly editing and publishing. In fact we published about 4,000 clips throughout the Olympics. Servicing a population of five million people we needed to make it as efficient as possible, using the MDS and taking the broadcast data feed and feeding pre-logged or logged events into our MAM system.
"Maintaining a fabulous workflow at home meant we could have a minimal technical footprint in Sochi," said Knudsen. "By maximising the editorial footprint we were able to segment the production between Sochi and Oslo. And it worked very well — except we had very long hours!"
"It may sound strange but in Norway the Winter Olympics is much more popular than the Summer Olympics," added Knudsen's colleague Christine Espeland. "It was a lot of pressure, kind of like an exam for us as a broadcaster and we had to deliver. People were not sure if we could make it as well as NRK had done it before. So as Jens has said, we had a small technical footprint but a great editorial presence.
"For the IOC, Norway rates as number two behind Japan in terms of market share," said Espeland. "I think we had 80-90% market share, at least in the daytime. Our OTT solution was the third biggest TV channel in Norway during the Games, so it was a great success. But of course, winning a lot of medals helps us, a lot. If we had come out of there with two bronze medals … it would have been our fault!"
OBS and rightsholders: push and pull
All broadcasters are under pressure to add additional services in support of new digital platforms – and Olympic Broadcasting Services is no exception. There is also the dynamic, noted Kerschbaumer, that these new platforms can start to challenge legacy channels, especially among the younger age groups. How does that change the relationship amongst broadcasters and what they need from a host broadcaster like OBS, he wondered, in terms of going beyond the linear schedule?
"For us, the more content we can get back home economically, the better, in a variety of formats," said Richard Morgan. "The editorialised, properly produced high-end prime TV package still has massive value. That's great – if all the other content is accessible.
"So the point about MDS for us is we would love to see every feed on that, allowing us to put it on IPTV, allowing us to red-button it, allowing iPlayer catch-up services, and all the VOD on the web site. For future events at Rio or PyeongChang we don't want to be taking masses of people out there – what we want is the content back home. That's the big takeaway from Sochi.
"For me, that also means trying on-site to have some server access where unilateral commentaries can sit and reside. We, like other big broadcasters, ended up having our own servers on-site as well as bringing stuff back home. If we can share economical and secure server access this would help enormously. We can start to have ubiquitous remote workflows and all the rest of it if we can start cutting down on hardware as well as people."
"We'd like to see commercial breaks in cross-country skiing," said Jens Knudsen from Norway. "Just kidding! More analysis, more of what people get in other sports. OBS could be more aggressive when it comes to introducing and talking to analysis companies, inviting them to come up with solutions that can keep the viewers – especially young viewers – watching what we're doing.
"And if possible, even allowing more nation-specific analysis. If we can get access to the data, on-site, we could handle that data. It would allow us to tailor our national coverage," said Knudsen.
"It's a running thing," added Richard Morgan. "Broadcasters take the impartial OBS coverage, which has to cover one, two, three, four, five. It's designed to be impartial. We don't go as far as the American broadcasters where you see nothing but the American athletes. We try to show one, two, three, but we would definitely like to customise coverage around Team GB. The challenge of how we could achieve this is an interesting one."
"So the challenge is to deliver more coverage – but somehow beyond the level of unilateral, unbiased coverage?" asked Salamouris in reply. "Of course we expect that you are the guys who know best how to cover your own athletes. But certainly we always try to look at how we could do that in the most cost-effective way. We have some ideas … how we can innovate in a structured way that makes things easier for you," he said.
"We're certainly not expecting you to do our unilateral coverage," replied Morgan. "But anything OBS can facilitate where broadcasters are trying to get to the same venue [would be helpful]. As you know, we did quite a lot of venue remote switching [at Sochi]. That was very cost-effective for us: instead of putting large OB units in venues we were remotely switching and that made a lot of economic sense.
"Helping to support some of the unilateral operations takes the pressure off the engineering teams," said Morgan. "We ended up with a very slim engineering team on-site in Sochi and we will have to go the same way in the future. We would like to get as much out of the venues as we possibly can — and to multicast IP out of the venues is an obvious route. Other people are doing it, sending stuff across the world to different destinations. It would help."