Tata Communications to serve as a broadcast supplier for GP2, GP3 and Porsche Supercup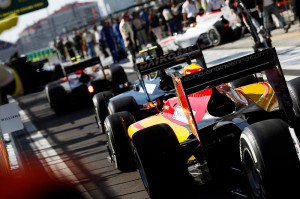 Tata Communications has been chosen by Formula One Management (FOM) to provide broadcast services for the GP2, GP3 and Porsche Supercup racing series. As a result of the agreement, Tata Communications will provide a fully diverse end-to-end fibre and satellite solution to broadcasters from across the globe at the 12 race locations in 2015.
With this agreement broadcasters will have access to a provider with knowledge and experience in motor racing and the infrastructure capability to provide specific media management and movement services that go above and beyond the core technology.
Bernie Ecclestone, chief executive officer of the Formula One group, commented:  "We are always looking to help provide our partners and clients with the highest standards of support and service and our decision to appoint Tata Communications as the provider of these broadcast services is designed to deliver this."
The agreement will also enable broadcasters covering GP2, GP3 and Porsche Supercup races to take advantage of Tata Communications' Race Network Operations Centre (NOC), located in the Formula 1 Technical Centre, Formula One Management's 150 ton, 750 square metre nerve centre present at every F1 Event.
Tata Communications already provides MPLS, Internet access and managed hosting and security, as well as Content Delivery Network (CDN) and co-location services for FOM. This global platform also delivers data and live broadcast quality video to FOM, and since 2012 Tata Communications has successfully supported 57 races with over 400 hours of live service management. The same platform also delivers a range of connectivity services to the MERCEDES AMG PETRONAS Formula One Team and Chello DMC, which distributes to Dutch sports channel Sport1.
Tata Communications installs and tests its network infrastructure in two days at the 20 race locations, then dismantles it in just three hours after the races.
Vinod Kumar, MD and CEO, Tata Communications, said: "Tata Communications' work with Formula One Management is a testament to the diversity and versatility of our services. Each Formula 1 race demands a range of connected services similar to that of a small city. By consolidating fixed line connectivity needs with Tata Communications, Formula One Management will be able to take the greatest possible advantage of that infrastructure and tap into the versatility, on and off-site support and existing knowledge and experience of our platform and our team. We are a unique player in the ecosystem and well-placed to help deliver high quality live feeds to customers all over the world."