Tech Insight: NEP on how the sports broadcasting industry is being given new directions through innovation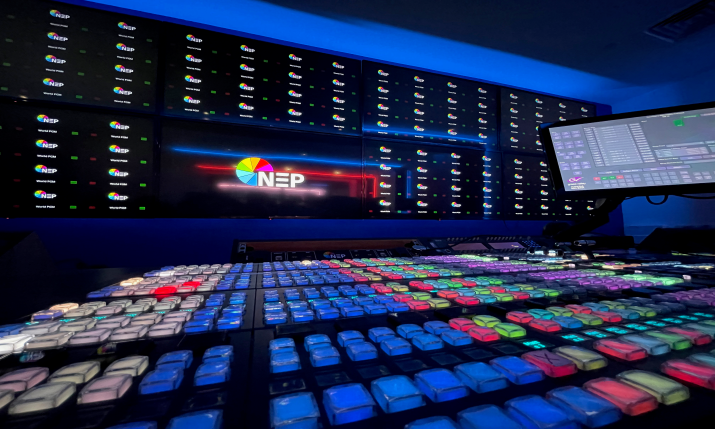 New innovations throughout the past year have rejuvenated the sports broadcast industry and established new, stronger industry standards, according to industry leaders at NEP. Sports broadcasters are continuing to redefine how future broadcasting will operate as the industry looks ahead to 2022, creating a hybrid future. SVG Europe caught up Brian Clark, director of sales, NEP Major Events, NEP Group for the next of our Platinum Tech Insights to discuss the company's perspective on the future of the industry.
 What are your key new solutions and enhancements for sports broadcasters that you have bought out over the last quarter?
2021 has seen hot technology trends accelerate as we have embraced a new hybrid way of producing and delivering broadcast sports content. It has given the broadcast sports industry the ability to deliver all the action to fans while embracing innovation and change, which we expect will carry on into 2022.
NEP Major Events is responsible for supporting and covering some of the biggest sporting events in the world, continuing to do so during the COVID-19 crisis with added barriers and safety procedures to keep all participants safe. From supporting coverage of major sports in the US, including football, baseball, hockey and more, to providing coverage throughout the WTA Tour, Eurovision and beyond.
What was considered an impossible task just 18 months ago is now either back up and running smoothly in 2021, or the industry has long since adapted to.
Broadcasting to a world in desperate need of the comfort, entertainment and human connection that comes from such iconic world events has meant rebuilding the industry with new measures in place and new technological achievements to accommodate them; measures that we'll continue to see industrywide throughout 2022.
What have been the top technology trends during 2021 what are the hot technology trends we can expect to see in 2022 in sports broadcasting, and why will we see these?
New technology has enabled the sector to become more resilient, flexible, and economical through a hybrid of broadcast methods. From remote production units to cloud-supported operations that are quickly becoming the industry standard, the focus on IP-based systems and platform control will be a central focus.
The demand for remote production has become increasingly popular due to COVID, and this hybrid model that has become so successful will continue into 2022. As the global leader in broadcast and live events solutions, NEP Group is positioned to recognise and adapt to market trends and lead the industry into the future.
We are going to see the workflows that were developed during the pandemic be solidified and hardened. NEP has a focus and commitment to sustainability and we're evaluating new workflows to support that.
With the growth of NEP's network of centralised production facilities and use of remote workflows, the need for people to travel or move equipment has significantly decreased, also reducing the company's carbon footprint. Focusing on reducing emissions hasn't been NEP's only goal as they have taken the initiative to not only maintain environmental standards but to be a leader in the industry.
The company has formed a global group of environmental ambassadors across NEP to set priorities for each business and geographic region with a focus on key initiatives including recycling, reducing our carbon footprint, and achieving ISO 14001 compliance standards. Taking responsibility as a world leader, NEP is striving to create more flexible solutions that can reduce costs, increase automated and remote workflows, and ensure safety as the industry continues its journey towards carbon neutrality.
Adapting to IP-based systems and building new infrastructures that harness the core advantages of 5G technology has allowed for the industry to not only stay strong in the past few years but strengthen far beyond the industry standard pre-pandemic. With an emphasis on 360 degrees of support, innovation has been key. If a solution doesn't yet exist, the team has taken it upon themselves to fill the support gap.
As the whole sector has worked harder than ever to innovate, grow, and evolve during this period. NEP has continued to be recognised for its work, winning awards with Extreme E and Aurora Worldwide for Technical Innovation. The kind of technical marvels of science fiction have begun establishing themselves as industry standards this year as augmented reality (AR) and virtual reality (VR) become more accessible. NEP The Netherlands' newly developed tools for drone use are helping to change how we approach sports coverage, all borne out of a need to reduce on-site crew members.
We are also using our experience and knowledge from decades of supporting live productions to develop our global production ecosystem that can support productions during every stage of the process, and for all types of events. This includes expanding our global centralised production capabilities. This new ecosystem ultimately gives our customers more options to choose from, tailored to their production needs, all supported by NEP's unmatched experience and expertise.
Working closely with Sky Sports, the team at NEP UK and NEP Connect were able to deliver 100 broadcasted games in just 40 days this year. Working under strict COVID guidelines, the team were awarded with industry recognition, earning the coveted SVG Europe Sports TV Award for 'Outstanding Production Achievement – Event', emphasising the teams desire to take what they've learned through the year and use it to propel themselves into 2022.
What can we expect to see from your company in 2022?
As an established world leader in the sector, all eyes have been on NEP during these unprecedented times. Being so deeply connected to the industry has ensured that adaptive support has always been part of NEP's game plan.
We continue to innovate and develop new products, mobile units and OBs, and broadcasting tools that bring the latest IP technology to our clients.
Looking forward to 2022 reveals much uncertainty in the future, but the past two years have created a trajectory that the company intends to follow, and the future is getting brighter by the day.
We're making every effort to minimise the natural impact that the pandemic has had on production. We're using new technologies, we're using new work practices, we're using more flexible approaches to broadcasting.
The industry is one of many across the globe to have faced extreme pressure over the past year. Despite hardships, struggles and challenges worldwide, the industry has continued to shine with innovation as global leaders are addressing the continued challenges facing the broadcast sports sector.