Take your pick: Broadcast Solutions on 5G or IP-based mesh wireless networks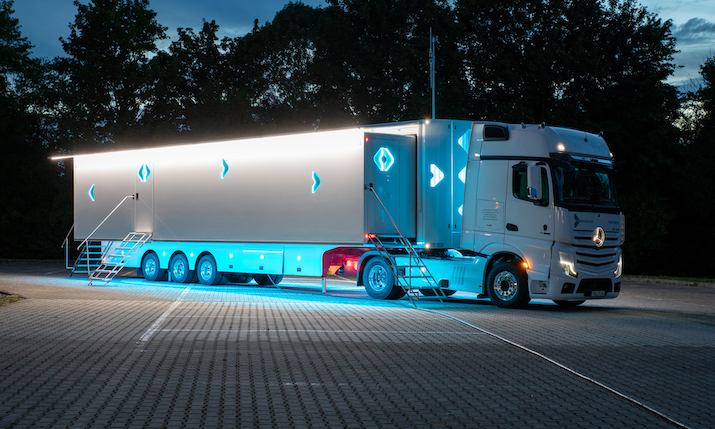 By Martin Schwöri, Broadcast Solutions Products and Services COO.
With its promised low latency and unlimited data flow, 5G seems to be the new-coming messiah in wireless TV production. However, this raises the question as to whether 5G will better the situation in crowded places like stadiums or at concerts and events with 50,000-plus visitors that live production teams have to cope with already?
With several over the top (OTT) services and visitors clinging to their mobile, frequencies, open WiFi and networks are packed, stuffed with data, and repeatedly brought to their knees. Well, if 5G is the silver lining, will it better the situation?
5G's uplink benefits from sufficient data throughput, allowing broadcasters to stream high definition footage, enabling multiple producers to work on multiple video streams simultaneously, and giving viewers a choice of camera angles and perspectives. Besides these benefits, 5G will massively nourish remote production by cutting production costs with fewer staff on-site, fewer hotels and less travelling, which in the end means less CO2 output.
Some might argue that as 5G offers more bandwidth, users will use more bandwidth, which is logical, and nothing will change in the end. Until 5G isn't rolled out by mobile operators, 5G implementations in live production are more or less in a testing phase, with broadcasters and networks working with so-called campus networks that, today, will work parallel to the public 5G networks.
2030 vision
But when will 5G be available? European Union's Digital Compass sets the target to, "cover all populated areas with 5G by 2030". One can argue if this target will be feasible, but what can broadcasters do in the meantime?
Using proprietary networks could be a better approach when producing live content in frequency congested environments and massively crowded venues. New developments in full-duplex IP-based mesh networking and RF technology are better for live broadcasts and production on-site in stadiums from the pitch or the catacombs. These systems can be made of a combination of a radio, using the latest RF technology, plus a powerful encoder or decoder for the video and data signals.
Mesh technology provides uninterrupted connection even in no-line-of-sight situations, with the radios or nodes simultaneously acting as a sender, receiver and repeater. The more radios you use in a network, the better connection you reach in developing a mesh topology. The mesh constitutes a single-frequency, highly scalable, self-forming, self-healing wireless network. Placing nodes 'on the fly' allows ad hoc transmissions from virtually any position. Signal routing is automatically and dynamically selected for optimal performance to deliver the best quality without compromising signal stability. Since these systems are truly full-duplex IP-based, data can be entered and retrieved at every node in the network.
Realising real time potential
By adding real time adaptive video encoding, users will leverage the full potential. The video bandwidth (bitrate) could automatically be adapted to the mesh network capabilities, ensuring the best video quality under given circumstances. The latest developments and scalability in the H.265 standard for 4K UHD (12G or 2SI) lead to the transmission of 1 to 4 encoding channels (HD) or 2 encoding channels (UHD) using just one single frequency.
The use of IP-based wireless mesh networks will be a further example of the broadcast industry's widely discussed move to IP, in this case in the realm of wireless broadcasting. It will be interesting to see how these systems will raise their usage in the future, with the 5G deployment on the horizon.