The future is open: Caton Technology on harnessing IP for sports contribution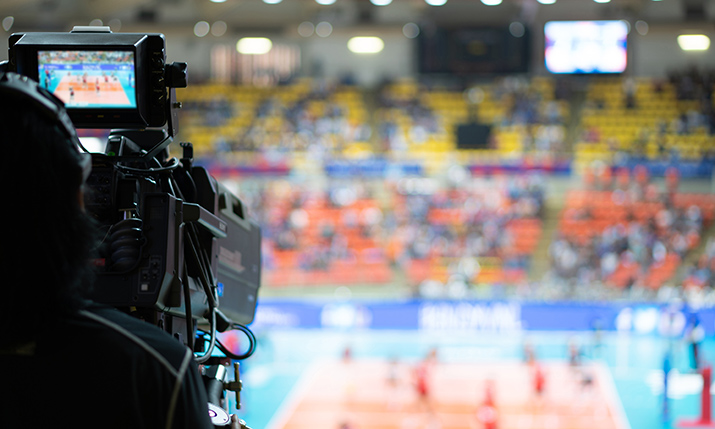 By Jason Ho, senior business development director, Caton Technology
It has been hard to avoid the talk around IP circuits for contribution and remote production. It has long been seen as a goal, for all sorts of practical reasons. Personnel costs are at the top of the list; as well as saving travel and accommodation, people are more productive in their home environment than on the road.
But sport has had an inherent resistance to this. The challenge for sport is that the signal absolutely has to get through. You cannot ask for take two of the UEFA Champions League Final. It has to be in sparkling quality because viewers need the detail to understand the plays. And it has to be very low latency, because live means live, not some seconds – or minutes – later.
But, for reasons we are all tired of talking about, the last two years have seen broadcasters adopting remote production as a survival tactic. When there are huge limitations on travel, there really is no choice.
Technology and economics also have a part to play. Satellite capacity is becoming more constrained. The spectrum for C-band satellites will be taken by 5G (and 6G) cellular links.
Fibre is good but inflexible. Major stadiums will have plenty of dark fibre permanently installed, but for most venues getting dedicated fibre connectivity means months of planning and installation. That, in turn, has to be paid for; contracts are likely to be measured in years when you only want hours.
The solution is the open internet. It can be implemented at very short notice, and you only pay for what you get.
Coping with network limitations
But of course, there are challenges. Bandwidth over the internet will be constrained, so you need to add a transport layer that provides the quality required with the resilience to network limitations. This needs to be designed for real time, broadcast-quality video transmission.
Often forgotten in these considerations is that the service level has to be maintained from the point of origination – the sports venue – to the point of delivery – the broadcast facility. It is relatively easy to offer, say, four nines reliability from point-of-presence to point-of-presence. But it is only of use to broadcasters if you can deliver a demanding SLA from end to end.
Next is the question of synchronisation, which is difficult for multiple sources over the public internet where each individual stream might take a different path. In remote production, all the sources have to be timed or the audience will immediately lose faith in your coverage. You will be regarded as amateurish if the viewer cannot be intuitively sure what is actually live, what is happening now.
One of the benefits of remote production is that you can keep your talent – commentators and pundits – back at base. But the commentary has to match the pictures or, again, you alienate viewers.
For the last year and a half, sports broadcasters have had to make do with what was available, to keep top sport on television in the time of COVID. Audiences are tired of this now and expectations are rising. Synchronisation, as well as quality management and resilience, have to be built into the transport layer if it is to succeed.
Unexpected benefits
There is perhaps an unexpected benefit of remote production using the open internet; it is as easy to route signals to the cloud as to anywhere else. While live broadcasting means delivery to the production centre, adding it to cloud storage simultaneously has distinct advantages.
Editing in the cloud is already common. But generally, this means the editor is working with low-resolution proxies. That is fine for a fast turnaround package, like the half-time highlights. But more considered pieces really need the editor to see the full detail.
With content in the cloud though, you can apply big data principles to gain added value. One application is to speed up localisation using artificial intelligence (AI). In the first instance, this could mean automatically generating the score and information feeds in multiple local languages.
The extension of this is to use AI to analyse the action and match it with face recognition, to automatically generate live text commentary. This might not be appropriate for all-action sports, but games with a natural cadence, like cricket, say, could easily use this.
What the AI generates might not satisfy the hardcore sports fan, who wants the detailed analysis a former player can provide. But it will provide explanation and engagement for the casual viewer. That is important because if you draw the casual viewer in by popularising the game through understanding, then you grow your audience and, ultimately, revenues.
Cisco research says that 82% of all internet traffic will be video in 2022. Not all of that will be premium quality, of course, but the technology is there when needed. Even for the very demanding world of sport, the future is open, the future is IP.