The Motorsport Show 2021: Registration now open; First speakers revealed!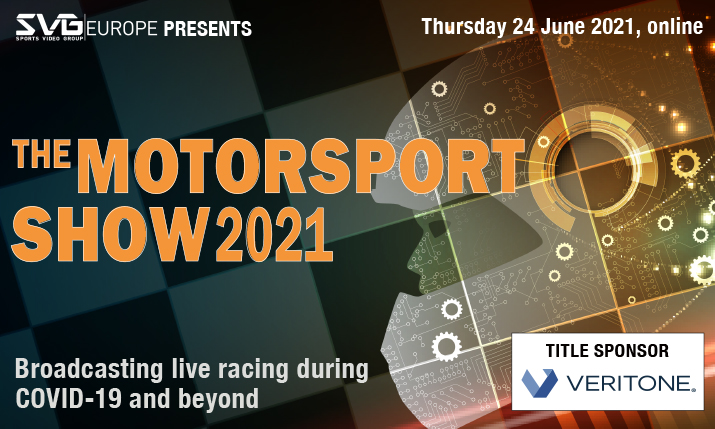 Registration is now open for The Motorsport Show 2021, sponsored by Veritone.
Hosted by Abi Stephens, The Motorsport Show will focus on best practice around the circuit and in the compound, highlighting how broadcasters and motorsports associations are changing their workflows, augmenting their output and upping their viewer engagement. It takes place online at 14:00 (UK time) on 24 June.
Session highlights include Extreme E: The Electric Odyssey in Lac Rose, which will explore how Aurora Media Worldwide and the Extreme E team produced the Senegal leg of the FIA-sanctioned international off-road electric racing series, including exclusive behind-the-camera footage from NEP's new London facility.
Confirmed speakers are Ali Russell, Chief Marketing Officer, Extreme E; Lawrence Duffy, Managing Director, Aurora Media Worldwide; Mike Scott, Extreme E Series Producer, Aurora Media Worldwide; David O'Carroll, Operations Director, Aurora Media Worldwide; and Donald Begg, Senior Director Technology, Broadcast and Media, NEP.
In Going Green, panellists including Xavier Gavory, Pure ETCR and Extreme E's Ali Russell will discuss how and why they make their sports (and broadcasts) sustainable.
In addition, a Motorsports Directing Masterclass will feature two motorsports directors sharing the tricks of their trade, their tools of choice and anecdotes about their jobs and careers. Philip Rorke, Broadcast Executive Director, Television Production, Formula 1 and Artie Kempner, Coordinating Director at Fox Sports, will feature.
More speakers will be revealed next week.
For more information and to register please go to: The Motorsport Show 2021