Westminster Media Forum: Developing the sports viewing experience
Speakers from Sky Sports, Lewis Silkin and Deltatre discuss eSports, OTT and personalisation
Offering a good viewer experience is crucial to retaining eyeballs and turning sports fans into subscribers, but how can we develop that experience in a rapidly changing broadcast environment?
That was the theme of a key session at the Westminster Media Forum policy conference on sports broadcasting (11 February 2020, London), where the panel looked at how emerging technologies, such as 5G, artificial intelligence, and virtual reality, will impact viewers.
Innovation in sports broadcasting has "always been about what does the customer want? How do we change what we do to drive customer needs?", said Steve Smith, executive director of content at Sky Sports.
"Sport has always been the driver of technological innovation," such as the move to widescreen and HD. "We made mistakes. We launched 3D. It was dreadful," he said.
"The barrier of putting something between yourselves and the viewer didn't work." This should inform how we now move to AR and VR – the headset is a barrier, particularly for older generations.
"What's important on the different platforms is you're delivering to different audiences, so you've got to tailor the tone of your content, the way that content is put together, and you've got to understand your audiences."
Innovation shouldn't be at the expense of what already works, he added.
"2019 was the best year we've had in over a decade in terms of consumption and subscribers," and sport is helping to drive the rest of Sky's business.
He said that a big attraction for Comcast when it bought Sky was its sports output and its diversification across multiple platforms.
"We look to deliver on all different platforms, and what's important on the different platforms is you're delivering to different audiences, so you've got to tailor the tone of your content, the way that content is put together, and you've got to understand your audiences on YouTube, Twitter, Facebook and, more recently we're just getting involved with TikTok."
For all of these it is important to understand how to grow a customer base, many of whom may not currently want to pay for premium sport, "but we need to keep developing that audience," he said.
The personal touch
Personalisation is key to improving the viewer experience, according to sports lawyer Alex Kelham, a partner and joint head of the Sports Business Group at Lewis Silkin.
It is developing in many ways, such as with Weavr, for eSports, which offers "much more immersive, personalised content. It allows fans to go in and experience in-arena content through virtual reality and through AI," which ensures people get exactly what they want, whether focusing on a particular team or player or a particular aspect of the game.
She also sees a future where viewers pay via micropayments, or exchange payments (where you agree to watch a commercial in exchange for a piece of content). "This means that the commercial teams and the lawyers need to get more creative."
One area Kelham finds particularly interesting, because of its legal implications, is virtual advertising. The ability to seamlessly add (or overlay) ads to a broadcast has been around for almost 20 years, and "the technology works incredibly cleverly now so that the action is not distorted and allows multiple feeds to be seen in different locations and by different audiences on a live, real-time basis."
It can also be personalised, although this is only in its infancy. From a legal point of view there are questions about how regulations deal with this: "Is it product placement? Is it surreptitious advertising? Is it compliant with local law? Data protection law is also important from a personalisation point of view," she said.
"The real complexity here is that there might be multiple jurisdictions in play," so you might have a US event being broadcast via the UK, where advertising is added, to somewhere that has heavy advertising restrictions (such as bans on alcohol or gambling ads).
Going OTT
OTT platforms are perfect for the avid fan, but the viewers want a lot of extras to enhance their experience, be it live statistics, additional content, and personalisation around favourite teams or players.
For rights owners, "OTT allows a direct relationship to truly understand their reach and engagement with audiences," said Pete Burns, vice president of OTT at Deltatre (pictured, right).
"The flexibility these platforms allow can also raise the bar in viewer experience," such as with BT Sport's enhanced player with 360-degree VR content and HDR.
Connectivity is another huge issue. "Trying to deliver two to three million viewers for a single event in a single country through OTT is a very challenging scenario that only a few can do," said Burns.
"Collating audience data is valuable," however, again, few have yet been able to use this data yet to drive the viewer experience in real-time, and Deltatre is launching a new product to help with this soon.
Turning users into subscribers
Sky Sports used to have a weekly show called Ringside, about boxing, but it got very few viewers.
"So, we've changed the approach we've taken," said Smith, to bring people back to the platform every day.
This means daily output on its platforms, using social media to back this up, linked to articles on its website, driving people to view its videos.
"You build on the trust you've developed within the sport and within the industry," which is why "from nowhere, transfer deadline day is now an event." Fans want to know more about their sports, and see behind the scenes, so broadcasters can build on that.
"Customers will consume whatever level is available, and if we can improve the quality of what is available and the breadth of the choice, we will continue to do so."
"It's all around creating habits, creating hunger, creating desire to consume," he said.
One delegate wondered if financial pressures were reducing the quality of sports coverage, such as football matches with just a single camera angle.
"I think it's about a spectrum of quality," Smith responded. The deal Sky Sports did with the EFL was "about increasing choice. Clearly, the economics of covering all of those games at the same level don't work," which is why they can't all have multi-camera coverage, also some matches are also sold by the clubs on their websites, so Sky has limited rights.
"Customers will consume whatever level is available, and if we can improve the quality of what is available and the breadth of the choice, we will continue to do so."
eSports vs YouTube spats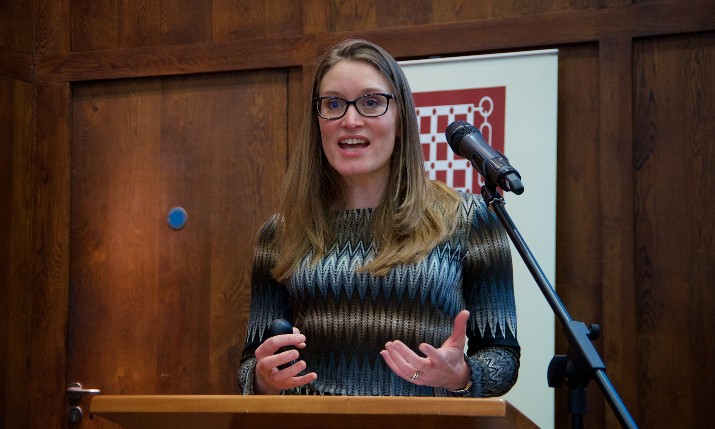 "I don't think linear is the place eSports will be delivered," said Smith, as it is best suited to online.
The money in eSports is mainly for the game manufacturers. "I think our natural home for eSports has been when we aligned with the Premier League on their eSports," he said. Sky has also worked with FIFA, Formula One and the NBA, although they are not core eSports.
As a genre, eSports does attract a younger demographic, so Sky is definitely interested in developing this, "but I haven't seen real opportunities for us to make strides in that environment," he added.
Kelham (pictured, left) believes broadcasters would be stupid to ignore eSports. "I think it's going to grow exponentially," she said. "From a sports fan point of view the fascinating area is where you have crossovers – where you have real sports happening in a virtual environment."
Another area where online is having an influence is in the attraction of social media influencers. The KSI vs Logan Paul II boxing match in Las Vegas between the British and American YouTube stars had a similar size PPV audience (albeit at a lower price point) as Anthony Joshua vs Andy Ruiz Jr, and resulted in big boost in subscribers to Sky's YouTube boxing channel.
The fight grew out of a social media "beef" between the two. "The audience it brings is a completely different audience. They want to engage with these people," he explained. Indeed, he said this encapsulated probably the biggest change in his 25 years at Sky. "When I started, the only people who had a voice were the ex-professionals. Now everybody has a voice, and you have loads of people on social media platforms who have huge followings because of their opinion."
He believes "it is a changing environment that we need to understand and enter in to it in a way that is comfortable with the viewers on their platforms, otherwise it ends up like dad dancing."
The Westminster Media Forum: 'The future of UK sports broadcasting' took place on 11 February 2020 in London.