Wimbledon 2022: IMG and Wimbledon Uncovered
Having produced the first official review of the Championships back in 1968, IMG has a longstanding relationship with the All England Lawn Tennis Club (AELTC).
IMG still produces the review film of the tournament, but its relationship has broadened to include working with host broadcaster Wimbledon Broadcast Service (WBS) to provide the world feed for some 200 territories, producing the Wimbledon Radio Channel, partnering with AELTC on media rights and sponsorship, and producing Wimbledon Uncovered.
Wimbledon Uncovered – which until this year used to be known as the Wimbledon Channel – was available during the 2022 Championships via Wimbledon.com, YouTube and social media. As well as providing live video and radio coverage of the Championships, it is also a source of news with behind-the-scenes interviews with players, weather reports and score updates.
Read more Live from Wimbledon 2022: AELTC's Paul Davies on balancing innovation & tradition
"It's amazing how the channel has evolved since 2012," says IMG VP and executive producer Tim Lacy. "It's a great opportunity to use the live rights that [AELTC] has carved out of the broadcaster contracts."
The aim of the channel, says Lacy, is to complement rather than conflict with the broadcast offering. "We run a ticker on the bottom of the screen with information about the 10 or so major broadcasters to let viewers know that they can find full coverage via their local channels, such as ESPN, to draw viewers to the main broadcasters."
Visitors to Wimbledon.com in the UK were also able to watch the BBC's coverage of Centre Court, while visitors to Wimbledon.com in the US were provided access to all of ESPN's coverage.
Big screen interviews
During the Championships, the channel is available from 1pm to 7pm every day, and consists of three main elements; live rights of one game per set, per match across the 18 televised courts; roving crews around the grounds providing some colour via interviews with fans and celebrities or updates from the practice courts; and studio locations around the grounds as settings for informal interviews with guests and players.
An outdoor setup based around a large screen, known as the Fountain Studio because of its location, continues post-pandemic to provide IMG with the opportunity to drive interviews off site, says Lacy.
"It's nice to be able to conduct interviews with journalists who can't get to Wimbledon, and we can do that via the screen. It's very informal, with guests and presenters on benches. We also use the ESPN and BBC platform as our second position and then we have our third position over in the AMEX building, which is a stand-up position. So we have a good mix of informal benches in the morning for a much more casual chat, and then you've got the stand-up position in the afternoon for looking out over the courts."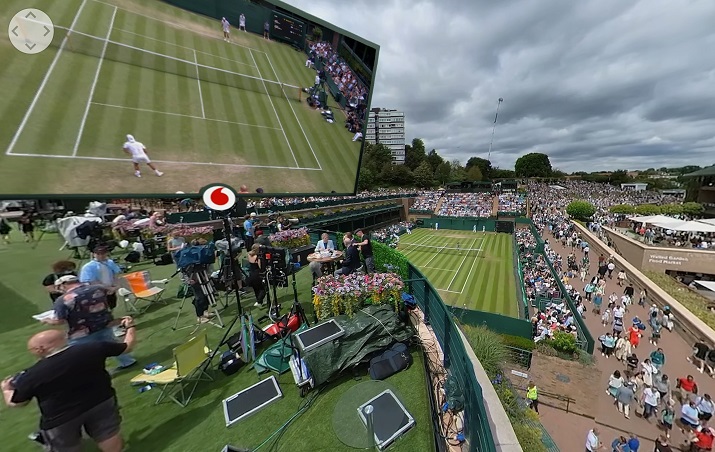 New for Wimbledon Uncovered this year was a series of 360-degree streams from Wimbledon's 'official connectivity partner' Vodafone (pictured, above).
"Essentially, it replicates what we're doing on Wimbledon Uncovered," says Lacy. "They have four 360-degree cameras on the show courts: Centre, 1, 2 and 3, as well as a number of fixed cameras where we have our studio locations."
In terms of crew on site, IMG has just about returned to pre-pandemic levels, says Lacy, with approximately 50 editorial roles on site with similar numbers working on the official film and world feed and a slightly reduced number working on Wimbledon Uncovered.
One aspect of last year's production setup that was retained this year was the decision to base some team members working on producing highlights of the Championships at IMG's Stockley Park base in order to free up space in the Wimbledon media facility to allow for social distancing.
"It made sense to keep them there, because they don't really need to be based at Wimbledon…I think WBS were probably quite pleased to keep the space, especially as it's a busy year for them with the Netflix documentary crew on site and the 360 production."
Read more Live from Wimbledon 2022: ESPN on the future of The Championships and the importance of player access