Wimbledon Reflections: CLS Audiovisuais selects BroaMan MUX22 module ahead of 2016 tournament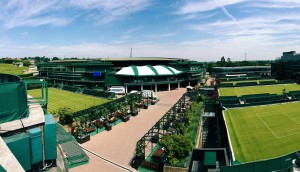 Portuguese broadcast audio specialists CLS Audiovisuais, who started using Optocore devices soon after setting out in 2004, have now embraced technical partner BroaMan's versatile Mux22. The company has purchased a system from the company's territorial dealer Garrett Audiovisuais, installing the 1RU multi-format transmission device in one of their full HD camera and control OBs in time for the Wimbledon championships.
Mux22 series is ideal for OB truck applications. In one rack space it provides every type of signal which is required between the truck and the remote stagebox.
The device offers every signal needed in 1RU, combining 3G/HD/SD-SDI I/O with Optocore and SANE digital audio networks – and can transport video, as well as audio and data, on a single duplex fibre. In this instance CLS has constructed a point-to-point system with 12-in/4-out at one end and 4-in/12-out at the other.
Configured with a master control room and two galleries for beIN Sports (MENA) in France, CLS' OB truck includes a studio, two commentary positions for each plus reporters and ENG crews.
For the past two years Wimbledon has formed an essential part of their busy international sports schedule and the Mux22 enables them to uplink the signal, elegantly and economically, to the studios in Paris.
"We have been working with Optocore since 2006, so we know their products well," said CLS owner, André Senos. In fact, four X6R-FX AD-DA of their network converters are incorporated into the OB van signal chain.
"We had been seeking a solution to and once we had seen the product at IBC in Amsterdam, and Garrett had arranged a demo we knew this was the right technical solution."
During Wimbledon fortnight, the OB van received 14 signal feeds from host broadcaster the BBC over a distance of 250 metres from the transmission centre; they were one of 2500 broadcasters providing an HD experience from all nine courts to viewers in more than 100 countries.
"Mux22 enabled us to take a lot of HD signals and transmit down a single fibre," concluded André. "Everything worked extremely well."