Xs and Os: Sky Sports takes NFL to the next level with new bespoke studio
Sky Sports NFL has just returned for a second run, with the NFL launching its biggest-ever regular season. This time around, Sky Sports has gone all-out for British fans with a new, expanded studio to provide even more visual excitement alongside in-depth analysis of this well-padded sport.
The satellite pay-TV channel is covering the expanded 102nd season (18 weeks) right up to Super Bowl LVI at the SoFi Stadium in Los Angeles on 13 February. All 32 teams are playing 17 games in their attempt to make the playoffs in the most popular sports league in the US.
Although Sky has been a partner of the NFL for 26 consecutive years, last summer saw the launch of the first ever dedicated NFL channel outside of the US as part of the renewal of the partnership; from September until February, Sky Sports Action becomes Sky Sports NFL and just carries NFL content.
"We carry at least five hours of original programming every day," says Alex Mason, senior producer at Sky Sports. "Sky is part of the ComCast family, so we take some magazine shows from NBC; we take ProFootballTalk every weekday, while from NFL Network, we take their Good Morning Football shows, six days a week. We also take NFL GameDay Morning magazine programming around the live game."
The NFL usually schedules games in five time slots during the week. While two games tend to take place on a Sunday afternoon, there are also generally evening games scheduled on a Sunday, Thursday and Monday, broadcast by different US networks across the games.
"We take the American coverage of all the live games, but we have our own studio presentation around the Sunday games, from 5pm until we hand over to NBC's Sunday Night Football in America at 1.30am," says Mason. "Obviously games that kick off at 6pm and at 9.25pm [in UK time] sit very well on a Sunday night, as that's primetime for us."
Neil Reynolds is the host of the live coverage, providing analysis alongside a guest analyst, while Hannah Wilkes and Josh Denzel present the Overtime show on Thursdays.
This year the studio presentation, from Sky Studios in Osterley, is enhanced with a bespoke design. "We have more floor space than before to do demos and have a more dynamic and active presentation, with what looks like an NFL pitch on the floor, as well as a brilliant video wall to engage with our remote contributors," says Mason. "It's a relatively standard studio set up, but I think what's really important is the return of the jib camera. We can show off all the different floor space that we have and we can set the guys in different areas. The flexibility of the video wall, the ability to have remote contributors in there is something we're really going to try and experiment with this year."
"We've still got the touchscreen area, so we can still break down the Xs and Os [playing formations], to explain the plays and stuff like that, but our focus is on the remote contributor being as important as the in-studio guests. This is a core offering for us," he continues. "When I started in this role on [Sky Sports] NFL about five years ago I became acutely aware of the challenges from a resource point of view of getting [US star guests and pundits] of a high enough calibre to come to the UK to be part of the broadcast. In the NFL world, our budget isn't the same as the US broadcasters."
"The flexibility of the video wall, the ability to have remote contributors in there is something we're really going to try and experiment with this year"
The solution came via the pandemic, when Sky Sports turned to remote production to cope with the challenges of lockdown.
"The technical guys in Sky Production Services [SPS] utilised vMix, and that's how we were able to make shows remotely," says Mason. "I had the experience of producing live shows from my kitchen at home, and it all successfully went to air so that was kind of a new way of working. I asked the guys at Sky if we could incorporate that as a way of engaging remote guests."
"Historically we used Skype or Zoom, but with that we have extra steps in the workflow and so we involve other departments," he adds. "I felt we could do it in a more self-contained manner, incorporating vMix into our live broadcast."
The video wall was first used last week on Thursday's NFL 32 Live season preview show.
"We had a really nice moment last Thursday where we had Neil on camera left and then three contributors in the video wall behind him," he adds. "It lent itself to a really nice flowing conversation."
The NFL 32 Live show saw Reynolds on his own in the studio, linking in and out of about 65 prerecorded VTs and having 10 to 12 contributors join remotely. "Neil was able to host the four-hour live show, speaking on over 100 topics, and he did it seamlessly and flawlessly," says Mason. "So [viewers got] an in-depth, three to four minute conversation about all 32 teams, and then storylines within the teams."
The US contributors working with Reynolds, "who is arguably a co-producer with me", adds Mason, are all big names in the NFL world. "Nora Princiotti, our new contributor, is former beat writer for the Patriots," says Mason. "Peter King contributes to our show on a Sunday and we take pieces of his Football Morning in America column every Monday to publicise it. Our old friend and stalwart of the show Jeff Reinebold comes over after Thanksgiving onwards.
"We've also got Will Blackman coming over. He's a former Super Bowl winner with the New York Giants, now an up and coming broadcaster after a 12-year career; he's going to be with us for six weeks. Then hopefully Dallas Clark the Super Bowl winner that we've worked with in the past is going to come over and do a bit, as well as Ryan Leaf, who is a former number two overall draft pick."
The NFL doesn't just run games in the US. A few games in the season take place in London. "The [NFL] commitment is to have four games in the UK during regular seasons, but only two this year," says Mason.
Broadcast rights traditionally vary between Fox Sports and CBS as they hold the rights for the early Sunday NFL games.
"They will do the match coverage and then we will do what we do on a Sunday, which is to add a wraparound studio presentation to their world feed," explains Mason.
"A couple of years ago, it was three people in the studio chatting about what you're seeing coming down the line. We're worlds away from that now"
But having a local presence does allow for some collaboration. "We'll be asked whether we're going to cover some of the pre-game pageantry," Mason adds. "I'll often have a radio camera in one of the end zones, so there might be a bit where the US broadcasters are on a break, or when something's happening in terms of a presentation on field and we can cover that. They can take the feed from our camera and turn it around in their coverage."
"If you go to the games in London, you'll see jerseys from every single team in the league. People go not just to watch the two teams that are playing but because they're NFL fans and they want to see a regular season game of NFL,"says Mason. "It's interesting that the US pundits we've had over to be guests at the UK games say the atmosphere is most like the Super Bowl, in terms of the variation and the amount of fans from different teams that are there celebrating the event."
The Super Bowl, the annual championship game of the NFL, is obviously the major event for any sports broadcaster following the sport, not to mention the massive media build-up and all the entertainment and advertising surrounding it. Pre-COVID, Sky Sports would have a presence on the ground in the host city. "We would produce a half-hour show every day from Monday through Saturday," says Mason. "We'd also have a Sky Sports News reporter that will do three or four hits a day into News, to pick up the excitement and the atmosphere from the Super Bowl city. It's the real highlight of the calendar for us."
Now, as well as the pandemic, there is heightened awareness of the environmental impact of flying a UK team thousands of miles to cover a week in the US.
"What NFL do better than arguably any other sport is player access around the Super Bowl. If you're there in person, they put up most of their players and head coaches on a podium, and you would stand next to 30 other people, shoulder to shoulder, in a literal scrum. You wait your turn until you get eye contact with the person and the unwritten rule is you get three questions and then you're done. I think those days are long gone."
"[Last year] all of that was done via a Zoom call, and then NFL would share the content with all the broadcasters afterwards. There are lots of enforced changes that I think will be utilised [in our coverage]," he says. "The workflow we have around vMix is the mainstream now. Then there's the content sharing with NFL and accessing things remotely. This new way of working, and new accessibility, could work in our favour, it's a much more interconnected world."
The relationship with NBC also enables more access than Sky has had historically.
"The Superbowl is hosted by the major broadcasters in the States on rotation, and it's the turn of NBC to be the host broadcaster this year," says Mason. "So hopefully we'll be able to get into the main broadcast compound and get access to their recordings from all the different cameras. Then on game day we might get access to different camera feeds which we could bring in to our broadcast. In the past we have been able to utilise spider cams, which is a really excellent way of breaking down plays in NFL. It gives you that kind of computer game bird's eye view of behind the play which works very well analytically, it gives you fisheye cameras that you can use to carry graphics."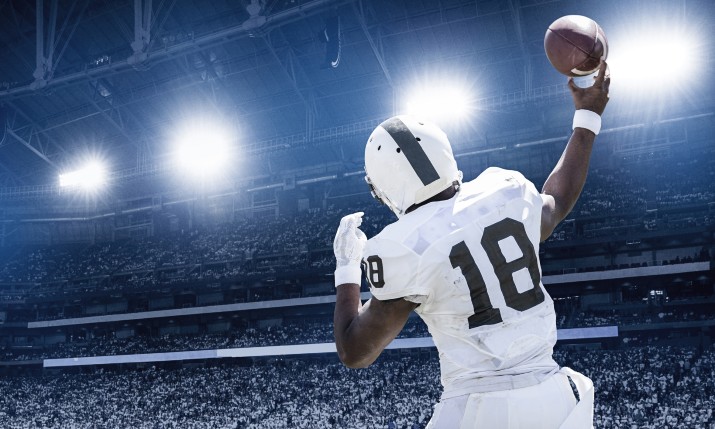 Pundits and pressures
"I think the challenge for us, now that we've got a slightly bigger platform because the sport is growing, is to keep going and keep being innovative and keep using different technologies where we can to try and enhance the viewer experience," says Mason. "That's why I'm so happy that SPS have got vMix technology to work for us in the studio, and I can end up having five or six contributors on simultaneously.
"A couple of years ago, it was three people in the studio chatting about what you're seeing coming down the line. We're worlds away from that now. [Fans will be] hearing from Nora Princiotti and Peter King, really renowned journalists, hearing from the Around the NFL podcast guys, hearing from former players, hearing from beat writers from NBC that can give you the very latest on a breaking story. All of that is available to us now. And if we have someone who says something interesting or really opinionated on our show, it will get picked up and reported in the states by NBC, so we're now part of the conversation and that's a really good place for us to be."