IBC 2019: BBright leverages Matrox SMPTE ST 2110 NIC cards for range of media production servers
Matrox Video (stand 7.B15) has announced that BBright is launching a range of Matrox-based media production servers for SMPTE ST 2110 workflows. Leveraging the latest Matrox ST 2110 25 GbE network cards, UHD-Channel, the first BBright IP-based media platform offering, will showcase 4K video I/O over 25 GbE at IBC 2019, on BBright stand 2.B39.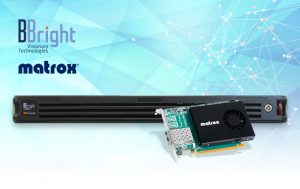 Next-generation UHD playout, media production platforms
In an effort to meet today's ever-evolving media consumption demands, BBright is releasing a new wave of flexible, agile, and scalable IP-based solutions. The new BBright UHD-Channel media production server is equipped with Matrox DSX LE5 D25, a 25 GbE SMPTE ST 2110 NIC card which offers complete offload of ST 2110 to preserve CPU resources for media processing operations. This enables the BBright UHD-Channel solution to deliver advanced video I/O of up to two 4K/UHDp60—including 'clean' and branded feeds—and/or two 4K live inputs using a 25 GbE link, with SMPTE ST 2022-7 redundancy. With Matrox's built-in support for NMOS Device Registration and Discovery (IS-04), NMOS Device Connection Management (IS-05), and the JT-NM TR 1001-1 recommendation, BBright's UHD-Channel solution can seamlessly plug in and operate in SMPTE ST 2110 environments.
"Looking at Matrox ST 2110 NIC cards, it was immediately evident that their high-density, 24/7-reliability, and zero-CPU-usage—combined with their SMPTE ST 2110 technological expertise and interoperability levels—would provide us with the necessary foundation to quickly transition our SDI-based 4K know-how to cutting-edge ST 2110," said Laurent Appercel, marketing director, BBright. "Our ability to now offer a new range of next-generation UHD solutions means forward-thinking broadcasters can deliver unprecedented 4K playout and media production over IP workflows."
"Matrox is excited to be collaborating with BBright and pair best-in-class ST 2110 and 4K proficiencies to build a new foundation of groundbreaking SMPTE ST 2110 solutions," says Alberto Cieri, senior director of sales and marketing, Matrox Video. "As a pioneer in UHD development, BBright is further cementing its reputation as a leader in 4K broadcast solutions with high-density, game-changing video production servers to take content anywhere."