IBC 2019: Ikegami to showcase 4K master-grade monitor, 4K media-over-IP gateway
Ikegami (Stand 12.A31) will highlight the recently released HQLM-3125X is a 31 inch 4K-UHD master-grade monitor, as well as a new 4K Media-over-IP gateway for the UHK-430 studio camera at the IBC Show in Amsterdam.
HQLM-3125X 4K-UHD master monitor offers HDR option for HLM-60 series
Ikegami recently released HQLM-3125X is a 31 inch 4K-UHD master-grade monitor with a 4,096 × 2,160 pixel 10-bit resolution and high brightness (1,000 candela per square metre). Designed for critical image evaluation in broadcast production control environments, the panel employs double-LCD-layer technology to achieve a 1,000,000:1 contrast ratio with true black reproduction.
A layer of light-modulating cells allows pixel-by-pixel control of backlight intensity, reducing light leakage and black floating. Fully compliant with BT.2020 wide colour gamut, the monitor incorporates single-channel 12G-SDI x 2, 3G-SDI × 5, 3G/HD-SDI and HDMI inputs as standard features. Viewing angle for critical image evaluation is a wide 178 degrees (horizontal/vertical). 1D and 3D LUTs are supported. The HQLM-3125X can be controlled remotely via Ethernet, RS-485 or locally from the front panel.
In the same series, the Ikegami HQLM-1720WR is a compact UHD HDR monitor for a wide range of broadcast applications. It is equipped with two 12G-SDI input channels as standard for efficient configuration with equipment such as cameras and switchers. 3G-SDI, HD-SDI and HDMI inputs are also provided as standard. The HQLM-1720WR employs a 16.5 inch 3840 × 2160 pixel UHD LCD panel using LED backlight and can reproduce high-resolution 4K and 2K images.
Ikegami will also demonstrate an HDR option for its HLM-60 family of high-definition broadcast quality monitors. This option includes electro-optical transfer function tables for HLG, S-Log and S-Log3 in addition to conventional gamma. It can be added as a retrospective upgrade to all monitors in the HLM-60 series which currently comprises models HLM-2460W, HLM-1760WR and HLM-960WR. All three can be controlled remotely via Ethernet, RS-485 or from the front panel.
Ikegami's HLM-2460W incorporates a 24-inch 10:9 Full-HD 1920 x 1200 pixel 400 cd, 10-bit resolution LCD panel. Multi-format SDI, 3G-SDI, HDMI, Ethernet and VBS inputs are provided as standard. Operating features include 2x and 4x zoom, dual-picture split, dot-by-dot display, timecode display, user-marker display (preset/user-configurable) and shadow function, under-monitor and in-monitor channel identification display. Test signal generation, waveform monitor and vectorscope facilities with adjustable image and test signal mixing are also provided.
A smaller version of the HLM-2460W with similar features, the HLM-1760WR has a 17-inch Full-HD 1920×1080 pixel 450 candela per square metre 10-bit resolution LCD panel.
Optimised for use in ultra-compact mobile production vehicles, Ikegami's HLM-960WR is a highly compact multi-format LCD monitor with a 9-inch Full-HD 1920 x 1080 pixel 400 candela per square metre 8-bit resolution LCD panel. This model offers very narrow front-to-back dimensions, light weight, AC or DC operation and low power consumption. An optional battery bracket is available. A USB connector on the front panel allows setup file storage and recall as well as control-menu navigation via a plug-in pointing device.
4K Media-over-IP Gateway Module for UHK-430 Camera
Ikegami will also introduce to the European market at IBC 2019 a 4K Media-over-IP gateway for the UHK-430 studio camera. Designed to slot directly into the camera's CCU-430 control unit, the new module allows 4K UHD video and additional signals such as intercom, return-video feeds to be exchanged between the CCU-430 and a local IP network hub along a lightweight optical fibre instead of requiring multiple SDI cables, enabling easy and low latency signal distribution.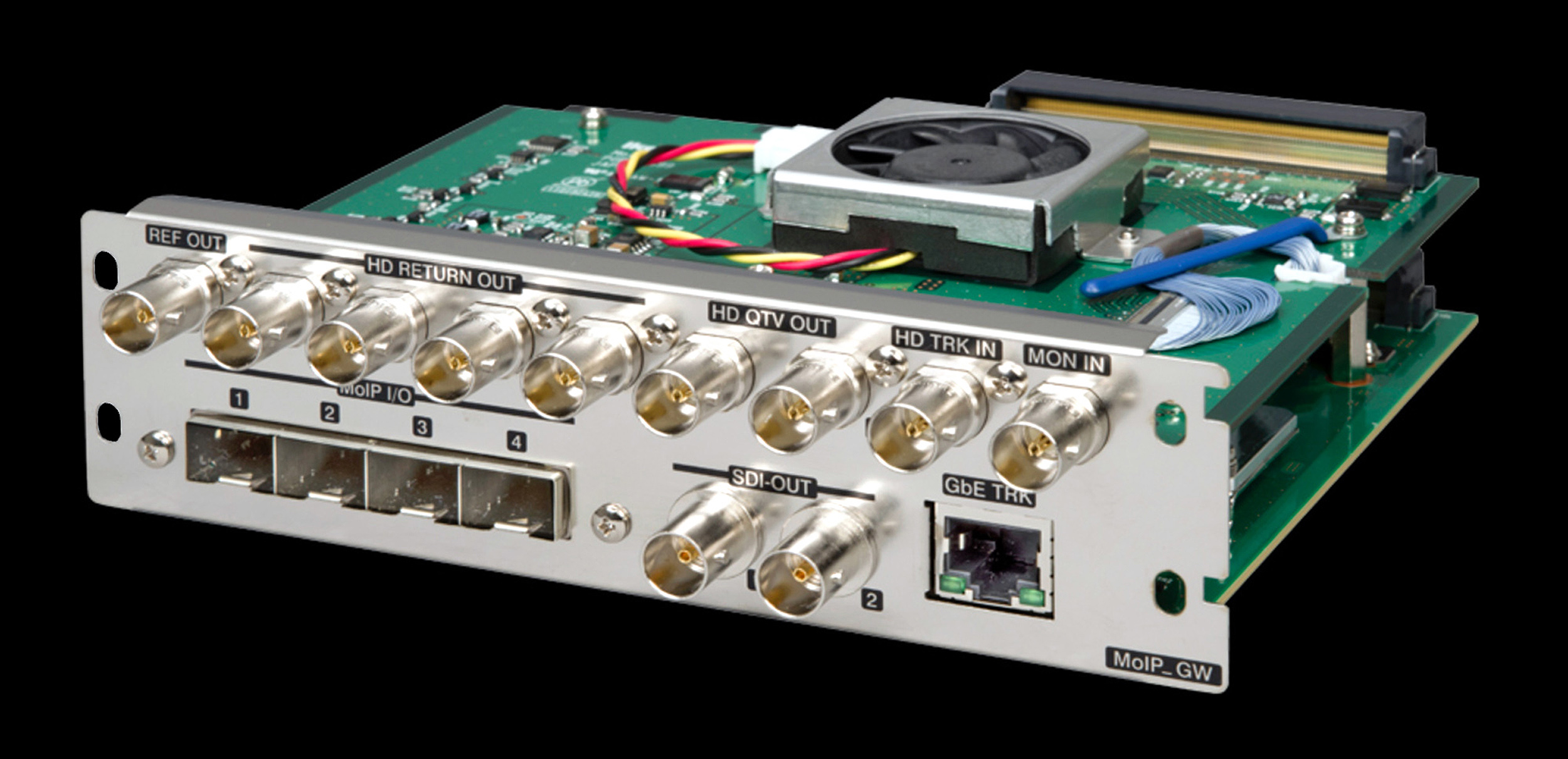 Uncompressed video can be transmitted via an integral optical interface using either one 25 GbE or two 10 GbE SFP modules. Redundancy can be implemented easily to ensure reliability by installing additional SFP modules. The MoIP interface module can be combined with an HD output option to deliver 2160p, 1080p and 1080i over IP and/or SDI simultaneously. Many broadcast systems currently use a mix of SDI and MoIP. For easy workflow transition, 2 x 12G SDI is therefore included as a standard.
Ikegami's UHK-430 is a 4K-native studio camera system with simultaneous HDR/SDR processing. Its three 2/3 inch CMOS sensors provide full 3840 x 2160 UHD resolution plus the depth of field needed for studio and outdoor production. The camera is equipped with a B4 bayonet mount compatible with 2/3 inch HD lenses. An optional SE-U430 expander accommodates large studio or OB lenses.
Additional features of the UHK-430 include the newly-developed Ikegami AXII processor which allows 40 gigabit/s uncompressed full bandwidth video transmission. This processor enables the UHK-430 to deliver a wide range of features power-efficiently, including 16-axis colour correction and focus-assist for 4K and HD video modes. BT.2020 extended colour space specification is supported in 4K mode. BT. 709 colour space is supported in HD modes and can also be switched in during 4K operation. In its standard form, the UHK-430 weighs just 4.5 kg and comes with a 2 inch viewfinder and portable lens. Camera head dimensions are 149 mm wide x 243 mm high x 340 mm front-to-back.