IBC 2019: IO Industries launches new volumetric video capture camera
IO Industries (stand 12.G65) announces the world premiere of their new camera, Volucam, at IBC 2019.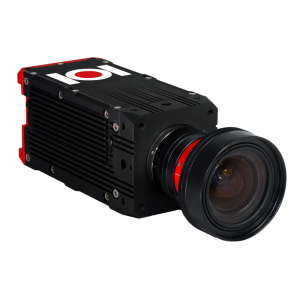 Designed specifically for volumetric video capture studios, the camera incorporates key innovations resulting in accelerated workflow, simplified studio configuration and reduced support time.
A typical volumetric video capture studio employs an array of machine vision camera heads interfaced with a cluster of external PC's for recording and storage. After a recording session, data is transferred from the PC cluster into the rendering farm's centralized storage for processing. This means there is a delay before processing can start in the rendering farm.
Volucam eliminates the delay to processing by allowing direct data transfer to the rendering farm's storage while recording is in progress. Volucam's internal high-capacity storage buffers raw video while the camera's 10GigE fiber optic port simultaneously transfers buffered video to the rendering farm's storage via a 10GigE switch. A PC cluster is no longer needed for temporary video storage, tremendously simplifying studio configuration. The reduction in hardware and cabling results in a studio that's easier to configure, operate and support.
IO Industries said Volucam will initially be available with options for 1TB or 2TB of physical internal storage. A lossless compression engine in the camera can be optionally enabled to extend recording times.
IO Industries indicated Volucam will include models featuring a variety of Sony's IMX global shutter CMOS image sensors with selectable frame rates.
Other camera features include precise multi-camera synchronization, LTC input, live video output with 12G-SDI, an interchangeable lens mount for C-mount and Canon EF-mount lenses and optional camera control software to manage camera settings in large scale studio configurations.