IBC 2019: Mobile Viewpoint launches IQ X-Cam to capture 4K panoramic video content
Mobile Viewpoint (stand 14.F24) announced the launch of its IQ X-Cam, a 60 frames per second (FPS) 32 megapixel IP camera. The camera, which can capture panoramic images in 12K, is aimed at sports producers and outside broadcasters (OBs). Coming in three configurations—with one, three or four cameras—the IQ X-Cam is especially designed to work in conjunction with Mobile Viewpoint's IQ Sports Producer artificial intelligence (AI) software, allowing the automatic production and distribution of sports events and matches.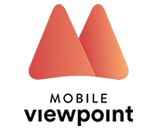 IP cameras are used by many content producers and OBs today, removing the need for cumbersome and expensive cabling and hardware, and providing greater flexibility in production. But IP cameras can be somewhat limiting in their quality, only capturing 30 FPS. For sports content, or for content production at large-scale events, this picture quality isn't enough—especially when it comes to traditional television broadcast that isn't streamed over the internet. But if content producers want to capture high-quality 4K broadcast content, it is an expensive process that requires SDI infrastructure and fibre optic cabling at the location of production. For many content producers today, this is simply too expensive.
Mobile Viewpoint's IQ X-Cam is an IP camera which meets today's demands for high quality, low-cost video content. The camera comes in three configurations, and can include either one, three or four 4K cameras in a single housing. The 'X' in IQ X-Cam denotes how many cameras are included (IQ 4-Cam, IQ 3-Cam, and IQ 1-Cam respectively). The camera also has just one ethernet cable that supports the transmission of video content, and powers the camera.
The IQ X-Cam works in conjunction with Mobile Viewpoint's IQ Sports Producer AI software, which can track movements during live events (for example, footballers and the football during a match). IQ X-Cam therefore acts as an all-in-one content production and distribution solution for sports clubs, or for live events organisers who are looking to becoming content owners and distributors in their own right.
"Sports content and live event content is in increasingly high demand — but for fast-paced sports, standard IP cameras are not good enough — the frame rate is too low, and quality is compromised. But the investment in infrastructure to support high quality video is too high for many, and simply not feasible. There is a gap in the market for 60 FPS IP cameras, and with our new IQ X-Cam, we are enabling sports clubs and OBs to produce and distribute high quality content, cost effectively," said Michel Bais, CEO of Mobile Viewpoint. "Available with four, three or just one camera, IQ X-Cam provides greater flexibility to content producers, and is a low-cost alternative to current IP cameras available on the market today."
Along with different camera configurations, the IQ X-Cam also comes with interchangeable lenses, depending on camera position and content production needs.
IQ X-Cam will be available for purchase in November 2019. Mobile Viewpoint is also investing in developing the camera for use in the security industry, as a high quality "handycam".