ISE 2018: Panasonic unveils beyond 4K laser projector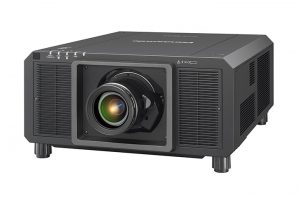 Panasonic Business has added to its projector lineup with the launch of a "beyond 4K" laser-phosphor device that is aimed at live event staging, exhibitions, rental, and permanent installations.
The PT-RQ22K 3-Chip DLP Solid Shine laser projector comes in the same dimensions and the same 21,000 centre lumens brightness as the PT-RZ21K series but is equipped with 4K+ (5120 x 3200) resolution.
"The PT-RQ22K completes the Panasonic 4K projection lineup, complementing the PT-RQ32K and PT-RQ13K, and meets the demand for a light weight, high-brightness 4K+ projector with film-like image quality, suitable for single or stacked projections," said Hartmut Kulessa, European marketing manager at Panasonic.
Panasonic added that it has developed "state-of-the-art imaging engines, including a Quad Pixel Drive and 240 Hz real motion processor" for the projector.
The PT-RQ22K offers BT.2020 emulation and supports premium HDR video content playback.