Leader T&M devices added to new NRK winter sports OB truck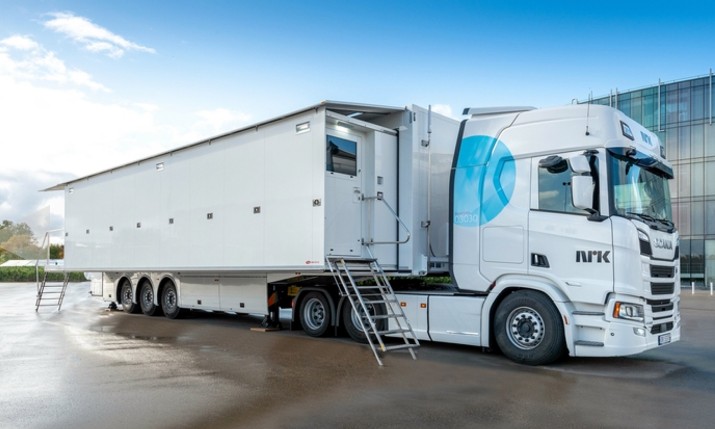 The Norwegian public broadcaster NRK is using Leader test and measurement (T&M) equipment as the core reference instruments in a recently launched mobile production unit designed for winter sports coverage.
OB24, integrated by Lithuania's TVC, includes seven Leader test instruments and an LT4448 error-detecting automatic channel switcher.
Four Leader ZEN-series LV5350 portable 12G/3G/HD/SD-SDI waveform monitors were chosen for the camera control suite while a ZEN-series LV7300 rasterizer was added to the main production gallery.
At the same time, two LT4610 3G/HD/SD multi-format video sync generators were installed in the apparatus room. These will be used to generate reference sync, test patterns, logos, safe-action and safe-title markers as well as audio test tones.
The LT4448 auto changeover unit will be used to monitor critical channels during the production process.
The OB24 unit is 13.6 metres long and weighs 26 tonnes. It has 24 dedicated workplaces and comprises a camera control suite, a slow-motion video effects facility, two production galleries, an audio control suite, plus an apparatus and server room.
The unit also includes EVS replay, Genelec loudspeakers, a Grass Valley video router and multiviewer, Lawo and Yamaha audio mixing, Riedel fibre networking, Sony cameras, video mixer and picture monitors, Vislink wireless camera links and Vizrt graphics.
OB24 is being used by NRK for coverage of various winter sports including biathlon, slalom and ski jumping. Alongside its single-side expansion, the truck features protective fold-down roofs on the expandable side and entrance platform and interior floor heating in readiness for deployment in a cold climate.
Aras Kriaučiūnas, the head of TVC's projects management group, said: "EOB24 is a no-compromise vehicle designed to handle simultaneous feeds from 28 cameras. Colour matching that number of sources during a large-scale OB requires very careful signal monitoring."
Leader's LV5350 waveform monitor and LV7300 rasterizer incorporate a number of SDI signal testing features. These include engineering-related reference tools such as test pattern generation, closed-caption monitoring, CIE colour chart, high dynamic range measurement, focus assist, customisable screen layout, tally interface, 4K/UHD operation and 12G-SDI interfaces.
The LV5350 and LV7300 also incorporate Leader's CINEZONE and CINELITE. A focus detection algorithm enables the two instruments to sense edges across a very wide range of image contrast levels.
You can watch a timelapse video of OB24 being constructed below
Read more:
NRK rolls out single-expanding OB24 trailer for winter sports coverage