Arena Television unveils fourth IP-based OB truck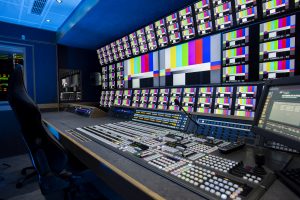 Arena Television has launched a fourth UHD and HDR-capable IP-based outside broadcast unit.
Built in partnership with Grass Valley, OBZ is very similar in layout to Arena's current IP-based units, OBX and OBY.
It is based on a maximum footprint 'triple expand' trailer manufactured by premium UK coachbuilder ASGB and contains what the company considers to be "one of the largest production galleries in the UK", seating up to 18 people.
There is also a sound area featuring full Dolby Atmos monitoring, a VT department for up to 14 operators and a vision area with space for eight engineers.
The IP-based technology installed in the includes the GV Node – an IP processing platform, IPG IP gateways, the new K-frame X IP vision mixer and the LDX-86N family of cameras.
The cameras and gateways use the TICO visually lossless light compression technology, which offers "highly efficient UHD transport at a reduced data rate with imperceptible latency."
The unit also makes use of technology developed by Axon Digital.
In a statement, the company said: "We carefully selected the GV LDX-86N family cameras not only for their superb picture quality and HDR capability, but also because in an OB environment it was felt that a TICO 3G dataflow from the camera head was likely to be the most robust."
OBZ's first outing was to run some HDR tests on the England v Nigeria football international on 2 June 2018 at Wembley.
According to the company, by working closely with partners like Technicolor, it is now "very close" to being able to ratify a preferred path for down conversion between HDR and SDR with a view to mastering all shows in UHD-HDR.
This will allow clients to multicast in formats of their choosing, it added.